'Maniac' Is Totally Sci-Fi, But Jonah Hill's Character Is Fighting Some Everyday Demons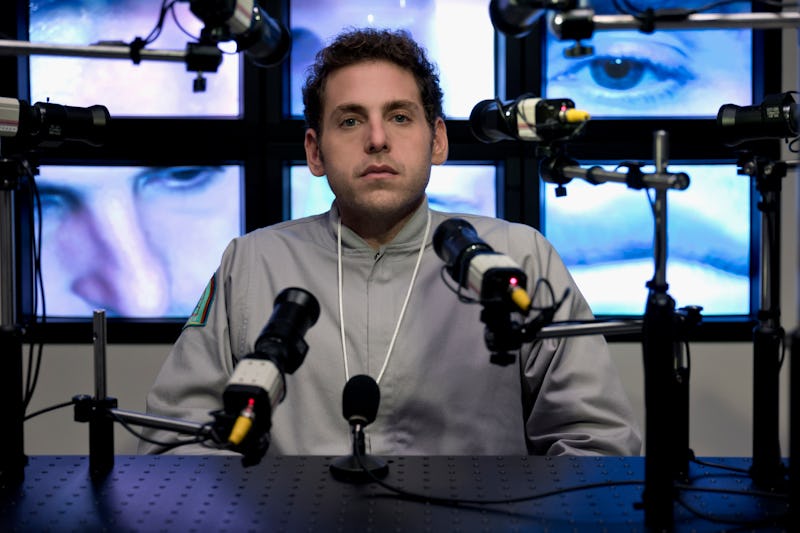 Michele K. Short / Netflix
These days, it can seem like the whole world has turned into some dystopian nightmare. But while some of us pinch ourselves, hoping to wake up, so are Emma Stone and Jonah Hill in the new Netflix show Maniac, which drops on the streaming service on Friday, Sept. 21. Stone and Hill's characters, Annie and Owen, are two troubled patients taking part in a unique medical trial for a medication supposed to cure them of their ills. Instead, they end up fluctuating between dreams and reality, becoming increasingly unsure which is which. But though reality is tenuous in Maniac, are the characters rooted in fact? Is Owen from Maniac based on a real person?
Maniac's director and showrunner Cary Fukunaga drew plenty of inspiration for his newest series, but none from a real-life person. Per a New Yorker review, the series was inspired by a Norwegian series of the same name. The original series starred Espen PA Lervaag, who plays a variety of different versions of himself as he fantasizes while in a mental hospital, according to IndieWire. The original has more of a comedic feel than Fukunaga's dystopian, absurdist version, and though it definitely inspired the new Netflix adaptation, there are many other key differences between the two shows, including the new characters of Owen and Annie.
Jonah Hill's Owen might not be based on any real-life person, but he's not an entirely unfamiliar character. Owen is a member of the Milgrim family, an incredibly wealthy Manhattan family in crisis due to a sex scandal, and Owen is having a hard time handling the stress of his complicated family dynamic, along with his recent unemployment. On top of everything, Owen potentially suffers from schizophrenia. It is the combination of all of these issues that brings Owen into the offices of Neberdine Pharmaceutical Biotech, a pharmaceutical company looking for patients to participate in the trial of a new medication that promises to fix a variety of emotional and physical issues, all with a few pills. But the show is called Maniac after all, strongly hinting that this medical trial does not exactly go as planned.
It's been a little while since Jonah Hill has taken on a major role, so fans have understandably been excited to see his return. But though Maniac features the star power of Hill and co-star Emma Stone, reviews of their chemistry as the cosmically connected Owen and Annie have been less than stellar. "There's zero chemistry, either comic or romantic," Emily Nussbaum of The New Yorker writes of the relationship between Stone and Hill in the series. Darren Franich of Entertainment Weekly agrees, writing of Stone and Hill, "Their dynamic sinks the show; they successfully lack chemistry in every universe." And while IndieWire's Ben Travers opines that Stone shines in the series, he writes that "Hill, however, struggles. Convincing as a despondent, trapped, and isolated figure in the real world, the actor slips off-base when Owen has to transform into an imaginary character."
But whether the critics hailed or critiqued Stone and Hill's performances, and whether they loved the fantastical dreamscapes or found them self-indulgent, Maniac is sure to create a lot of buzz.
And in this current political climate, any escape from reality is a welcome one.