Pete Davidson Underwent A DRAMATIC Hair Transformation & It's Ariana Grande Approved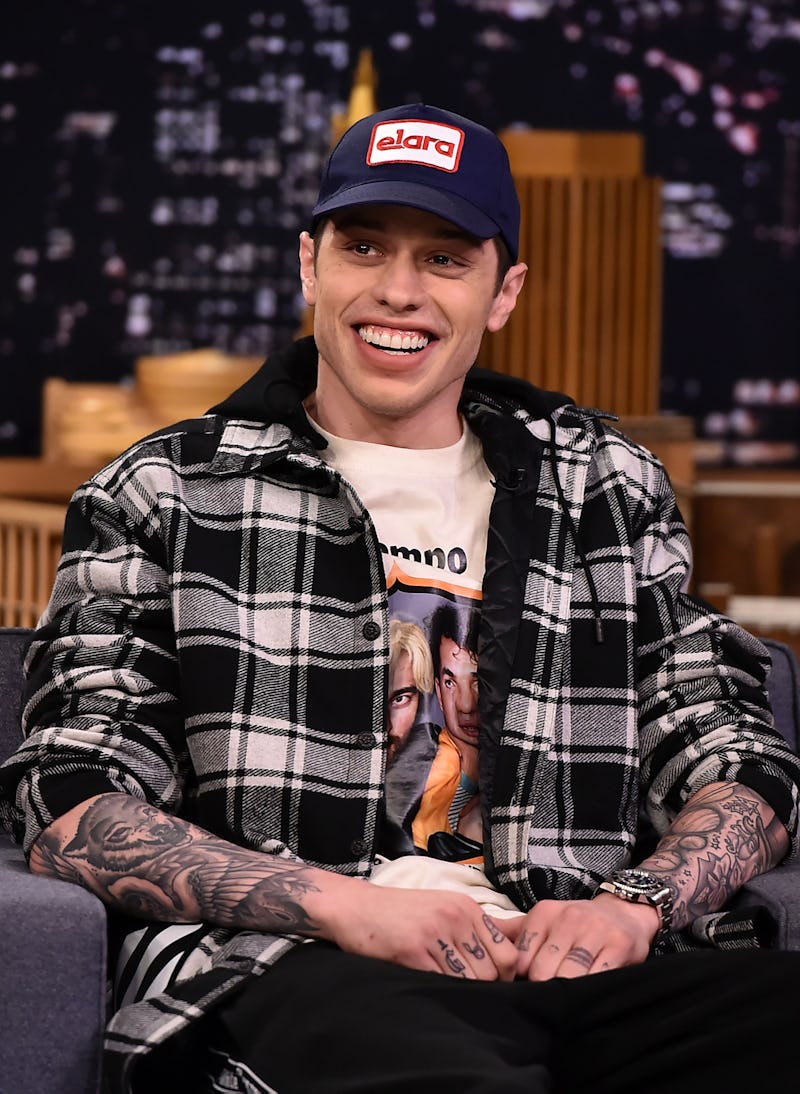 Theo Wargo/Getty Images Entertainment/Getty Images
A hair transformation and Ariana Grande are two things that just don't go together. Rarely seen without her locks secured high on top of her head, she's the ponytail queen. Her beaux, on the other hand, isn't afraid to switch things up majorly. A striking change from his norm, Pete Davidson's bleach blonde hair will have you questioning everything you thought you knew about the comedian.
Ever since the love birds made it official, Ariana Grande and Pete Davidson's relationship has been on the fast track. The couple got engaged after seemingly dating for months, and they already have matching tattoos and a new Ariana Grande cloud perfume that appears to honor their love. The couple may even soon have matching hair 'dos to compliment their identical ink, thanks to Pete Davidson's recent changes to his mane.
The actor was hardly recognizable with the same dramatic hair color his main squeeze rocked when the two began dating. It's enough to make you wonder if the dye job is the real deal. But Davidson really is a blonde now, and whether or not you agree with his hair choices, the leading lady in his life publicly approves.
Taking to Instagram to show off his recently dyed 'do in all of its Slim Shady-esque glory, Pete Davidson posted a from behind head shot. Given the post's "big time adolescence" caption, which just so happens to be the title of an upcoming film he's starring in, the makeover could be for his new role. Davidson is set to play a college dropout that turns a high schooler's life upside down when the two meet. So, the new hair that screams bad boy may be strictly business.
Whether or not the blonde is specifically for the film, Ariana Grande is so here for the new look. Her comment on Davidson's hair debut post said it all. "So sick. I'm so excited for u bye. Come to bed," Grande commented, a clear sign that she's feeling her man's platinum cut.
Davidson has already made public appearances as a blonde, sharing a photo of him and Grande after a late night pizza run. The couple cozied up to one another outside, twinning with masks.
Davidson's new 'do could have them twinning even more, should Grande return to her icy locks. She may not be one to pull her tresses out of a ponytail often, but her extensions undergo dye jobs quite regularly. The singer looked like a total bombshell when she had a Marilyn Monroe blonde mane and she has even tested the waters with icy white hair. So it's not far fetched to think that Grande could return to the blonde life and totally match her bae. After all, the couple has a flair for coordinating.
Just as Grande is on board with Davidson's dramatic makeover, many of the comedian's fans are accepting of the change.
It looks like his fiancé isn't the only one that finds him attractive as a blonde.
The resemblance to Eminem is seriously uncanny.
Since he hasn't completely shown his facade with the new 'do, one has to wonder how much the transformation has altered his appearance, though.
Regardless of how dramatic the change is for the comedian, the odds appear to be in favor of his dye job.
For now, Davidson may be fully embracing his serious "new hair, who dis" moment, but there's no telling how long he will stick to being a blonde. You'll just have to stay tuned to see if his main squeeze swooning over the look is enough to convince him to commit to the blonde life.