'Age Before Beauty's Robson Green Has A Super Frank Outlook On Relationships & Love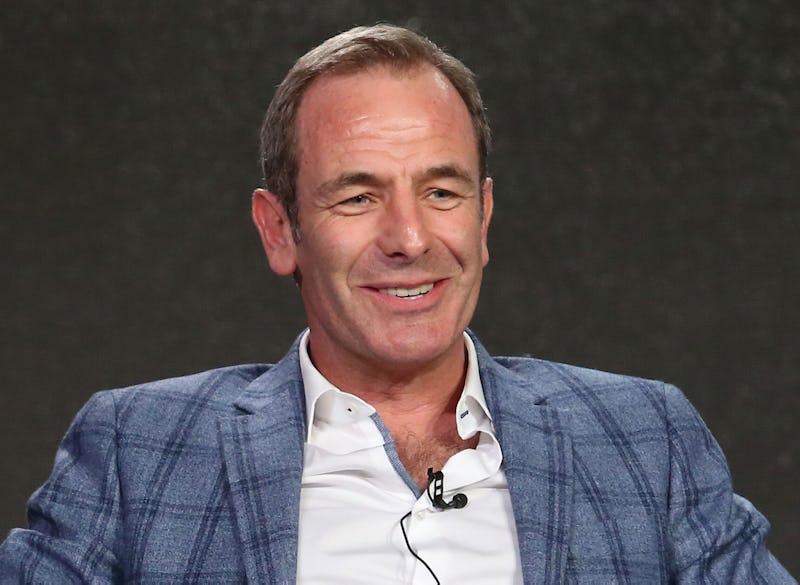 Frederick M. Brown/Getty Images Entertainment/Getty Images
BBC drama Age Before Beauty has captivated the nation over the last few weeks. Set in a Manchester beauty salon, it tells the tale of a highly dysfunctional family and stars some very familiar faces; Robson Green is of course one of them. Playing the scheming Teddy Roxton, he has quickly become the series' resident bad boy and love rat. But what is the actor's deal in real life? Is Robson Green married?
Well, after doing a little digging, it turns out that the 53-year-old actor has actually been married twice. In 1991, he tied the knot with occupational therapist Alison Ogilvie, separating eight years later following an alleged affair, reports the Mirror. Soon after, the Evening Standard states that he met former model and personal assistant to Simon Cowell, Vanya Seager.
A relationship is said to have started not long after his divorce was finalised as, in 2000, Seager gave birth to the couple's son, Taylor. The couple then got married in 2001 at the famous Cliveden House — if you recognise that name, it's because that is where Meghan Markle stayed the night before her big day.
Unfortunately, the relationship ended in a similar way for Green. The couple split in 2011, and they divorced in 2013. He suggested to the Daily Mail at the time that were not on great terms following the break-up as they would only "communicate by text" for the sake of their teenage son. Other than that, there were not on speaking terms.
"I don't know why Vanya decided it's better not to speak but that's what she has decided," he told the paper. "It wasn't my decision. It wasn't me that wanted to do that. She decided. Frankly, I'm not sure how she perceives me now."
However, according to The Mirror, the former husband and wife are now on better terms. "Relationships sometimes don't work, and that's life," he explained to the paper in 2015. "That's what happened with me and Vanya, but we're on good terms and she's an astonishing beautiful woman and a wonderful mother."
Since then, Green has been linked to a couple of women. In 2013, just weeks after officially divorcing Seager, the actor was spotted with flight attendant Stephanie Jones. After meeting on a plane (where else?), the pair reportedly enjoyed a brief relationship, according to The Sun. However, that relationship didn't work out either.
In 2016, Green met Zoila Short, the woman he is still with today. The couple apparently met in a Newcastle gym and were photographed for the first time together earlier this month. This is reportedly because Short is said to have left her husband, Reverend Geoffrey Short, for Green. The Reverend — who has been married to Green's girlfriend for the past 16 years — hasn't exactly been quiet about it.
"Green doesn't have a great track record," he claimed to The Sun. "The worry of friends and people at the church is that he'll get fed up with [Short] and move on. The whole thing is an absolute mess." He also told the Mirror that "there is a lot of anger towards Green, but as a Christian I have to forgive."
The Age Before Beauty star hasn't spoken openly about his new relationship or addressed Reverend Short's allegations. However, I have contacted Green's rep but they are yet to provide me with comment.
You can catch Age Before Beauty on BBC One every Tuesday at 9 p.m.