Sarah Jessica Parker Has A Familiar Globes Look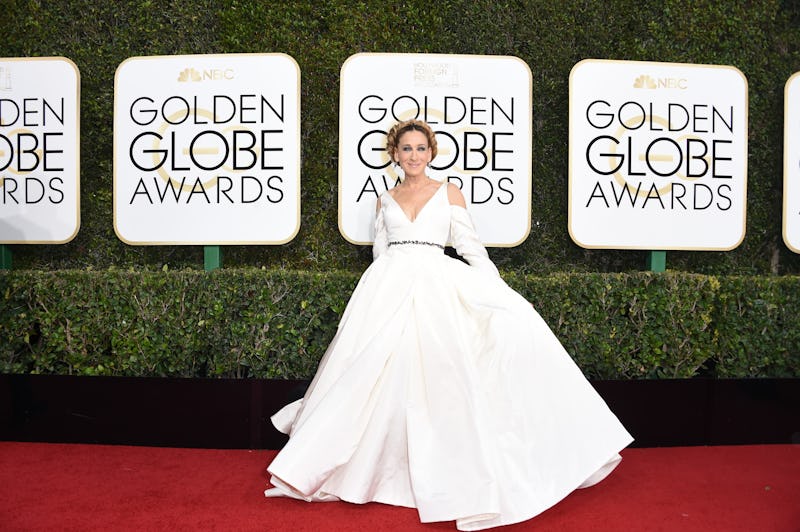 VALERIE MACON/AFP/Getty Images
On the Golden Globes red carpet, Evan Rachel Wood mentioned that her look was inspired by David Bowie. It was a lovely way to pay tribute to a fallen icon. On that note, many viewers seemed to be wondering if Sarah Jessica Parker's Golden Globes look is inspired by Princess Leia as a tribute to Carrie Fisher. Though a representative for Parker confirmed to Bustle that the look is not inspired by Leia, it's easy to see why viewers made comparisons between the Golden Globes look and Fisher's iconic Star Wars character.
Parker also confirmed herself, on NBC's red carpet coverage, that she isn't cosplaying as Leia on the red carpet. It's simply a coincidence. And in another coincidence, Parker actually worked with Fisher previously as a guest actor on Sex and the City.
While Parker's hairstyle isn't the traditional buns that Leia wears with her iconic white dress, her Golden Globes hair does look a bit like a 'do in Empire Strikes Back. Paired with a stunning Vera Wang dress, she looks positively royal. Those sleeves would fit in on any starcruiser as well. They definitely evoke a type of elegance found in science fiction.
The dress' shape and detail is a little more Queen Amidala than Princess Leia, if you ask me. However, the white color along with the braid does remind me of the first heroine we fell in love with a long time ago, in a galaxy far, far away...
At any rate, Twitter is comparing the two.
Being compared to Princess Leia is definitely a compliment in my book, so though Parker didn't purposely invoke the hero, I'm sure she doesn't mind.