This Reality Show Will Have 'Bring It On' Fans Waving "Spirit Fingers"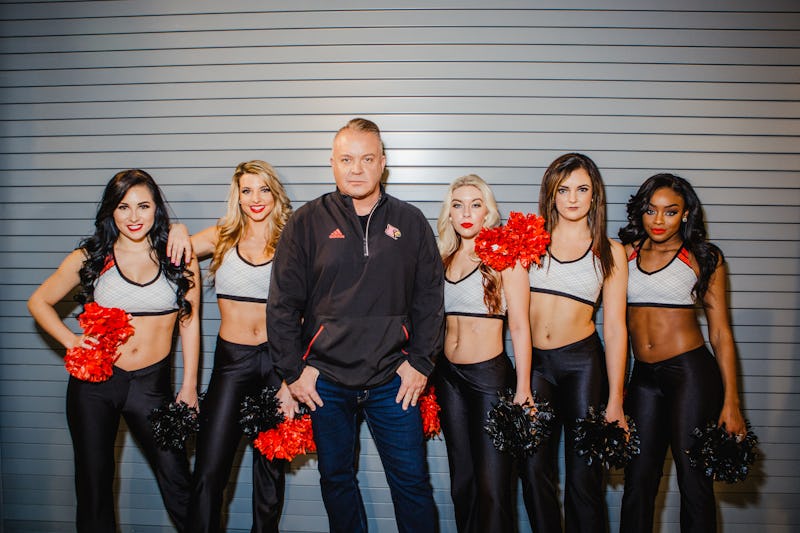 Katie Kauss/Lifetime
Although he was only in a few minutes of the movie, Sparky Polastri in Bring It On left a lasting impression as the choreographer who showed the Rancho Carne Toros what spirit fingers really look like. Sparky is a fictional character portrayed by Upright Citizens Brigade's Ian Roberts, but there's an actual dance team queen-maker taking over reality TV. Lifetime's new series So Sharp premiered July 26 and follows Todd Sharp, the coach of the University Of Louisville Ladybirds dance team. As Sharp tries to coach them to another national championship, Bring It On fans won't help but notice the similarities between him and Toros' secret weapon. There's no indication that Sparky is based on Todd Sharp at all, but the similarities are uncanny at times.
With So Sharp, it appears that Lifetime has found a fascinating replacement for Dance Moms' Abby Lee Miller. Instead of watching Miller bossing young girls around, So Sharp viewers will see Sharp demand the best of his college dance team. With the team being older in age than the Dance Moms performers, this new series follows the drama and conflicts that occur within the team rather than between dancers and their parents. Sharp can sometimes be outrageously harsh in his verbal criticism of his team. In the premiere alone, the coach yells at his dancers about their makeup, their ability to tan, and even their weight — all while being ridiculously confident. Sounds familiar, doesn't it?
Both Sharp and Sparky demand a lot from their performers, but there are obviously some major differences between the fictional coach and the real one. (Although, it's safe to assume Sharp prefers to work with dancers over cheerleaders, like his Bring It On counterpart.) However, you'll might be as amused by Sharp's outrageous one-liners in So Sharp as you were with Sparky's over-the-top teaching methods in Bring It On.
So stretch it out and prepare for some hard truths, because these are the most Sparky-like Todd Sharp quotes from the So Sharp premiere:
"J. Lo is my personal spirit animal. And I know that that's probably odd, because clearly I do not look like J. Lo."
Sharp gets a point here for being more self-aware than Sparky.
"I don't see how someone can be on a dance team looking 'blah' because, quite honestly, I'm dynamic standing in line at the grocery store."
Oh wait — Sharp evidently thinks he's a superior performer to some of his team though.
"Is it clear to me that most of them have been eating bratwurst and drinking beer? Yes, it's pretty clear to me."
As the So Sharp premiere takes place after summer break for the University of Louisville, Sharp is particularly vocal about the women not being up to his standards.
"Everyone knows what makeup means, right? Because I'm seeing a few people that look like they have no makeup on."
Sharp even sasses the girls for not wearing makeup to a weigh-in. Yikes.
"What is going on with eyebrows, like in the last few years, like in this country? I mean, really, what is up with eyebrows? Like it is some scary Muppet Show sh*t. It looks like two dead woolly worms. It makes me crazy, like I've benched girls over their eyebrows."
But his rant on thick eyebrows being a trend right now is pretty hilarious though.
"I can take a beautiful girl and teach her to perform well. I can't help you if you're ugly."
Actually, the Toros might support this problematic statement.
"When I'm mad at one girl, I will absolutely take it out on everyone, and I will tell you why. I like to keep them guessing."
Sharp wants to haunt his dancers' dreams at night — just like Sparky haunted the Toros during his short tenure.
"Honestly, you look constipated."
Well, that's one way to provide feedback.
"Your white T-shirt is distracting the hell out of me ... Unless you just want to dance in a bra top, but I'm gonna guess you haven't hit the tanning bed lately. It might be even whiter if you take off the white shirt."
Tanning was also a major concern for Sparky too, if you recall.
"I'm this close to taking this team to the dermatologist to have the cancerous moles cut out."
Sharp doesn't tolerate bad attitudes on his team and unlike Sparky, it seems like he's here to stay.
Bring It On may be 17 years old already, but So Sharp proves that exacting coaches are still in fashion — especially in a sport that's all about precision.