This May Be The Most Surprising Theory About Taylor Swift's New Album Yet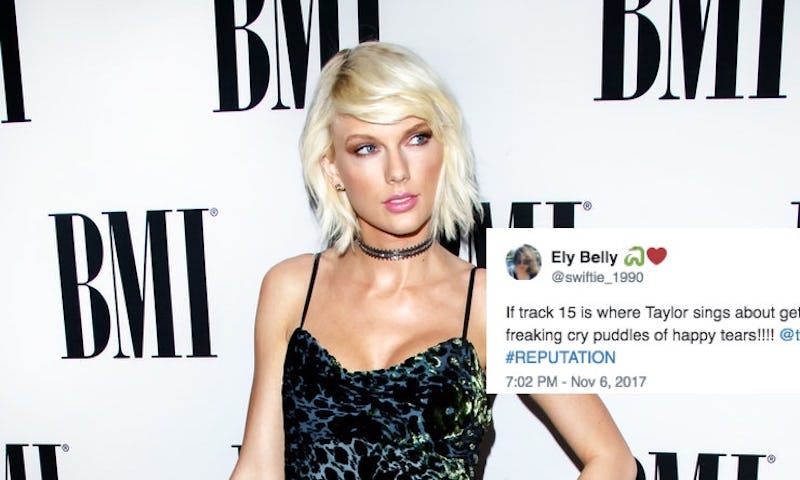 Mark Davis/Getty Images Entertainment/Getty Images; swiftie_1990/Twitter
It goes without saying that Swifties absolutely cannot wait for the release of Taylor Swift's Reputation album on Nov. 10. In preparation for her forthcoming project, the singer shared the tracklist that has many fans speculating that Swift could be engaged and announcing the news via the album. A recent fan theory about one song title in particular is sparking some major rumors about the entertainer's love life — both past and present, according to Teen Vogue. (Bustle reached out to Swift's rep for comment, but did not receive an immediate response.)
UPDATE: Now that Swift's album has officially dropped, it's clear there is no engagement announcement as part of the song "New Year's Day." But based on the lyrics, it may very well be a track about her growing romance with Alwyn.
EARLIER: The looming speculation stems from song number 15 on the album's track listing, entitled "New Year's Day." Fans quickly jumped on Twitter to discuss theories about the yet-to-be released song's background, and there seems to be somewhat of a divide over who fans think the song is actually about. Although no lyrics are currently available for the tune, followers of the "Shake It Off" star still have managed to conjure up the notion that the song may either be about Swift's current relationship (and potential engagement) to actor Joe Alwyn, or her failed romance with One Direction singer Harry Styles.
Although neither Swift or Alwyn have yet to publicly to confirm or discuss details about their courtship, it's already been widely speculated that at least three songs — "Gorgeous," "Call It What You Want," and "…Ready For It?" — are about their often private romance. Under this assumption, fans believe that the project may be a love letter, of sorts, to her British-born beau, leaving some speculate that the final song on the album may be Swift's way of announcing an engagement to Alwyn. Of course, it's a theory that should be taken with a grain of salt.
Swift and Alwyn have reportedly been involved in a low-key romance for the past few months with an inside source telling People, "It's a great relationship that everyone hopes will last. Joe could definitely be the one." So it seems like things are getting pretty serious between the two, who have been reportedly been splitting time between his native England and her homes in New York, Nashville and L.A.
If the two are actually engaged, it would be a joyous moment for fans of the singer who have consistently been in her corner when it comes to her romantic life. Fans are seemingly all over the idea that Swift could be engaged to Alwyn, and a few of their reactions to the rumor are literally priceless.
What If?
This user has a major question about Swift's love life.
Tears Of Joy
Another user says they will be reduced to tears if the chatter proves to be true.
The Heat Is On
The mere thought of Swift being engaged made this fan break into a sweat.
Common Sense
One Twitter fan feels that this can be the only logical explanation for Swift's recent lyrics.
There Were Lots Of Feels
This fan said they'd be "a mess," likely of emotions.
Sure, It's A Long Shot
At least this person acknowledges how farfetched it is.
Another Elaborate Theory
Could that be what the date means?
While the theories surround the song's title seem to have no basis on the surface, especially given the fact that fans don't actually know what the lyrics entail, it appears that Swifties are totally convinced that the tune has to be about someone in Swift's history — whether it be friend, foe, or beau. The whirling chatter surrounding the song, no doubt, stems from the well-known assumption that Swift's music has long been derived from her real-life experiences which have, in the past, run the gamut of romance gone bad to her highly publicized spats with other celebs such as Kanye West and Katy Perry.
Given her musical history, it's probably fair to say that the recent frenzy about the song is well warranted. There's already been large speculation that Swift's track "Don't Blame Me" could be a jab at either Kanye West or former bae, Calvin Harris. It seems that, more often than not, Swift's art has imitated events that have taken place within her life. Should this ideology prove be true, Swift's new album is certainly going to be locked, loaded, and ready to aim at everyone she's taken issue with since her last album 1989 dropped in 2014.