Will Courts A New Ally On 'House Of Cards'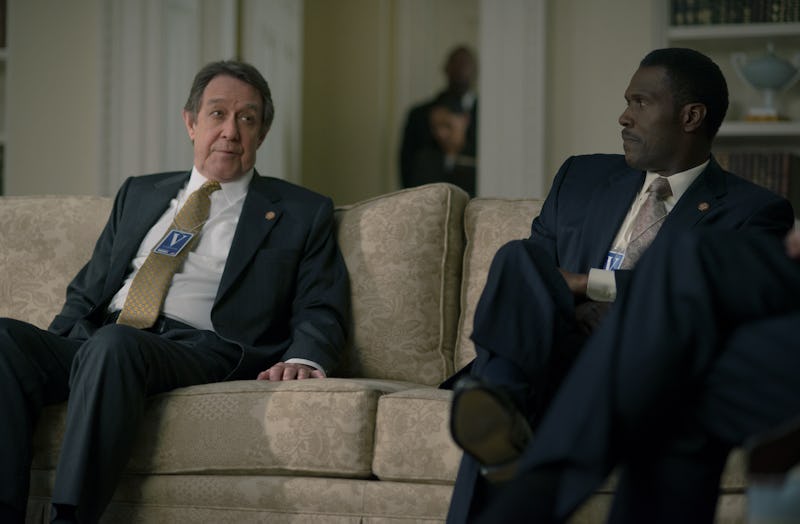 Nathaniel E. Bell/Netflix
Thanks to the political roller coaster that is 2017, to put it lightly, shows like House Of Cards might seem a bit too real. That said, the Netflix drama will always draw comparisons to the real Washington, and lead audiences to question whether a character like Terry Womack is based on a real person. The character, played by Curtiss Cook, has been manipulated by Frank Underwood in the past, but has resurfaced in Season 5 as a potential mover and shaker.
On the show, Congressman Womack from Missouri was the first African-American House Majority Leader. In real life, that was Nevada Congressman Steven Horsford, who currently works in the private sector. However, I don't think there are significant similarities between the fictional character and either Horsford or anyone else in recent history.
It is both as Whip and as head of the Congressional Black Caucus that Womack returns in Season 5. The CBC itself, of course, is a real organization in the United States government. Its current chair is Louisiana Representative Cedric Richmond. The motto of the Black Caucus, which began as a declaration by founding Representative William Clay, is "Black people have no permanent friends, no permanent enemies…just permanent interests." That's a turn of phrase befitting House Of Cards if I ever heard one.
When House Of Cards fans last saw Womack, he was the Minority leader and the incumbent Minority Whip. He returns in Season 5 looking to further his own political career while Republican presidential candidate Will Conway looks to the CBC for support in his election campaign.
I think it's easy to draw parallels to real American politics and say that the Underwoods are based on the Clintons, or represent what the Kennedys could have become, or what have you. But it's important to remember that House Of Cards is really based on a BBC miniseries about the British parliament. That series from the '90s was in turn inspired by a novel first published in 1989.
History may repeat itself, but the ideas in House Of Cards have been circulating for decades. Nothing is a direct analogue to the current system, as much as the dark series does at some times feel like it's mirroring reality.