How 'Pose' Is Using Fiction To Capture The Inclusive Spirit Of The '80s Ball Scene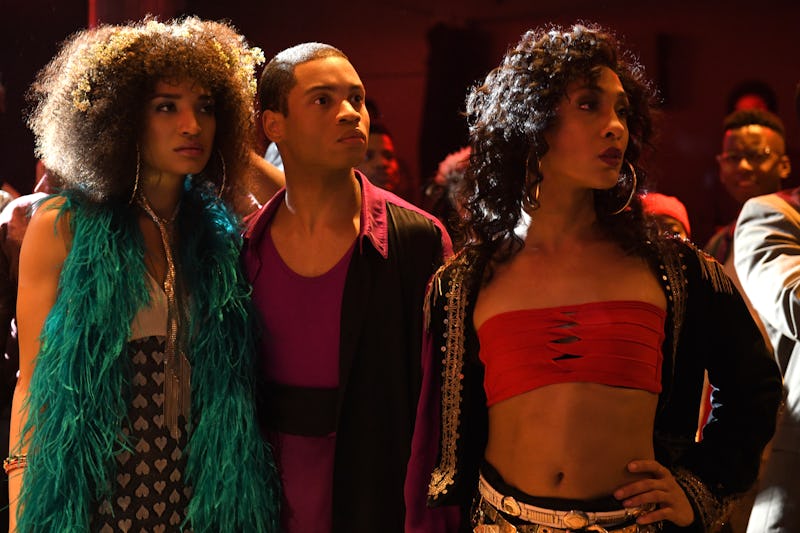 JoJo Whilden/FX
In Ryan Murphy's Pose, the House of Abundance is introduced as the leading house in the ball scene where the main characters gather. But Blanca (Mj Rodriguez) creates her own competing house in the first episode. The FX series focuses on the true-life ball culture of 1980s New York City, but is the House of Evangelista on Pose real?
The New Yorker reported that Murphy originally wanted to create a series with characters based on the 1991 documentary, Paris Is Burning. But Murphy decided to give a fictionalized account of the ball scene when he discovered Steven Canals' Pose script. So while the two main houses in Pose didn't actually exist, they are very much based in reality. And the name of Blanca's house does come from a genuine supermodel.
After Blanca is diagnosed as HIV positive in the pilot, she decides to leave the domineering Elektra's House of Abundance to form her own group. "Because in our world there is only one way to leave something behind, proof that I was here — building a legendary house my way with my ideas," Blanca says. Before the first episode is over, she has recruited Damon (Ryan Jamaal Swain), Angel (Indya Moore), and Lil Papi (Angel Bismark Curiel). The budding house also tried to compete against the House of Abundance since, as Pray Tell (Bily Porter) says, "A house can't be legendary unless it has a good rival." The House of Evangelista end up losing to the established house, but Blanca is still motivated to continue, offering a place of refuge for people who have no other place to go. And Blanca proves what a formidable house mother she will be by helping Damon get into dance school.
This house system with a house mother (and/or father) is very much a part of ball culture. Power Infiniti, the mother of the House of Infiniti, spoke to Miami New Times in 2014 about how the houses often work as a family. "A lot of gay kids and gay youth were turned away from their own families, and they'd get together because they found this social network in the clubs and on the streets," Infiniti explained. "They formed these families. The older ones took care of the younger ones, and it became like a house. There are different houses that sprung up, and when they would meet, they would compete at these balls in different categories and competitions."
As them. reported, the first house to host a ball was the House of LaBeija in the '70s. It was named after the mother of the house, Crystal LaBeija, and it was featured in Paris Is Burning. Other houses followed, like the House of Ninja and the House of Xtravaganza. As the Standard Hotels magazine noted, the current house father of the House of Xtravaganza is Madonna choreographer Jose Gutierez Xtravaganza. Gutierez adopted the name Xtravaganza and took over the house when the original founders had died of AIDS. Xtravaganza praised Murphy for Pose to the New York Post. "He took the stories of a lot of these people who are no longer here, who appear in Paris Is Burning, and somewhat gave them life," Xtravaganza said.
Blanca is also fictional, however, Rodriguez can draw from her own experience to play the house mother. Entertainment Tonight reported that Rodriguez entered the ball scene when she was 14 years old and she was part of a house herself. "My house father saw something in me, she saw potential and taught me how to vogue," Rodriguez told ET.
As for where the House of Evangelista gets its name, Blanca says in the pilot that it was inspired by the up-and-coming, legendary model Linda Evangelista. Vanity Fair reported that the Canadian Evangelista was part of the original supermodels of the '90s. Evangelista told Vanity Fair that she worked for three years before she landed a job with Vogue. But by 1990, Evangelista had been on 60 magazine covers and was Revlon's "Charlie girl."
So Blanca chose the name of a woman who inspires her for her house and Blanca will continue to inspire her "children" as she settles into her role as house mother on Pose. And based on how quickly she took to it, you can expect more of the younger generation to find a home with the House of Evangelista.