'The Quad' Is Telling A Realistic Story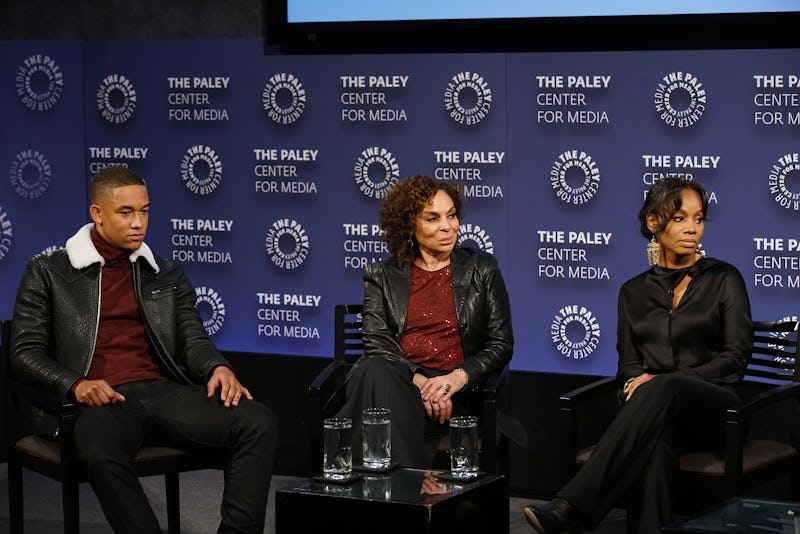 Bennett Raglin/Getty Images Entertainment/Getty Images
BET just made major ratings history with miniseries The New Edition Story, and now it's following up that success with a new drama series about the students and administrators of a historically black university, The Quad. Since the network had so much luck with the retelling of real events, you may assume that The Quad is based on a true story too. However, it turns out that the new show isn't based on any real events and even invented a college for its setting, the fictional Georgia A&M. But while the show isn't explicitly based on any one specific HBCU or dean, it is designed to be true to the experience of attending one.
The Quad will tackle all aspects of the HBCU experience, from the positive impact of attending a majority-black school, to sexism on campus, to the power of extracurricular activities like the marching band, to the way many higher education institutions are attempting to exorcise old-fashioned traditions like hazing. What seems great about The Quad is that it's just your typical TV drama that happens to be about the black experience, without exclusively focusing on contemporary issues like racism and police brutality. Instead, it's about the challenges of running a contemporary university, which has the potential to intersect with those issues while also focusing on the daily lives of students and others at an HBCU.
Some aspects of the series were clearly chosen to evoke real comparisons with actual black colleges. For example, successful marching bands are often a huge part of HBCU culture, and their performances are awe-inspiring — I can definitely see how The Quad is borrowing from many successful black bands to inspire Georgia A&M.
Unfortunately, there have also been marching band scandals in real life, as the The Quad will portray. One tragic scandal took place at Florida A&M, an HBCU with very well known marching band the Marching 100. As reported by CBS News, 15 members of the band were charged with felony hazing in 2015 and sentenced to a range of probation and community service following the 2011 death of Robert Champion in a hazing incident. Some members were also charged with manslaughter, with Dante Martin being convicted and sentenced to 6 1/2 years in prison, and Jessie Baskin and Caleb Jackson pleading no contest to manslaughter. As for administrators, the New York Times reported that Florida A&M President James H. Ammons resigned in 2012 following the scandal, shortly after the band's director, Julian White, retired, according to CBS News.
Outside of the HBCU community, the Associated Press reported that an Ohio State University bandleader, Jon Waters, was fired in 2014 over allegations that he knew about "rituals where students were pressured to march in their underwear or participate in sexually themed stunts," and a culture that exerted pressure on female students and swore them to secrecy. Waters claimed that he was trying to change the culture, appealed the decision, and sued the university for alleged gender discrimination, The Columbus Dispatch reported, but the lawsuit was dismissed and the appeals were denied.
As The Quad trailer below demonstrates, harassment and a lack of transparency about the school's rituals will be a challenge to Georgia A&M's incoming new president.
Dr. Eva Fletcher looks like she's entering a hostile environment, because with a background at PWIs — that is, primarily white institutions — the rest of the staff believes she doesn't have what it takes to run an HBCU. While some of this resistance is culturally motivated, I wouldn't be shocked if sexism plays a role as well, to shed light on the barriers women in these roles may face.
From the outright positives to the issues that all different kinds of universities face, The Quad is tackling all sides of the HBCU experience in a realistic way.