Lifetime's Latest Movie Will Make You Feel Better About Your Dating Fails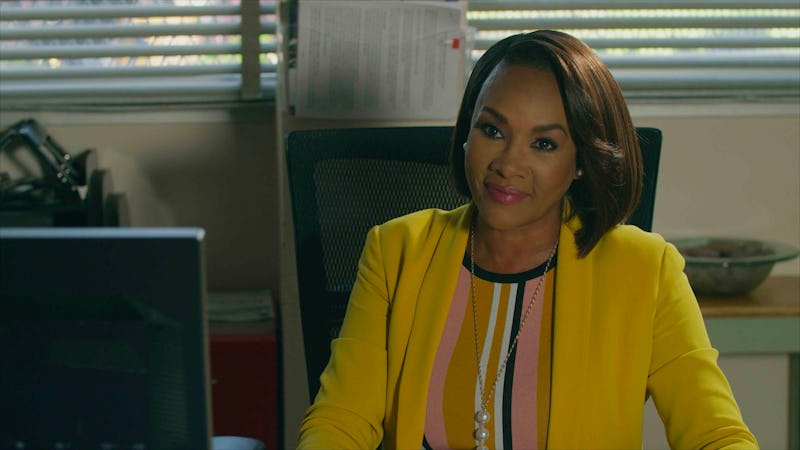 Courtesy of Lifetime
Christmas is officially over, so it's back to Lifetime's regularly scheduled programming packed with juicy fictional flicks and real-life dramas. One of the network's most interesting string of movies is their Wrong franchise. There was The Wrong Son, The Wrong Cruise, The Wrong Friend, The Wrong Student, and, of course, The Wrong Man. Now, the latest installment is back with another story about a person who wreaks havoc on an unsuspecting person's life. The Wrong Teacher isn't based on a true story but the plot will make you think twice about a one-night stand.
Per Lifetime's description, Charlotte Hansen is a teacher and author who has one night of passion with a young guy named Chris Williams. But, things get complicated when Charlotte discovers that Chris is actually an 18-year-old new student at the high school where she teaches.
Principal Burns, played by the fabulous Vivica A. Fox, and Vice Principal Clark discover the illicit affair and Charlotte's sexy fling turns into a daily nightmare as Chris' behavior gets increasingly erratic. Now, she has to get rid of this fatal attraction and reclaim her life and career. Like most movies involving dangerous teens, Chris probably did something terrible at his former school and has parents who are either MIA or completely oblivious to his odd behavior. And, somehow the cops will be zero help so Charlotte will have to figure everything out on her own. It's basically the perfect flick to check out on a relaxed Friday night before pre-New Year's celebrations. The best part is, you can watch it with zero guilt because it's a completely fictional story.
Fox is definitely no stranger to the Wrong franchise. First, she encountered her husband's long-lost son who turned out to be her worst nightmare in The Wrong Son. Then, she escaped a pair of scammers on a vacation from hell in The Wrong Cruise. Recently, Fox executive produced and starred in The Wrong Friend, where she coincidentally portrayed a Principal dealing with a problematic student. Her decisions in that movie were questionable at best, so hopefully Principal Burns will be more helpful and understanding.
Fox previously spoke to Bustle about continuing her relationship with Wrong Franchise director David DeCoteau and revealed that there would be more Wrong movies in the future. Now, with the release of The Wrong Teacher, who knows what will come next? The Wrong Hairdresser? The Wrong Nurse? Or, maybe they could shift it all together and do The Wrong Christmas in time for the holiday season.
The possibilities are endless and fans can't get enough of thrilling movies about the wrong person, place, or thing. It's the type of series that fits in perfectly with Lifetime's penchant for twisty and outrageous dramas. And, it's pretty much impossible to go wrong with anything involving Vivica, right?
How will Charlotte make it out alive? Who will Chris hurt along the way? The only way to find out is by tuning in on Dec. 28 at 8 p.m. ET to watch it all go down.