These 'Ted' Insiders Are Totally Keen For A Third Film So You Can Get Excited Now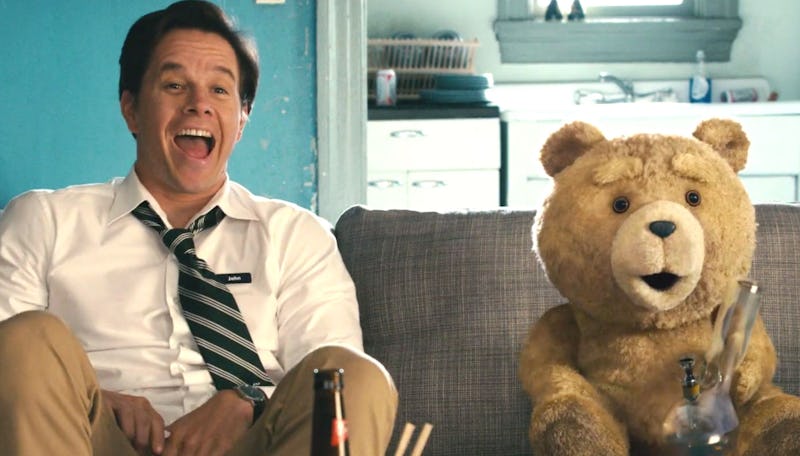 Universal Pictures
Ted hit the silver screen back in in 2012. Making over $218 million at the box office, this film about a man and his talking teddy bear, starring Mark Wahlberg and Seth MacFarlane, went on to have a sequel in 2015, the just-as-it-says-on-the-tin Ted 2. After it being given a second whirl, many fans were expecting a third chance to see this talking bear on our screens but, as of yet, no followup has been announced. It's been three years now so will there be a Ted 3 or not?
It has not yet been confirmed whether there will be a third installment of the film, but the creator of the film, Family Guy's Seth MacFarlane, has not ruled it out (which is a relief, I am sure, to fans of the original comedy). Speaking to the hosts of Today in late October 2015, MacFarlane said that there are "no immediate plans" to make Ted a trilogy, but he refuses to rule it out. "We don't know, we don't know," he said.
Meanwhile, one of the stars has confirmed that he is up for another go at the Ted series. Sam Jones, who plays himself/Flash Gordon in the film, revealed that he has agreed to star in another potential Ted. He added, however, that being contracted to appear in a sequel doesn't mean that a sequel has been greenlit. Speaking to Comicbook.com, he said:
"We are signed for [Ted 3], but that doesn't necessarily mean it's going to happen. It's all about crunching the numbers. Ted 1 set a precedent. It became #1 in the history of Hollywood, it shattered all the box office records under the category of original — original — R-rated comedy."
Original though it may be, this franchise isn't one for those who are easily offended. The first movie tells the story of a young boy whose childhood wish is for his teddy to come to life. He does, speaking with MacFarlane's voice and earning the movie's R-rating. This particular teddy isn't kid-friendly.
However, be careful what you wish for, boys and girls, as this film shows that having a living teddy bear as your constant companion could be a little bit of a buzzkill — especially as you grow up and maybe want to have a normal life, job, and romantic relationships. Also, this bear is pretty outrageous, and the bromance between Ted and Wahlberg's character, John Bennett, is not the healthiest. Egged on by each other, they enjoy the good life a little bit too much. But in Ted 2, they take on a somewhat more serious battle: Ted goes to court to try to be recognized as his own person (bear). He also adopts a baby with his girlfriend Tami-Lynn (Jessica Barth), so maybe he really is growing up.
Would a third Ted involve a man and his bear growing old as besties and family men? The world may never know, but stranger things have happened — like a movie about a talking toy pulling in hundreds of millions of dollars in ticket sales.
This article was originally published on