Why Toni Collette Won't Settle For Playing The "Mom Of" Or "Wife Of"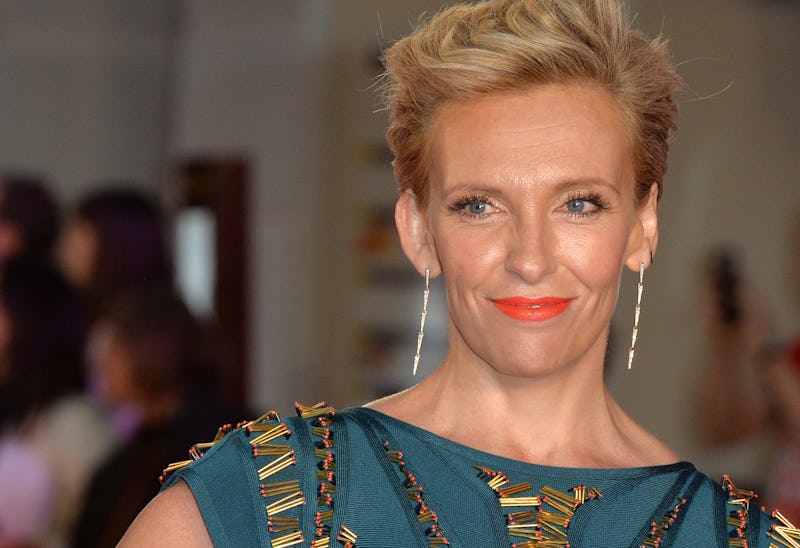 Anthony Harvey/Getty Images Entertainment/Getty Images
Like many female actors, Toni Collette has spent much of her career playing moms, wives, and girlfriends on-screen. From The Sixth Sense to Little Miss Sunshine to The United States of Tara, many of the acclaimed actor's films and TV shows have seen her starring as a character in support of someone else. But that's not to say that these women have been defined by their motherhood or marriage — in fact, Collette tells me, she's actually spent the last several decades going out of her way to avoid roles that'd limit her to a label.
"I've never felt like the flimsy girlfriend or whatever, because I just haven't put myself in that position," the actor says, sitting down at New York's London Hotel on recent a Monday afternoon. "I've held out... I really, like 98 percent of the time, have worked on stuff that I just so wholeheartedly believe in."
That's not to say that 2 percent isn't still frustrating. Collette recalls one past situation where she was pitched an "exciting" role that she grew invested in, only to discover later that it wouldn't be nearly as meaty as she'd hoped. "What came to pass was that the writer ended up not being able to relate to the female character, and just totally geared it towards the male character," she recalls. "It happens all the time, and it just has to change."
Thankfully, Collette's latest role, in the ensemble comedy Fun Mom Dinner, is all about its female characters. In the film, out Aug. 4, Collette plays Katie, an overworked mom who prefers smoking weed to attending PTA meetings. Her chilled-out attitude makes her an outsider in her school community, but when she's roped into a girls' night out with a few other moms (Katie Aselton, Bridget Everett, and Molly Shannon), the crazy antics the ladies get into make Katie realize she has more in common with her fellow moms than she thinks.
Collette clearly loved filming Fun Mom Dinner ("we all had an absolute ball," she says with a grin), particularly because of how, unlike so many other films, it let its "mom" characters be real individuals. These women are mothers, yes, but they're also people, and the movie explores the pressures each character faces in balancing the many facets of her life. For Collette, a constantly working, Oscar-nominated actor who's also a mother of two, this couldn't be more relatable.
"I love my work, but it is very very consuming, and obviously I am in love with my children, and they are totally consuming," she tells me. "So [I'm] just trying to balance everything out, and I think the only answer is to just be present wherever you are."
Besides, she adds, "I just think guilt is such a pointless emotion, and I have felt so much of it, and I'm just trying to eradicate that from my life."
If anything, Collette is on a mission to become even busier than she already is; in addition to the several films she has in the works, she hints that she's producing a few projects. "I want to be challenged at work, and if I'm not, it's pointless," she says. The actor is even considering making another return to TV at some point, too, although she readily admits that it'll be hard to live up to her most acclaimed run on the medium. "Doing United States of Tara was one of the best jobs in my entire life. It will never happen again, it was a once in a lifetime thing," she says. "So yes, I would absolutely consider [returning to TV], but it would have to be a stellar piece of writing."
And you can be sure that if Collette is offered anything less, she won't have a problem shaking her head and happily walking away.