Toni Collette Once Collaborated With Her IRL Husband In This Major Way & Wow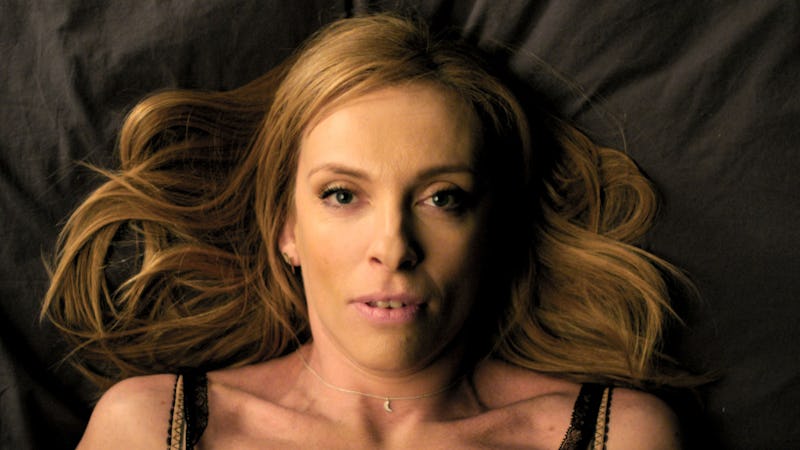 Wanderlust / BBC One
Monogamy ain't nothing but a thang in a new BBC series called Wanderlust, a show that centres on a married couple who decide to give polyamory a shot. I'm super fascinated to see how it all plays out and you can bet I'll be glued to my screen tonight when the first episode airs. But TBH, the show could have been about anything and I still would have watched it for its lead actress: Little Miss Sunshine's Toni Collette. The upcoming BBC series may centre on a British couple's stalled relationship, but let's just take things into the real world for a second: is Toni Collette married?
It turns out that the Academy Award nominee has been happily married to musician Dave Galafassi since 2003, according to the Sydney Morning Herald. It sounds like it was a pretty fun bash, too, as the paper reported that they were hitched in an intimate Buddhist ceremony at her home in Berry, complete with a vegetarian banquet and fireworks display.
She told the paper at the time, "Forget Cloud Nine; I am on Cloud 59 and it's very high. It's the best thing that ever happened to me."
Dave Galafassi previously drummed for a rock band over in Aus called Gelbison, according to the New York Times. However, the pair then decided to literally create beautiful music in 2006 and teamed up for a musical collaboration, joining forces to create a band called Toni Collette and The Finish, reports the Sydney Morning Herald. (Their pal and Gelbison bassist Pete Farley also lent his musical talents to the gang.)
They then released an album called Beautiful Awkward Pictures in 2006, and you can watch the music video for the eponymous single below. It's the kind of song I definitely would have been listening to at the time if I'd known about it, most likely as I threw myself dramatically on the bed and cried over a boy I was crushing on in secondary school.
While Toni Collette and The Finish never released another album (despite Collette telling the Sydney Morning Herald it was a "long-term thing"), she and Galafassi embarked on another great adventure in 2008. They had their first child, Sage Florence Galafassi, in the December of that year according to the Hollywood Reporter.
TBH, I thought she had named Sage after the ingredient, à la Gwyneth Paltrow's daughter Apple, but I couldn't have been more off-base. Speaking to People, Collette said, "I named my daughter Sage because I felt like she was already teaching me in the womb, and she has continued to do that."
Galafassi and Collette then later welcomed another child to the family in 2011, a son named Arlo. Their representative told People at the time, "Toni Collette, her husband David Galafassi and their daughter Sage Galafassi are excited and proud to announce the arrival of their baby boy, Arlo Robert Galafassi. He was born on Good Friday making it the greatest Friday, indeed!"
Collette is the epitome of a badass working mother and has also spoken openly about how her children have given her perspective on both her career, as well as her upcoming role in Wanderlust. In the BBC series, she plays a therapist named Joy Richards and Express drew comparisons between the character's "work home balance" and Collette's own experience of motherhood.
She told the outlet, "My children are the lights of my life and I certainly can't imagine my life without them. But I can't imagine my life without acting either and it's good for them to see me being passionate and working hard."
I really hope her young children aren't going to be watching her Wanderlust specifically, as she previously said that the series would feature the "first female orgasm on BBC One" and that sounds like just the tip of the iceberg. However, her husband, Galafassi, is apparently a massive fan of the new show and she told Stella magazine that he'd already seen all of it.
After watching it, his feedback left Collette emotional. "The one thing he did say was, 'This is the best thing you've ever done,'" she told the magazine. "It made me cry."
Want to find out if Wanderlust will make you cry, too? The show, which is a joint venture between BBC One and Netflix, will air tonight at 9 p.m. in the UK on BBC One. The Hollywood Reporter has stated that Netflix will be "getting it ready for the rest of the world," so it could be coming to the streaming platform soon afterwards, too.