Why Trump Could Be Guilty Of Obstructing Justice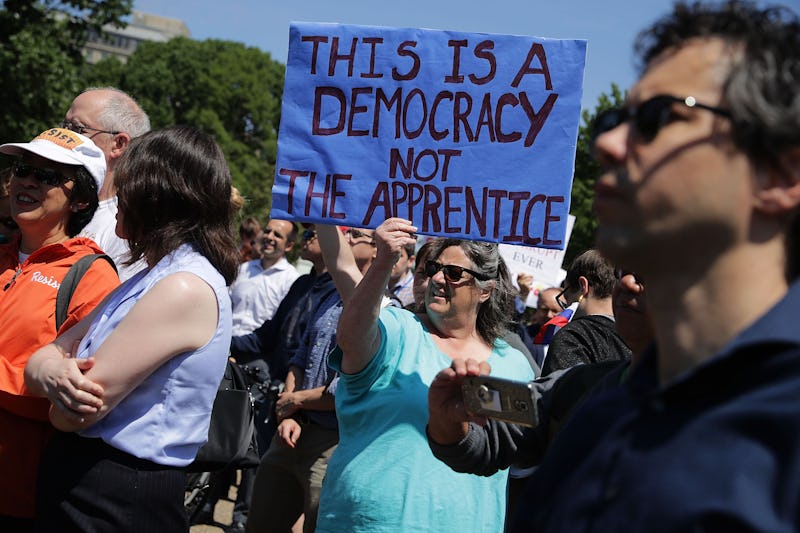 Chip Somodevilla/Getty Images News/Getty Images
Of all the scandals that have come out of the still-young Trump administration, the allegation that the president requested an end to an FBI investigation could be the most troubling. On Tuesday, The New York Times first reported that former FBI Director James Comey wrote an internal memo claiming President Trump asked him to drop the bureau's investigation into former National Security Adviser Michael Flynn's ties to Russia. The White House has denied the allegation, but if true, Trump could be guilty of obstruction of justice.
According to the Times report, Comey's memo was written in February after Comey had a meeting with Trump in the Oval Office. The memo reportedly alleges that Trump told Comey, "I hope you can let this go," referring to the Flynn investigation. Sources for NBC and CNN also confirmed the existence of the memo.
For its part, the Trump administration has denied the allegation. In a statement, the White House assured Americans that the president "never asked Mr. Comey or anyone else to end any investigation, including any investigation involving General Flynn." Still, given the president's recent firing of Comey over a different investigation — the one involving Hillary Clinton's email scandal — the water is deeply muddied for the president and his team.
At this point, it's essentially Comey's word against Trump's. The stakes are high, though, because of the potential fallout. If Trump did indeed attempt to end an FBI investigation, then he almost certainly committed obstruction of justice. That's an impeachable offense.
On Tuesday, Jeffrey Toobin, a renowned legal expert and author, told CNN that, if true, the allegation against Trump constitutes obstruction of justice. A broad term, obstruction of justice basically means that a person has interfered "with the administration of justice," which is a fancy way of saying investigation, trial, conviction, etc. Obstruction can range from physical force to verbal or written threats to dishonesty. It's a vague crime, but requesting an end to a federal investigation seems as though it could fit the bill.
In fact, there's even a precedent. In 1974, former President Nixon was charged by the House of Representatives with three articles of impeachment for obstruction of justice. Nixon had refused to release evidence in the now-infamous Watergate investigation, thereby blocking a full investigation. Ultimately, Nixon resigned before he could be tried by the Senate, but the process had undoubtedly been set in motion because of Nixon's alleged obstruction of justice.
It may still be too early to jump to impeachment conclusions in Trump's case. Nonetheless, things became more serious late Tuesday when the House Oversight Committee requested all records of Trump's conversations with Comey from the FBI. Keep in mind, impeachment proceedings begin in the House.