'Unforgotten' Is Back With An Explosive Storyline Carrying Some Real Life Links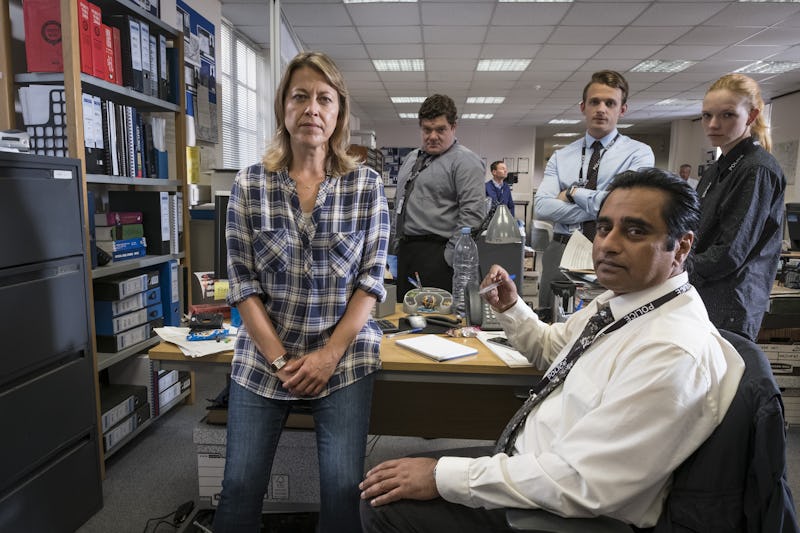 ITV/Shutterstock
When ITV brought Unforgotten to our screens back in 2015, people instantly fell for the cold case style detective show. DCI Cassie Stewart, played by Nicola Walker, and DI Sunny Khan, played by Sanjeev Bhaskar, had viewers biting their fingernails each week and braying for more at the end of each season. As Season 3 is set to air on Sunday July 15, the hype is very much already swirling with few hints being given about what sort of case will be covered this season. So is Season 3 of Unforgotten based on a true story?
Previous seasons weren't based on true stories but certainly address lots of really hard hitting heavy real life themes. This season is no different, with the enormously loveable detective team hitting the pavements in search of justice for an iconic and very well known cold case. One of those cases that stays in peoples' minds forever and is very public. This is super different to the previous seasons when the cases covered are about lesser known cases, ones that weren't historically significant or well known. Season 3 is definitely set to be as addictive and nail biting, but will it be real?
The case that they are covering this season does not appear to be based on a true story. Speaking to the Radio Times on a break from what I imagine is a pretty hectic shooting schedule, stand out star Walker said, "this is one of those big national stories that affected people at the time, and has never been solved".
The case in question is said to be that of a missing girl, Hayley Louise Reid. A teenager who disappeared in and around the millennium has become a sadly iconic case, with the girl's body never being found. This case is not based on any in real life case in particular, but the phenomenon of the general public being obsessed with a tragic case is definitely real so in a way, this season is based on that.
Walker went on to say: "It's one of those stories that people will have written books about, there will have been plays about it, there will have been TV programmes about it. It's one of those big iconic murders that wasn't solved."
The third instalment of this addictive crime drama kicks off with the sad discovery of human remains that transpire to be Hayley's. The added edge of the case being a very well known one means that there are a lot of added dimensions to this case, that we haven't seen in previous aired episodes. It will be interesting to see how the main characters deal with investigating a case like this considering the heavy amount of scrutiny they will be under from the general public, the media, and of course the higher ups in the police force who will be wanting to look pretty good.
Walker addressed the new added issues to this investigation in the same interview, saying her character would have to "deal with the media for the first time and there's an extra layer of difficulty in her job."
There will be a lot of unanswered questions especially regarding the original, failed investigation, why it took so long to find the girl's remains, and of course, why they haven't yet found and charged whoever was responsible for her murder. And when it comes to finding out who's guilty, it isn't going to be easy. In an interview with Digital Spy, Walker noted that writer Chris Lang is often "toying with you." She added: "This series more than the others I really didn't know and because of the way Chris writes, I thought they were all guilty but that was essentially the plot of the series before."
Unforgotten Season 3 will air at 9 p.m. on Sunday July 15 on ITV