Whaboom Is A Pretty Neat Marketing Tool For 'Bachelorette's Lucas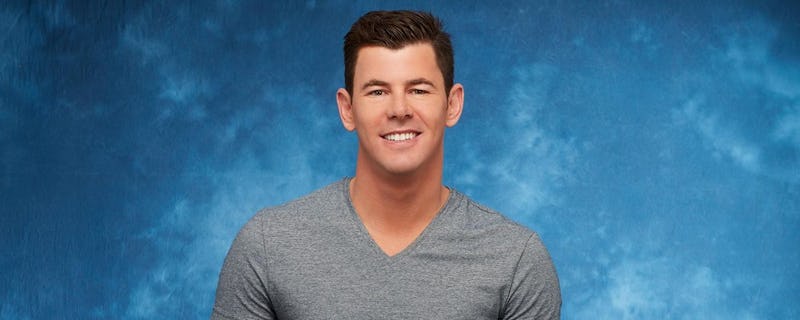 ABC
It's time people: Fill up your wine glasses, put out the fancy cheeses and get ready. A whole new season of The Bachelorette is about to begin. Rachel Lindsay begins her journey to find television love on May 22 and I couldn't be happier for her. And happy for me. Because I get to watch, laugh, cry and write about all that happens. Really, Rachel's journey is mostly about me. This season is filled to the brim with eclectic men. Their jobs range from lawyer to "Tickle Monster." One of the oddest job titles is Lucas Yancey's. His job just says "Whaboom." So, is "Whaboom" a company? It's not, but that doesn't mean Lucas isn't trying to make money off it.
Wacky job titles is a tried and true Bachelor tradition. My favorite was on Juan Pablo's season of The Bachelor (Season 18). Kelly Travis had the job title of "Dog Lover" and brought her dog to live in in the Bachelor mansion. A weird job title is a sure way to create buzz about a contestant going in. And buzz is exactly what I believe Lucas the Whaboom guy wants. In real life, Lucas is a real estate agent and actor who may be going on the show for a few other things besides love. This isn't to say he doesn't want Rachel. He just also wants Whaboom.
For an aspiring actor, who already has a resume on IMDB, going on The Bachelorette means publicity and a platform. I mean look, here I am trying to figure out what the heck Whaboom is. His publicity ploy has worked. But Whaboom is not anything concrete. It isn't a company that sells products (though he is already selling Whaboom shirts) or a magazine or something of that nature. Whaboom is Lucas's way of marketing himself, creating a catchphrase fans can latch on to. He wants to get people talking and get some attention. As an actor who has a small production company, his goals are clear.
So far, Lucas has been rather successful. Just check out Jimmy Fallon talking about Whaboom above. If your catchphrase on The Bachelorette has reached late night, then you're doing something right.
In recent seasons, contestants on The Bachelor and Bachelorette find quite a bit of internet celebrity and even money after the show. Corinne Olympios, last season's "villain," has built quite a brand for herself and sells tanks with her catchphrases. Jade and Tanner Tolbert, Bachelor In Paradise's golden couple, have also made quite a bit of money on Instagram. Lucas seems to be trying to make a name for himself as quickly as possible.
Lucas also posted the above Instagram of Chris Harrison talking to E! News about Whaboom. Lucas clearly has a sense of humor about the whole thing. He's trying to entertain Bachelor nation, while building himself some sort of brand. According to the video, Whaboom is a feeling, an essence, and essentially a marketing tool. So far, in the pre-season hubbub, it's working. We'll just have to see how long Whaboom and Lucas stick around...