Lifetime's New Show Is A Creepy Exploration Of Social Media Stalking Gone Too Far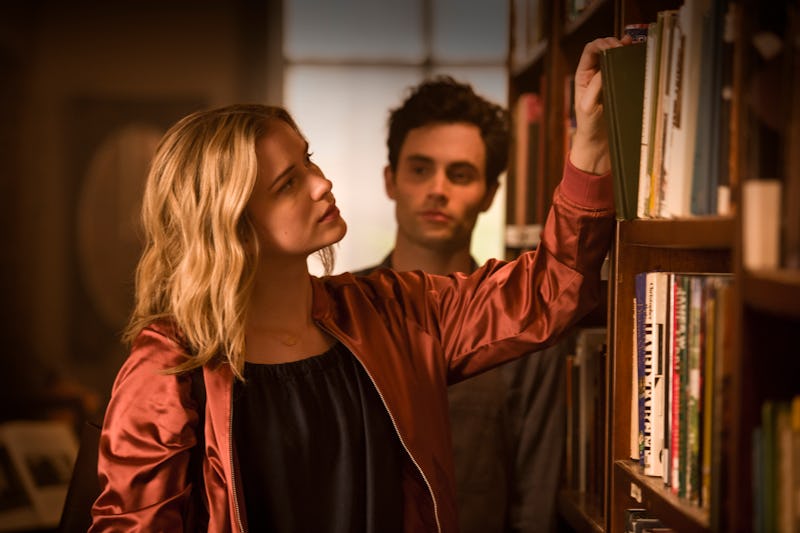 Lifetime
In today's world, there's a lot you can learn about your crush without ever having to talk to them. With Facebook, Instagram, Twitter, and Snapchat, it's pretty easy to get a good sense of someone's likes, dislikes, friends, and lifestyle before you even get to know them. But what happens when Facebook stalking veers into real-life stalking? That's the question Lifetime's new show, You, seeks to answer. Starring Gossip Girl alum Penn Badgley and newcomer Elizabeth Lail, the show depicts a love story that is equal turns sexy and twisted. But is You based on a true story?
Fortunately for viewers everywhere who want to walk down the street without looking constantly behind them, this new series is not based on real events, but rather a novel. The book, also called You, is written by Caroline Kepnes, and chronicles the journey of a young man who becomes infatuated with an aspiring young writer, and through social media stalking contrives a plan to become her boyfriend... at all costs. The thriller was very popular, so there has already been considerable buzz around the series before its set premiere date on Sept 9 at 10 p.m. ET on Lifetime. Fans of the book are sure to be looking forward to this small-screen adaptation.
The show seems set to follow the plot of the original novel pretty closely. You depicts the story of Joe (Badgley), who develops an obsession with an aspiring writer Beck (Lail) who comes to the bookstore where he works. Using social media, Joe is able to learn her quirks, her interests, and, most importantly, track her locations. Joe always seems to be at the right place at the right time, especially when he just happens to be on the same subway platform as Beck when she slips and falls onto the tracks. Joe's dashing rescue of Beck draws the couple together, but also brings up difficult questions about why he was in that subway station in the first place.
"Joe is not so different than many of us," showrunner Sera Gamble told Entertainment Weekly in an interview about You. "If you're a bit of a romantic, you might believe in bending the rules in ways that are more socially acceptable, doing a little light social media stalking. It's just that Joe takes everything so much further." She's referring to Joe's tendencies to stalk Beck in person as well as on social media, an issue that will surely inevitably drive a wedge between the two.
But the show, much like the novel on which it is based, is not merely a black-and-white indictment of Joe's actions. In some ways, Joe and Beck really are a good match. "I found myself intermittently rooting for [Joe and Beck] until almost the very last page," Gamble told EW of how she felt about the novel. "I was fully aware that it was not in line with my feminist view of the world, but what it taps into is something that is very deeply ingrained in me and I think a lot of people in our culture, which is a deep belief in the love story."
Though some of Joe's actions occupy a grey area, and leave room for debate, others are deeply unsettling. Actor Penn Badgley acknowledged this during the series' TCA panel, and admitted to feeling "troubled" by the role, according to Deadline. "I think it will add to the conversation, it will create its own conversation," Badgley added. "I just focused on his curiosity and sensitivity; there are so many things that are human."
This show will leave you questioning: What would you do in the name of love? And it will definitely convince you to change all of your social media accounts to private, stat.