This Photo Of Prince George On His 5th Birthday Will Overwhelm You With Cuteness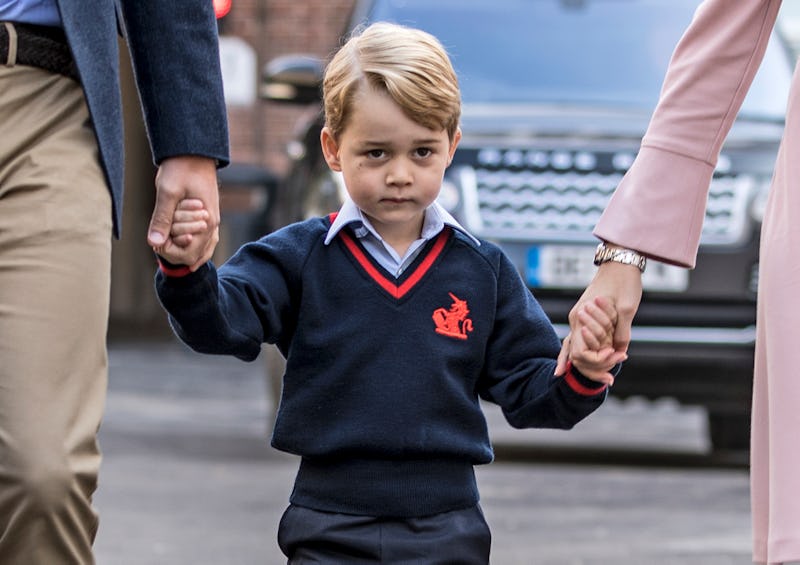 WPA Pool/Getty Images Entertainment/Getty Images
Let's count the celebrity birthdays we are proudly honouring today, on July 22. Selena Gomez is turning 26! John Leguizamo, the only Tybalt I will ever acknowledge, is turning 54! Neil off The Inbetweeners is 33 whole years old, and I am now miserably distressed by the knowledge that The Inbetweeners debuted an entire 10 years ago! And it also happens to be one Prince George's fifth birthday, celebrated by the Palace with the release of an impossibly adorable new photo.
Here's what we know about the photo: firstly, it was taken by Jersey-based photographer Matt Porteous, who also took George's 3rd birthday photos, according to his website (and if you haven't seen them, I urge you to take a look at the extremely sweet photoshoot, feat. a dog who looks slightly like she's been frozen in time).
According to the BBC, the latest photo was taken in the garden of Clarence House after his baby brother Prince Louis' christening earlier in July; during the ceremony, Porteous also reportedly took personal photos for parents the Duke and Duchess of Cambridge.
I cross-referenced the snap against the christening photos, and Prince George is indeed wearing the same white shirt with blue edging, meaning the not yet five-year-old wore a crisp white shirt for several hours without spilling a single drop of his Fruit Shoot (I refuse to accept even a royal five-year-old drinks anything but Fruit Shoots) down the front. Royals! They're absolutely not just like us!
The photo isn't the only way the royal family are celebrating the second-littlest prince's birthday; earlier this week, as the Evening Standard reported, the Royal Mint released a commemorative coin, featuring the legend of St. George slaying a dragon. (No pressure, five-year-old George — you won't be expected to locate and kill a dragon until you're well into adulthood.)
Let's take a look back over Prince George's life so far, during which he's already appeared in more extremely cute photos than I have over 25 entire years. The BBC recalls, "George Alexander Louis of Cambridge was born in the private Lindo Wing at St Mary's Hospital, Paddington, at 4.24pm on 22 July 2013, weighing 8lb 6oz." Since then, he's been on more than a few fancy trips. In 2014, he journeyed to New Zealand and Australia with his mum and dad on a three week tour. Once Princess Charlotte was born, the family of four also went on tour round Canada in 2016, followed by Poland and Germany in July 2017.
The last year's been an especially important one for Prince George — he started school at Thomas's Battersea, where sample catering menus revealed that his lunch options include "freshly prepared fragrant lamb" and "moules marinière with cream, garlic and parsley."
He was a page boy at the wedding of the Duke and Duchess of Sussex — or Harry and Meghan — in May, alongside his sister Princess Charlotte. He then appeared on the Buckingham Palace balcony for the Trooping the Colour ceremony the next month (where he was bluntly shushed by Savannah Phillips, daughter of Prince William's cousin, Peter Phillips).
But perhaps the most momentous event of the last year came around Christmas — as the BBC reports, George played a sheep in his school nativity play. I'm choosing to believe his costume comprised a white t-shirt crudely covered in cotton balls, in the proud tradition of the British primary school play.
There's no word as of yet on how William and Kate plan to celebrate with their oldest son today, so here's my birthday wish for you, George: I hope there is an absolutely obscene amount of cake. Happy birthday!