How Javanka's Plans For Staying In Washington Have Evolved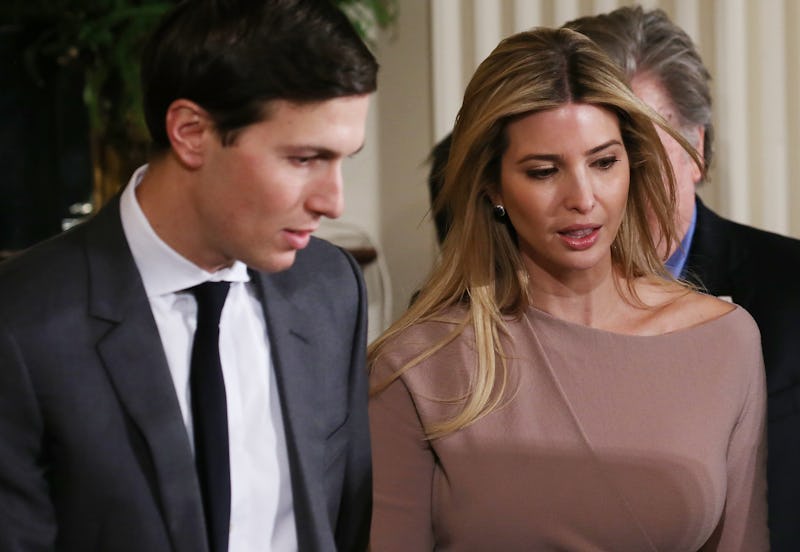 Mario Tama/Getty Images News/Getty Images
One of Washington's most intriguing power couples is making long-term plans. A report from Axios says Jared Kushner and Ivanka Trump may stay in D.C. for quite a while — at least as long as President Donald Trump is in office.
Axios spoke with friends of "Javanka" — their celebrity couple nickname combining the names Jared and Ivanka, akin to "Brangelina" — who said "they have the strong impression they are now preparing to stay in D.C. as long as the president does." Axios pointed out if they stayed that long, they'd likely outlast almost every member of the president's team.
This is a slight move away from previous reports. Town & Country Magazine pondered when Javanka would move back to New York City, and noted that insiders had implied this was "not a question of 'if' but 'when.'"
In May, Politico reported that Ivanka and Jared weren't happy with the $5.5 million home in the Kalorama area of Washington, D.C. and that they were looking for a larger place. They'd lived there since 2017 after moving from New York.
Both Axios and T&C also pointed out that it might be a challenge for the couple to move back to New York, even if they wanted to. The Trump administration has been constantly criticized by opponents for various policy decisions, including family separations at the U.S.-Mexico border.
The publications pointed out that the NYC social circle may not be as accepting of the couple as they were the last time they lived in the consistently left-leaning city.
The report that the couple would stick around in D.C. for the long haul came days after Ivanka announced her fashion brand would shutter, The New York Times reported. In a statement about the brand's shutdown Tuesday, Ivanka said:
After 17 months in Washington, I do not know when or if I will ever return to the business. But I do know that my focus for the foreseeable future will be the work I am doing here in Washington, so making this decision now is the only fair outcome for my team and partners.
And there are other signs of the couple's longevity. Aside from Jared getting his security clearance, the couple has really had the president's ear lately, according to Axios. Javanka has been hanging out with the president in the private dining room next to the Oval Office — and the meetings are taking place without White House Chief of Staff John Kelly, one of the people vying for the president's confidence opposite Javanka, Axios wrote.
On top of their roles in the 2020 presidential election, Jared and Ivanka have big policy plans. And they seem to want to stick around to see them through, as Axios noted. Ivanka has been fighting for paid family leave and better childcare within the workplace, while Jared has his hands tied working on NAFTA negotiations and an Israeli-Palestinian deal. These are not small-potato issues, and it makes sense that the couple would need to plan for some extra time in the D.C. area to deal with them.
And for all of those reasons, it seems the couple is as likely as anyone to stay with Trump throughout his tenure.