Ivanka Trump Lawyers Up For Russia Investigation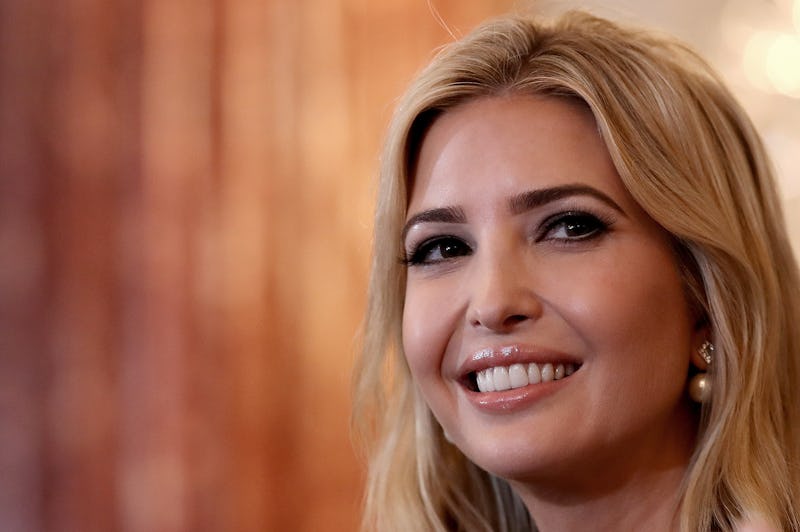 Win McNamee/Getty Images News/Getty Images
In the wake of her husband Jared Kushner's role in the Russia investigation, Ivanka Trump has hired a lawyer, Abbe Lowell, to counsel her in the ongoing probe. Although Trump herself is not currently being investigated in connection to Russian interference in the election by special prosecutor Robert Mueller, the couple have retained the D.C. lawyer for legal and ethical advice, according to The Hill.
Kushner testified Monday before the Senate Intelligence Committee in a closed-door session about his contact with Russian representatives during the 2016 presidential race. In a statement released before he testified, Kusher said he did not collude with Russia, and does not know of any member of the campaign colluding with any foreign government.
Back in June, Kushner first retained Lowell for his defense team. According to The Washington Post, Lowell served as chief counsel to House Democrats during former President Bill Clinton's impeachment trials. Originally, Kushner had retained Jamie Gorelick, but announced on July 14 that Gorelick would not handle representation on Russia matters, handing the responsibility to Lowell. For now, Gorelick remains on the legal team to handle other legal issues. Gorelick is a partner at WilmerHale, the same firm as special counsel Mueller.
Lowell is co-head of Regulations, Investigations, Securities, and compliance at Norton Rose Fulbright, according to the website. He has also represented former Democratic vice president nominee John Edwards and former Republican lobbyist Jack Abramoff. He's also representing Sen. Robert Menendez in a bribery and corruption case.
On Tuesday, Kushner was questioned by the House Intelligence Committee in a closed door session for three hours. Some of the Committee's questioning likely had to do with the June 9, 2016 meeting with Donald Trump Jr., then-Trump campaign manager Paul Manafort, and Russian lawyer Natalia Veselnitskaya. Trump Jr. had set up the meeting with Veselnitskaya after an email from Rob Goldstone saying that she may have damaging information about his father's presidential election opponent, Hillary Clinton. Trump Jr. invited Kushner and Manafort to the meeting at Trump Tower.
They maintain that no information about Clinton was exchanged, and that Veselnitskaya talked about a Russian adoption policy, according to The New York Times. Days later, Trump Jr. released his email exchanges setting up the meeting.
It remains unclear to what degree Trump is involved in the Russia probe, given that she does not appear to be a person of interest to the investigators. Her hiring Lowell as a counsel could be seen as more of a precautionary move than anything else.