Ivanka Trump Had A Surprising Response To Her Father Calling The Media The "Enemy"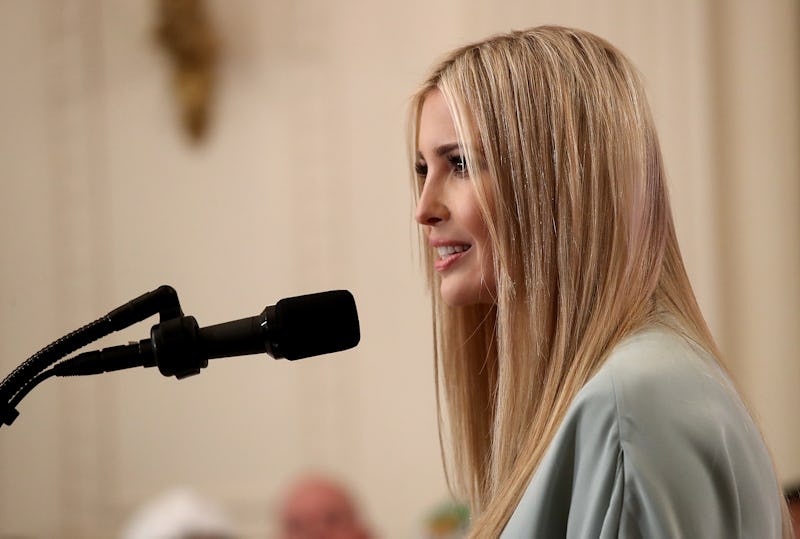 Win McNamee/Getty Images News/Getty Images
Ivanka Trump has routinely come under fire during her father's presidency for not publicly disagreeing with him on issues like LGBTQ+ rights and the treatment of women. However, during an event hosted by Axios on Thursday, Ivanka disagreed with Donald Trump about the media, telling Axios co-founder Mike Allen that she does not believe the press is "the enemy of the people."
When Allen first asked Ivanka Trump if she thought that he and the other reporters assembled at the event were the "enemy of the people," she reacted with confusion.
"Sorry?" she asked, turning to face Allen. When he repeated the question, she immediately responded, "no, I do not," prompting laughter from the audience and further confusion on her part.
"That's not a view that's shared in your family," Allen explained to Trump, referring to her father's recent tweets implying otherwise.
"Are you looking for me to elaborate?" Trump asked. "I've certainly received my fair share of reporting on me personally that I know not to be fully accurate, so I have some sensitivity around why people have concerns and gripe, especially when they feel targeted. But no, I do not feel that the media is the enemy of the people."
Per Axios, Trump's remarks about the media during Thursday's event mark a break with her father — a rare occurrence for a first daughter who has frequently been criticized for refusing to "voice dissent publicly." Trump has previously said that she doesn't often criticize her father openly because she is "part of a team," and she is concerned that people have formed "unrealistic expectations" of how she can influence her father's policies.
On Thursday, however, the media wasn't the only thing over which Trump expressed apparent disagreement with her father. Trump also said that immigrant family separations — which resulted from the current administration's "zero tolerance" immigration policy — were "a low point" for her. She remarked that she is "a daughter of an immigrant" herself, and described immigration as an "incredibly complex" topic.
"I feel very strongly about that, and I am very vehemently against family separation and the separation of parents and children," Trump told Allen. "These are not easy issues, these are incredibly difficult issues and like the rest of the country, I experience them in a very emotional way."
Vox reported back in June that Trump was supposedly urging her father to end family separations in private, but did not say anything publicly. In fact, Thursday's event with Axios marked the first time she spoke so freely about her disagreement with her father on issues like family separation and the media, but she also cited moments from his presidency during which they shared the same views.
After her father decided to grant clemency to Alice Marie Johnson — a 63-year-old great-grandmother who served more than 20 years in a federal prison for a first-time nonviolent drug offense — Trump said she "was crying" when she saw footage of Johnson reuniting with her family.
"It was one of the most beautiful things I've ever seen," Trump told Allen, citing Johnson's release from prison as a high point of her father's administration. "It reminds you of the real impact you have on people."
In addition to discussing the high and low points of the past year and a half, Trump also expressed regret over the fact that Congress had not passed the paid family leave policies for which she so passionately advocated in her father's stead. Unlike family separations and the media, Trump has made no secret of her support for paid family leave, and it is likely that she will continue pushing for this further down the line.