Ivanka Is Suddenly All About Oprah's Golden Globes Speech & Twitter Is Exploding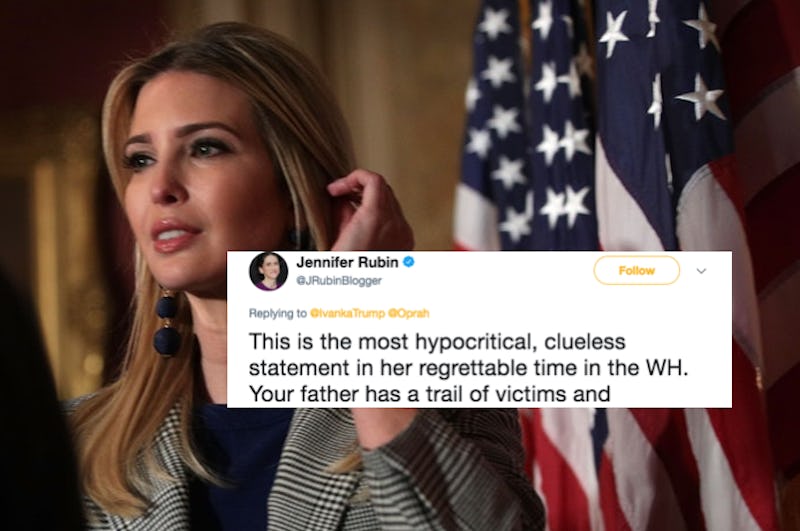 Alex Wong/Getty Images News/Getty Images
After Oprah Winfrey accepted the Cecil B. DeMille Award at the Golden Globes and delivered an inspiring speech, a new movement began: elect Oprah president. Now, it's anyone's guess whether or not she'll run for office in 2020, but it certainly seems that her message, that "a new day is on the horizon" when no one will ever have to say "me too," really stuck with audiences and gave people hope that the United States can be a better place... and then Ivanka Trump posted a tweet about Oprah's Golden Globes message on Twitter. Judging by the reactions, people found the first daughter's praise outrageously hypocritical.
Ivanka helped a man accused of sexual misconduct (he denies all of the allegations) rise to the presidency. After he won, despite the fact that 19 women have accused him of sexual harassment or assault, Ivanka led women everywhere to believe that she would keep their best interests in mind. But if you've paid any attention whatsoever to the policies Trump has supported, you'd know her promise has been severely broken.
Months after Ivanka had assured women she would push for equal work for equal pay, her father reversed an Obama-era equal pay initiative; Ivanka endorsed the move. Then there was the time she stayed silent when her father reinstated the Global Gag Rule, which cuts aid to any foreign organization that so much as mentions abortion as an option.
Oprah's speech aimed to inspire Americans who want a more progressive, egalitarian future — and it doesn't look like Ivanka will have a role in bringing that future about.
Towards the end of her speech, Oprah touched on the "Me Too" movement by honoring both Rosa Parks and Recy Taylor. She assured that their own truths, no matter how much they were suppressed by both racism and sexism, go "marching on."
So I want all the girls watching here, now, to know that a new day is on the horizon! And when that new day finally dawns, it will be because of a lot of magnificent women, many of whom are right here in this room tonight, and some pretty phenomenal men, fighting hard to make sure that they become the leaders who take us to the time when nobody ever has to say "Me too" again.
Ivanka's father is making it more difficult for that moment to come. In fact, the way he has treated his accusers has, for many, made him the antithesis of the "Me Too" movement. If Ivanka had really taken Oprah's message to heart, one Twitter user pointed out, she would have asked her father to resign.
Trump has called his accusers liars and has even implied that some of them weren't attractive enough to pursue in the first place. For example, during a campaign rally, Trump thoughtlessly mocked accuser Jessica Leeds, saying:
Yeah, I'm gonna go after — believe me, she would not be my first choice, that I can tell you.
That's exactly the type of thing that deters women from coming forward.
Ivanka has never stood up for his accusers or admitted that, yes, they deserve the chance to speak out — so it's not difficult why, then, some think her response to Oprah's message comes across as anything but genuine.
Some people pointed out that this isn't the first time she's touted a feminist message and failed to deliver. For example, though Ivanka has advocated for paid family leave policy, her father's plan ultimately only included paid maternity leave. This both excludes fathers and places the responsibility of taking care of a newborn entirely on the mother.
Some famous names like Alyssa Milano encouraged Ivanka to stay true to her words this time by donating to Time's Up Legal Defense Fund.
And then others, like Chrissy Teigen, were just plain not having any of Ivanka's praise for Oprah's speech.
Sure, nothing's stopping Ivanka from praising Oprah's feminist message. But it doesn't mean the women she's disappointed will believe her this time. Instead, she should expect comments like these to totally backfire.