Ivanka's State Of The Union Dress Was Actually Really, Really Simple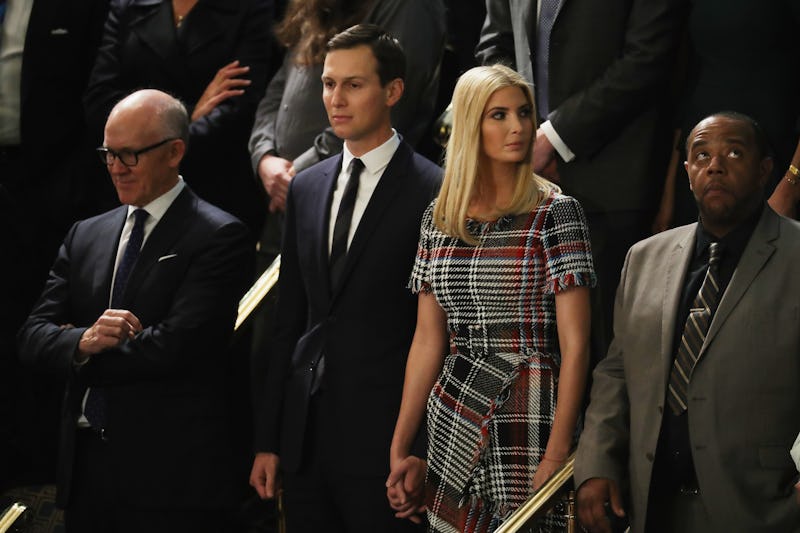 Chip Somodevilla/Getty Images News/Getty Images
When you think about a president's State of the Union address, you may not actively be considering who wore what, but fashion is often a political statement in the capital. The kind of cut and color one wears can deliver powerful (or even forgettable) statements to the masses. From powersuits to sleek dresses that embody efficiency and independence, people on Capitol Hill use fashion for more than just looking good. In that vein, on Tuesday night, Trump's daughter and White House senior adviser Ivanka Trump wore a dress to the State of the Union, keeping her choice simple.
Over the years, Ivanka's fashion choices have been reported on, analyzed, applauded, and even criticized by observers. On Tuesday night, she was seen wearing a black, red, and white plaid dress as she sat next to her husband, Jared Kushner. Ivanka's dress also had frills on her sleeves and her dress also featured a plaid belt. The multi-layered dress is reportedly by designer Oscar de la Renta. The dress is known as "Oscar de la Renta Round-Neck Asymmetric Plaid Tweed Dress" on the Neiman Marcus website.
Ivanka's dress first appeared on Snapchat shortly before her father's SOTU address. She was seen with her brother, Donald Trump Jr. Prior to arriving to attend her father's SOTU speech, Ivanka hosted a pre-SOTU dinner for family members, including her sister, Tiffany Trump. The family was seen at Ivanka's residence, gathered around a dining table.
As Business Insider analyzed in October 2017, Ivanka seems to style herself in such a way that she comes across as a supporter of the American middle class. Perhaps this is why she chose to wear a simple dress like the black, red, and white plaid dress. But there's no knowing if this speculated loyalty to middle class values was what drove Ivanka to wear such a dress on Tuesday night. It's also worth noting that Ivanka's Renta dress is priced at a reported $2,690, a price that many Americans would not be able to afford.
It's worth remembering that Ivanka's choice in what she wears on which event isn't just a random process. In fact, some argue that it is deliberate. According to a Wall Street Journal investigation in December 2017, Ivanka reportedly wore her own brand's clothes in at least 46 out of 68 social media photos last year. This subsequently raised questions about Ivanka's possible promotion of her own brand, which she denied. Ivanka told the publication, "If what motivated me was to grow my businesses and make money, I would have stayed in New York and done just that."
While attention turned to Ivanka's dress during her father's SOTU speech, Trump's husband Melania Trump also came under focus. Melania wore a simple cream white pantsuit. This is quite similar to Hillary Clinton's choice in clothes. Simple and monochromatic pantsuits seem to be a regular fashion statement on Capitol Hill.
For some, Trump's SOTU is merely about his speech. But observers on social media have been paying attention to what Trump's daughters and wife have worn at his address. For some observers, Ivanka's choice was too casual for the event. One user on Twitter said, "That dress on @IvankaTrump looks like Mary Ann from Gilligan's Island. You do realize the #SOTU is formal!" Another user said, "Ivanka Trump seems to be wearing a throw rug? Maybe literally a rug cut into a dress?" For others, Ivanka's dress was a good choice. One Twitter user simply said, "Love @IvankaTrump dress."
In other words, Ivanka's dress seems to have garnered mixed reactions from her observers. While some liked her dress, others seemed to think that the president's daughter's dress was a little too simple.