Ivanka Trump Just Made It Clear She Won't Take On This High-Profile Job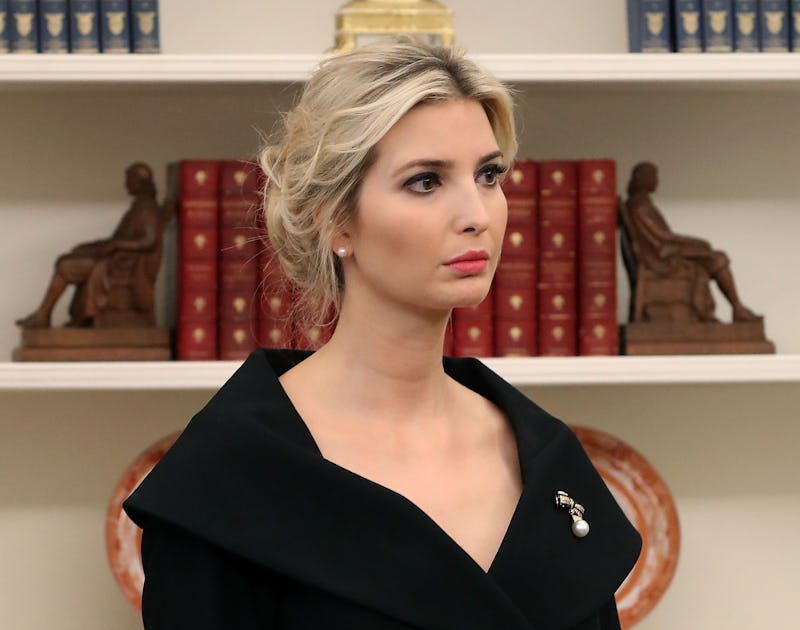 Mark Wilson/Getty Images News/Getty Images
On Tuesday, Nikki Haley announced her resignation as the U.S. ambassador to the United Nations in remarks that immediately fueled speculation about her replacement. Many wondered if President Trump's daughter would be his pick for the role once Haley leaves. But later that day, in a tweet about Haley, Ivanka Trump said the United Nations ambassador position was not on her agenda.
"It is an honor to serve in the White House alongside so many great colleagues and I know that the President will nominate a formidable replacement for Ambassador Haley," Ivanka tweeted on Tuesday. "That replacement will not be me."
Ivanka isn't the only person whose name has been floated as a potential replacement for Haley. According to The Washington Examiner, Haley could be replaced by Richard Grenell, who previously served as UN ambassador from 2001 to 2008. Another possible contender is Dina Powell, the former deputy national security adviser to Trump.
Prior to Ivanka's tweet, the president himself floated the possibility of his daughter working as the United States ambassador to the United Nations. "I've heard how good Ivanka would be [as ambassador]," Trump said. "There's nothing to do with nepotism." Trump said that he thought Ivanka would be "dynamite" at serving the role but thought he knew people would accuse him of favoring his daughter over others. He also mentioned Powell as a possible replacement for Haley.
On Tuesday, while sitting in the Oval Office, Haley announced her decision to leave her role. "It has been an honor of a lifetime. You know, I said, I am such a lucky girl to have been able to lead the state that raised me and to serve a country I love so very much. It has really been a blessing, and I want to thank you for that," she said.
Citing her two years at the United Nations as a time where she apparently brought more dignity to America's name, Haley said, "Now the United States is respected. Countries may not like what we do, but they respect what we do. They know that if we say we're going to do something, we follow it through. And the president proved that."
Haley's comments come a few weeks after Trump spoke at the United Nations General Assembly in September, claiming that his administration's success was "more than any other administration in the history of our country." The president's comments elicited laughter from his audience, which appeared to throw him off guard. Haley defended the president at the time on Fox News by saying the crowd laughed because they found Trump to be "so honest."
The speculation over whether Ivanka would replace Haley came after both Trump and Haley's comments on Tuesday. During her announcement, Haley praised Ivanka and her husband, Jared Kushner, saying that she couldn't list "enough good things" about the couple.
It's unclear who will be the next person to take on Haley's role as UN ambassador. As for Haley, she said she was aware of the importance of stepping aside when it was called for. "I think you have to be selfless enough to know when you step aside and allow someone else to do the job," Haley said. "So thank you, Mr. President."