Why Jackie From 'RHONJ' Decided To Open Up About Her Eating Disorder On The Show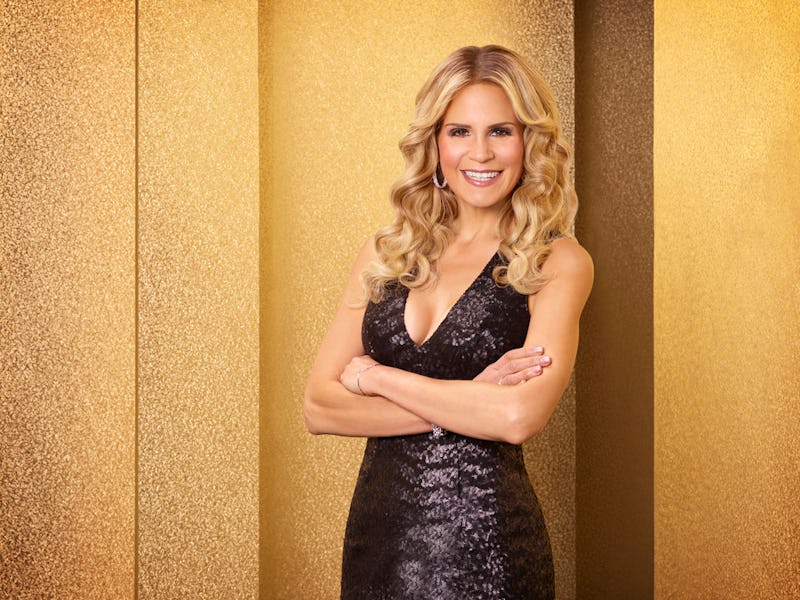 Tommy Garcia/Bravo
New cast member Jackie Goldschneider already stands out on Real Housewives of New Jersey. She introduced viewers to her two sets of twins, all under age 10. She made everyone laugh with her one-liners. She won over fans with her realness and accessibility. Now in an exclusive interview with Bustle, Jackie discusses sharing her eating disorder history on the show's upcoming episode and what sparked her decision to open up so publicly.
Even though Season 9 is only two episodes in, Jackie already has some avid fans. The mother of four admits, "I'm still getting used to people liking me. It's just a crazy concept to have fans, even already. It really is surreal." Making this whole situation even more special is Jackie's longtime Bravo viewership. "There's no shame in my game," she confesses. "I have been a longtime Bravo fan, so I love every minute of being on the show."
Reflecting on the experience, she continues, "All the people who told me about all the terrible things that would happen to me if I joined a reality show, I'm so happy to say that none of those things happened." What is she referring to? The parenting journalist for NorthJersey.com explains, "My marriage is beautiful and strong. My husband absolutely loved being a part of the experience with me."
Aside from the surreal experience of going from Bravo viewer to Bravolebrity, Jackie turned the show into a platform to share her personal experiences with an eating disorder. This isn't something she necssarily set out to do, but opening up happened organically.
"I actually hadn't thought about that at all going into the show," she explains. "It wasn't like, 'Oh, here's this opportunity to bring my eating disorder into the world.'"
Nevertheless, it makes sense that Jackie is so comfortable sharing the ins and outs of her personal life on a reality TV show, given her career as a journalist. "I've always been the type of person who felt like my life is something that I wanted to put out there," The Real Housewife of New Jersey explains. "I always did that through my writing... I'm not shy and I feel like I have a very colorful life and background."
Jackie continues, "I've always felt like it's a shame that people suffer silently through such terrible things like eating disorders or any mental health struggles."
She teases a bit of what the fans can expect from her revelation during Wednesday night's episode. "I just opened my mouth, the words came out, and I felt so good. I wanted to talk about it, and I'm so happy it's been embraced because when I was suffering through it, I didn't know anyone who went through it," she says. "No one talked about it."
Luckily, that has changed. People are talking about and listening to stories from those who have struggled with eating disorders. This includes Jackie's RHONJ costars. She reveals, "I know at least one other cast member was inspired to open up about some things because of that." She didn't say if this happens during the upcoming episode or later in the season. Either way, it's probably comforting to know that her costar can relate.
On top of that, Jackie hints what the fans can expect from the rest of the season. "So far you have seen see that I throw the hatchet and I hit the bull's eye," she says. "You see in the preview that I shoot the gun and hit the target... I like to win and I like to be the best at what I do. Sometimes that doesn't sit well with other people."
And yes, Jackie confirms things will get very interesting. She divulges, "I am very into strong friendships, but I don't put up with anyone's nonsense. I definitely have a lot of respect for myself and I don't let people speak down to me. I think that you'll see some feathers ruffled from that, but you'll also see some really genuine friendships form."
She even admits, "I just wasn't scared of veterans of the show, of the OGs... For the first few seconds, I was a little star-stuck and then I was good."
Even though she wasn't nervous to film, she felt differently about the episodes airing. The new cast member confesses, "It's easy to get a little insecure and wonder if you are interesting enough, so I do appreciate every message I get... I love that people are watching and that they like watching me."
Above all else, Jackie is a cast member that most of viewers can truly relate to. She says, "I'm very real, almost sometimes to a fault. I'll watch it back and go, 'Oh no. I'm such a slob.' But I'm not a supermodel who is 100 percent polished like veteran reality show stars might be."
She adds, "I think people are going to appreciate that I'm just a real mom." There are plenty that will appreciate that — and a good amount of fans who already have.
Just two episode in and it's very clear that Jackie is meant to be on Real Housewives of New Jersey. She's not concerned "fitting in" with the rest of the cast. Instead, she stands out for all the right reasons by staying true to herself.
If you or someone you know has an eating disorder and needs help, call the National Eating Disorders Association helpline at 1-800-931-2237, text 741741, or chat online with a Helpline volunteer here.