The One Thing You Missed From The 'This Is Us' Jack Death Episode Will Absolutely Crush You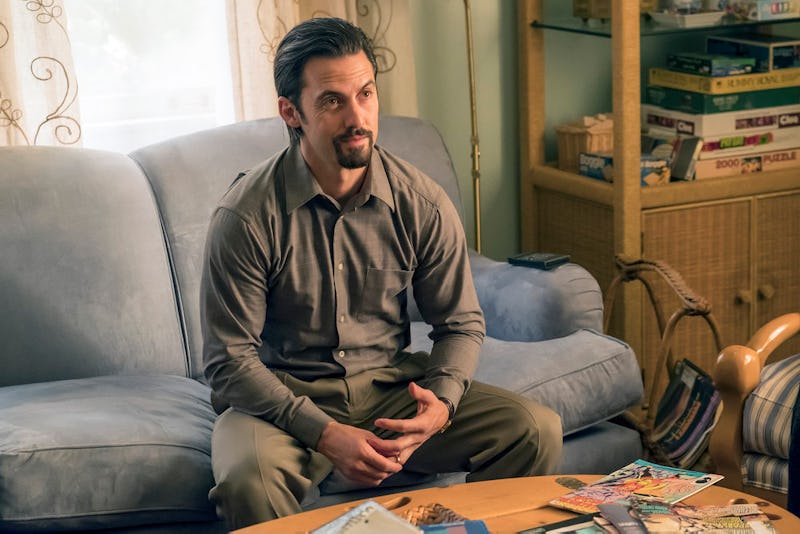 Source: Ron Batzdorff/NBC.
This post contains spoilers about the Super Bowl episode of This Is Us (series writing: Kay Oyegun). Fans knew what to expect going into This Is Us' Super Bowl episode. After all, we knew that Jack died after a fire was started by a faulty Crock-Pot, which no one realized because the smoke detector needed new batteries. But on Sunday night, we learned exactly how Jack died on This Is Us: he suffered cardiac arrest after helping his family members, as well as Kate's dog, find safety after the fire started. We also saw how his death affected his immediate family members, though — and even avid fans of the show may have missed a crucial detail from the devastating episode.
In an interview with Esquire, Milo Ventimiglia, who plays Pearson family patriarch Jack, discussed a very specific moment. The scene involves just one spoken word, but it shows just how close Jack and Rebecca's bond was. When Rebecca goes to the vending machine to buy a candy bar, she (and viewers) hears Jack call her nickname, "Bec." Rebecca has no reason to be concerned when she buys the candy bar; they're only at the hospital because of a burn on Jack's hand. So the fact that she feels her husband's presence, even in that simple moment, makes the scene even more heartbreaking.
Ventimiglia revealed to Esquire that he recorded multiple versions of himself calling Rebecca, to make sure the tone was exactly right for the heartbreaking scene. "If you caught this, when she's at the vending machine, you hear Jack say 'Bec?' I had recorded a lot of different versions of that, some that were a little more ethereal, like I was whispering," he told Esquire's Emma Dibdin. "You'll have to ask Dan, but my belief is that it's a presence. That was Jack saying 'Bec?' She turns her head and everything."
The actor calling the moment "a presence" fits with Rebecca and Kevin's present-day conversation about Jack's death, too. Rebecca tells Kevin that, every year, she makes Jack's favorite lasagna recipe on Super Bowl Sunday. And while Kevin assumes that must be a sad experience, she tells him it's quite the opposite. In her perception, Jack finds a way to reach out to her every Super Bowl Sunday through a sign that makes her laugh. During the most recent one, Rebecca believes Jack reached out to her through Kevin, after his moving talk with his late father. Kevin elicits a laugh from Rebecca when he confesses that his visit to Jack's tree might not actually have been to the right tree after all.
The scene with the vending machine definitely wasn't a laughing matter — Rebecca goes to buy the candy bar just before learning her husband has passed away, after all. But the fact that Rebecca hears her husband's voice just before she hears the news goes along with what she says to Kevin. She still feels her late husband's presence on Super Bowl Sunday — and she felt it on the day he died, too.
Even though there was plenty of discussion about how Jack died ahead of the episode, it didn't feel like a gimmick or a cheap reveal. Yes, we learned the cause of Jack's death, but we also saw some very real human emotions from the Pearson family. The episode shows just how devastating the loss of a family member can be, but it also showed how powerful love can be, even after someone has passed away. And it's those kind of powerful emotional lessons that keep This Is Us fans coming back through all the heartbreak.