'Bachelor In Paradise' Jacqueline & Jordan M. Stars Confirmed Their Split In A Concise Way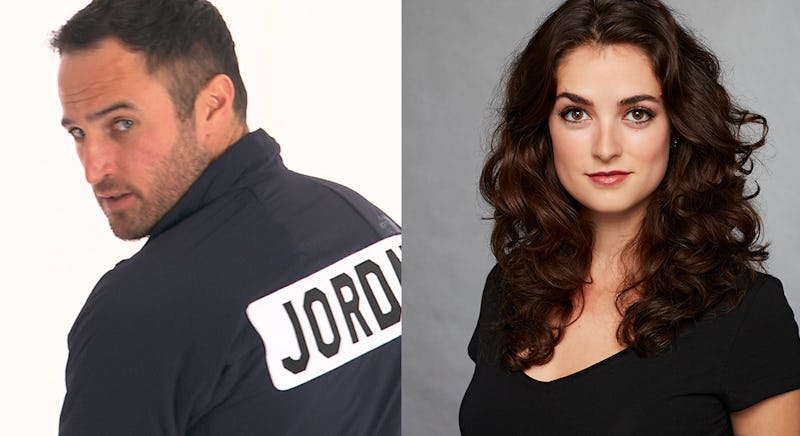 ABC; Craig Sjodin/ABC
Another Bachelor in Paradise couple has gone their separate ways. Jacqueline Trumbull and Jordan Mauger, who started dating after Paradise's fifth season's filming ended, are no longer a pair. Jacqueline and Jordan M. broke up, Jordan announced this week, and it's sad news for fans hoping the Bachelor Nation relationship would last.
Jordan announced the breakup on Tuesday, People reported, and he didn't do it in a traditional way. The magazine shared screenshots that are apparently from Jordan's Instagram Story, in which he posted a Bitmoji reading "Nope" in response to a fan's question about whether he and Jacqueline were still dating. For good measure, Jordan reportedly added a second Bitmoji that reads "How about no," which might make fans wonder whether or not he and Jacqueline ended things on good terms. (To the Paradise star's credit, his Bitmoji figure does look a lot like him.)
Jordan and Jacqueline announced their relationship in September, sharing Instagram photos of themselves together at Burning Man. (If there was any doubt the two of them were attending as more than friends, this photo makes things pretty clear.) Jordan also shared several Instagram posts from New York at the beginning of October, which hints that he may have been visiting Jacqueline in her hometown.
And while Jacqueline and Jordan both appeared on Paradise season 5, they didn't meet on the show. Jacqueline was only on one episode of Paradise, and Jordan didn't join the season until after she went home. Jordan had a brief romance with Cassandra on Paradise, but their relationship doesn't seem to have extended past the show's filming. (Paradise wasn't Jordan's first time on a Bachelor spinoff, either. He also appeared on The Bachelor Winter Games, where he started a relationship with Bibiana Julian, though they ended their relationship on the show.)
It's not totally clear how Jacqueline and Jordan met — he's from New Zealand, so it doesn't seem super likely that the two of them ran into each other on the streets of Manhattan. Still, there are other Bachelor Nation couples who've found romance offscreen, like Clay Harbor and Angela Amezccua, so anything's possible within the Bachelor universe.
For her part, Jacqueline doesn't seem to have commented on the breakup, though she seems to have plenty of support from her fellow Bachelor contestants. Earlier this week, Jacqueline shared a photo of herself with Seinne Fleming and Lauren Burnham, who appeared alongside her on The Bachelor's season 22. The trio appears to have had a blast in New York — and romance aside, it's nice to see that the show has led to lasting friendships.
The news that Jacqueline and Jordan were dating, at least for a little while, was exciting for Bachelor Nation fans. But it looks like their relationship has run its course, and the two of them seem to be single once again. Who knows what's in store at this point — there's always the possibility that either of them could appear on another Bachelor spinoff in the future. After all, anything's possible in Bachelor Nation.