Comey Found Out He Got Fired On Cable News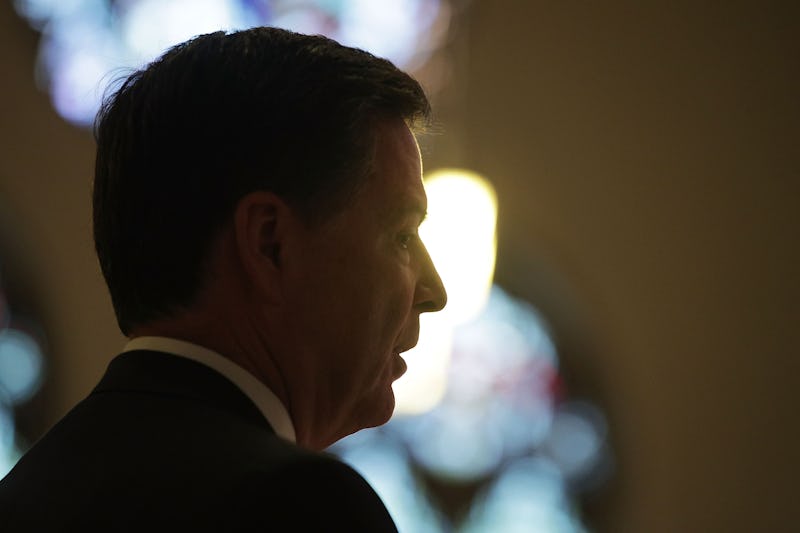 Alex Wong/Getty Images News/Getty Images
There's never really a particularly great way to find out that you're out of a job, but now-former FBI Director James Comey reportedly had it particularly rough on Tuesday night. The New York Times claims that Comey found out he was fired from news broadcasts, with word of his newfound unemployment flashing on TV screens behind him as he addressed a group of FBI employees in Los Angeles. The Times added that a letter was sent to the FBI's Washington headquarters a little while after. (Bustle has reached out to the White House for comment.)
Comey's abrupt dismissal is still raising eyebrows, as the reasoning provided by Department of Justice officials — referring to his conduct during investigations into Hillary Clinton's emails — is largely considered something the Trump administration already knew about when they decided to retain him in the position in January.
It also goes contrary to statements made by White House Chief of Staff Reince Priebus at the beginning of the year, where he talked about the great relationship between the Trump administration and Comey. Priebus praised the director as not only "extremely competent" but "extraordinarily competent," in a January interview on ABC's This Week, and also said there were "no plans" to remove him from the position at that time.
Trump also sent Comey a bizarre HR nightmare letter — where he wished him "the best of luck in [his] future endeavors" and also weirdly thanked him for "informing [him], on three separate occasions, that [he is] not under investigation" (although, to be clear, he is under investigation).
Naturally things began to move pretty quickly from there, with multiple outlets (including NBC News and The New York Times) reporting a little before 8 p.m. EST that Andrew McCabe, Comey's deputy, would be stepping in as acting director of the FBI. Per an email sent by Attorney General Jeff Sessions and obtained by the Times:
The president of the United States has exercised his lawful authority to remove James B. Comey Jr. as the director of the Federal Bureau of Investigation. By operation of law and effective immediately, deputy director Andrew McCabe assumed the position of acting director of the F.B.I. As you well know, the F.B.I. is an exceptional law enforcement and intelligence agency. It is made so by you, the devoted men and women who work tirelessly to keep our country safe. Thank you for your steadfast dedication and commitment during this time of transition.
Here's hoping Comey at least found out about that development via an email or letter, rather than from a wall of TVs.