This K-Beauty Setting Hack Is A Must-Try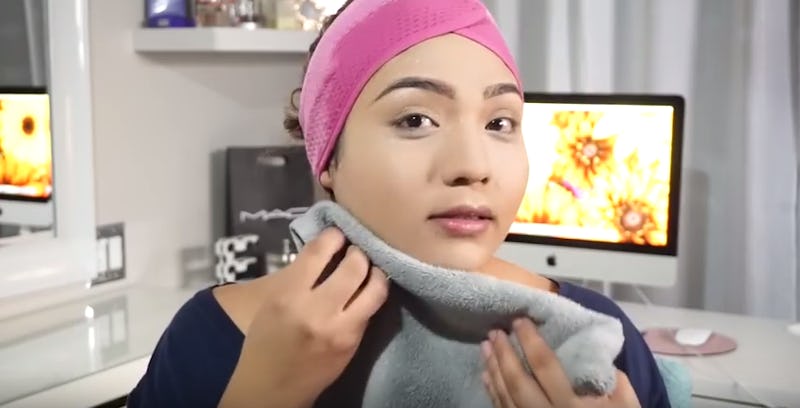 The Korean beauty industry continues to be ahead of the curve when it comes to the world of beauty. We have them to thank for the rise of sheet masks, facial mists, and BB cushions, which have all become cult favorite obsessions here in the states. There is just something about K-beauty that perfectly integrates science-backed innovation with viral-worthy gimmicks that people just can't get enough of. Not only is Korean beauty leading the cutting-edge beauty product space, but it's also pioneering the category of makeup hacks. Jamsu is the new K-beauty setting hack that you simply must try, because it's going to take your makeup regimen to the next level.
So what exactly is jamsu? You must be wondering. The word jamsu translates to "diving" or "submerging," in Korean, according to Today, which is essentially what this hack is all about. Here is how it works: First, you apply your complete makeup look as usual — foundation and all. Once you're all made up, you slather on some baby powder, ensuring your face is completely covered. Finally, you dunk your face in cool water for about 15-30 seconds. The intended final result? A gorgeous, porcelain-like finish that keeps your makeup in place and lasts for hours.
Here is how it looks during each step of the process.
1. Apply Your Makeup
Complete your full face makeup routine as usual, including primer, concealer, and foundation.
2. Cover Face In Powder
You can use any standard baby powder, such as Johnson's Baby Powder, as Vogue recommends, or you can use loose makeup powder, which will work just the same. All you really need is a thin layer.
3. Dunk Your Face In Water
It looks totally weird and slightly uncomfortable, but hey — if it works then it's worth it, right?!
4. Towel Off
Pat your face dry carefully with a towel and voilà!
Her skin looks so velvety smooth.
Check out the full tutorial for a complete step-by-step guide.
If you're already obsessing over this setting trick, check out a few other K-beauty hacks that you're totally going to love.
Skin Blurring
Etude House Beauty Shot Face Blur, $14, Amazon
Skin blurring is a technique that helps to "blur out" fine lines, pores, wrinkles, and any other imperfections, helping you achieve a flawless HD look.
Lip Tinting
Etude House Rosy Tint Lips, $9, Amazon
According to Refinery 29, this semi-permanent beauty trick provides powerful pigment to your lips while still keeping them looking as natural as ever.
Brow Staining
Etude House Tint My Brows Gel, $8, Amazon
This awesome innovative brow gel is like tattooed eyebrows, but way better.
Jamsu may sound a bit out there at first, but judging by all the fabulous hacks that have come from the Korean beauty industry thus far, I'm willing to bet it could work wonders.