Janelle Monáe's Comments About Coming Out Are Liberated AF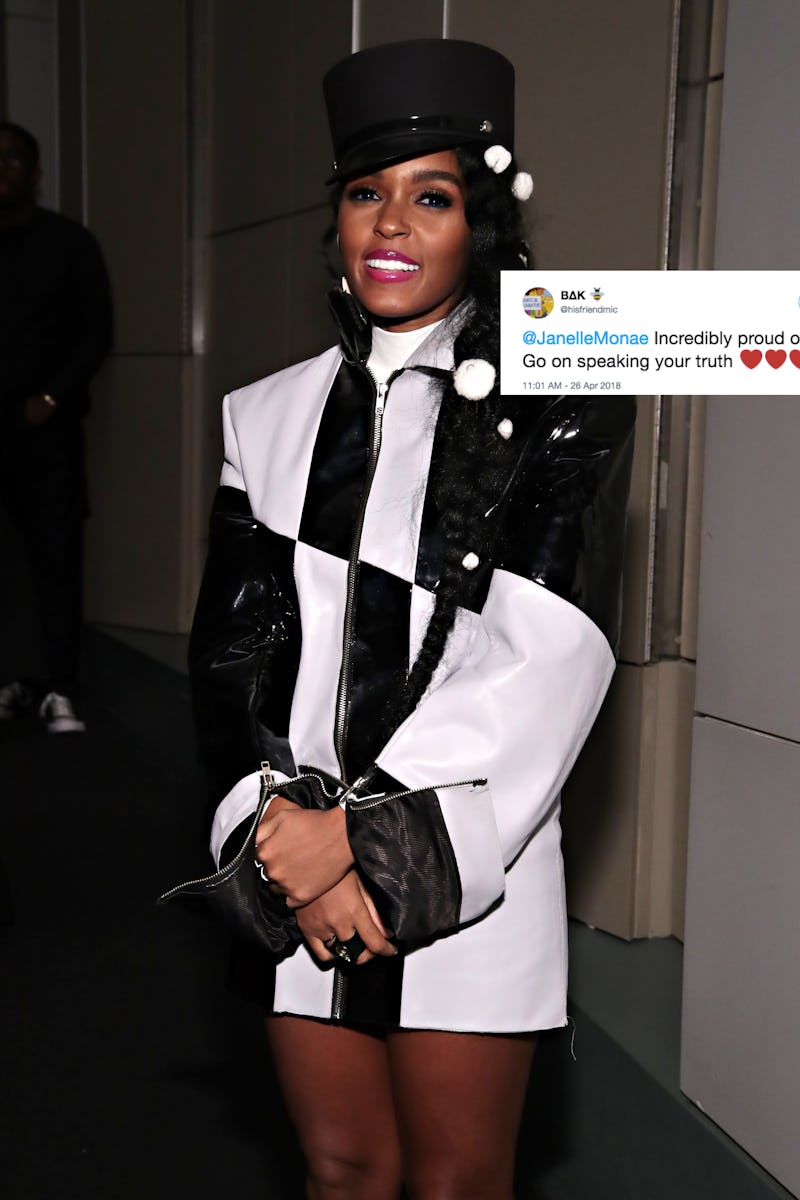 Cindy Ord/Getty Images Entertainment/Getty Images; hisfriendmic/Twitter
Janelle Monáe is an known for bold professional choices, and she just took a brave personal step as well. In an interview with Rolling Stone published on Thursday, Monáe came out as pansexual.
The singer-songwriter — known to incorporate rock, electronica, and funk elements on her records, with accompanying narratives that feature android alter-egos — has long eluded questions about her sexuality. In 2013 she told Sway In The Morning that she couldn't say. "I want women to still be attracted to me," Monáe said, according to Pitchfork. "Go get my album! I want men to still be attracted to me so I have to be political in this. So I can't really tell y'all." However, in the Rolling Stone cover story, she opened up publicly for the first time:
"Being a queer black woman in America ... someone who has been in relationships with both men and women — I consider myself to be a free-ass motherf*cker."
Monáe told the publication that she originally considered herself to be bisexual, but the more she learned about pansexuality, she realized that was something with which she identified as well. Monáe found herself open to exploring her own feelings and learning more about who she was.
She also said she hinted at her sexuality in various songs throughout the years, on tracks like "Mushrooms & Roses" from her 2010 debut, The ArchAndroid, and "Q.U.E.E.N." — which, according to Rolling Stone, was originally titled "Q.U.E.E.R." — from her sophomore LP, The Electric Lady, both of which reference a character named Mary, with fondness, and even apparent desire.
Monáe has been the subject of dating rumors involving Tessa Thompson, who stars in a 45-minute film that accompanies Monáe's new album, Dirty Computer (which is out Friday, April 27), but refused to discuss any romantic relationships with the magazine. And neither of them have actually confirmed or talked about any relationship, beyond a professional nature.
In February, Thompson told Entertainment Tonight,
"It was so fun to get to collaborate with her. Janelle is somebody that is interested in really empowering not just women, but people to be who they are in the full expression of who they are ... the truth is when people look at me and Janelle and these characters that we play in the music video, people have called it a bisexual anthem, if it makes people feel liberated in their skin and feel closer to who they are than I think we did our job."
Monáe told Rolling Stone that she hopes both her coming out and her new music will help other young people who are coming to terms with who they are — gay and straight alike — and encourage people to be authentic.
"I want young girls, young boys, nonbinary, gay, straight, queer people who are having a hard time dealing with their sexuality, dealing with feeling ostracized or bullied for just being their unique selves, to know that I see you," the 32-year-old said in the interview. "This album is for you. Be proud."
Fans took to social media to celebrate Monáe and express their gratitude toward the singer. As Twitter user @Matty_Layne wrote,
"It's not possible to love her anymore than we already do, but I'm so happy she can live her truth in a way she finds comforting and empowering. We love you @JanelleMonae. You always do us right and inspire. Thank you for sharing your immeasurable talent and love with us."
Monáe's inventiveness in her work mirrors her courage offstage, so it's no wonder the musician has received such a warm response, and fans can show her love in person when she hits the road for a tour this summer.