Hi Hello, Janelle Monae's Sparkly Headpiece Just Shut Down The Oscars Red Carpet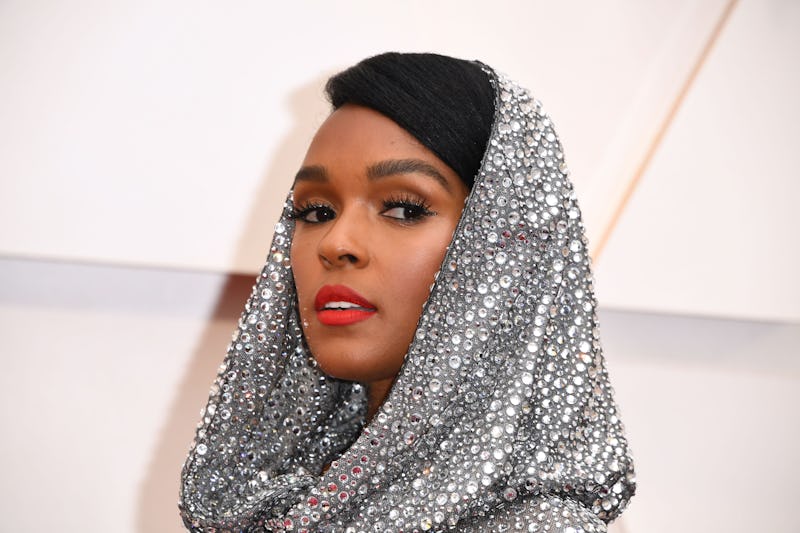 ROBYN BECK/AFP/Getty Images
Janelle Monáe just arrived to the 2020 Oscars red carpet straight from another galaxy — well, at least that's how she looks. The singer-songwriter wore an otherworldly silver gown by Ralph Lauren, replete with a sparkling headpiece and an open back. Accessorizing with a glittering choker, a swoop bang, and her signature fire-engine red lipstick, the Harriet star pulled off one of the best-dressed looks of Oscars night.
The custom design took 600 hours to make and featured 168,000 Swarovski crystals, each embroidered by hand, People reports. The final look was so heavy it required four people to deliver it to her dressing room.
Given the work that went into creating Monáe's red carpet gown, she needed impeccable hair and makeup to match. Her hairstyle was the work of Nikki Nelms, who created Monáe's swoop using Maui Moisture and GHD products. "Janelle and I always work collaboratively on the hairstyle once we see the dress," she said in a statement. "With the red carpet, we chose to compliment the hood and diamond choker by giving a subtle, lifted side sweep that framed her face and peeked through the hood for added glam."
For even more glamour, Monáe turned to makeup artist Jessica Smalls, who used lash extension system Lashify to create a bold lash look. "The Academy Awards is one of Hollywood's biggest nights, so I wanted to create something special for Janelle's lashes," Jessica said, adding that she layered Lashify Gossamers of varying styles and lengths to create a dramatic effect.
Janelle Monáe performed at the 2020 Oscars, but she stayed mum on the exact details of her much-anticipated return to the stage. After confirming the news on Instagram, she dropped one hint during an interview at Alfre Woodard's annual Sistahs' Soirée. "I can tell you that I'm ready to light the stage on fire," she said, "for my ancestors and for Kansas City."