Here's Where & When You Can See Janet Jackson Perform On Tour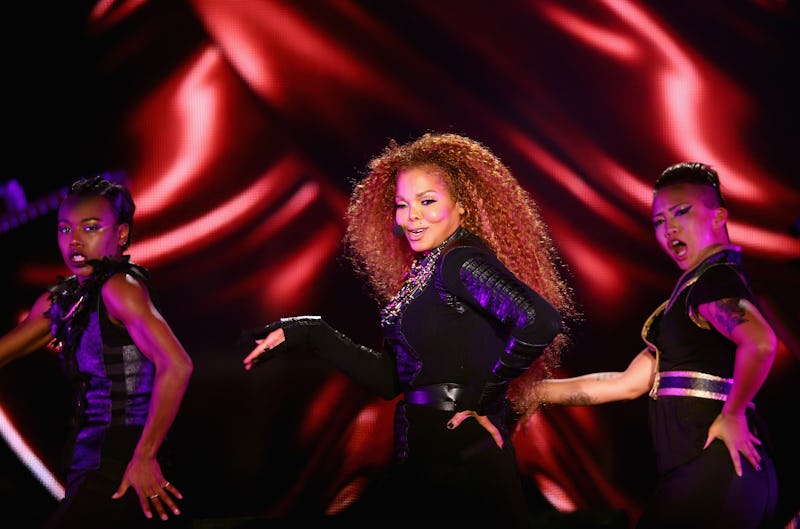 Francois Nel/Getty Images Sport/Getty Images
What may be considered as one of television's most highly anticipated moments of the year is vastly approaching. At the 2018 Billboard Music Awards, Janet Jackson is set to receive the Icon Award on May 20 — making her the first black woman to do so — and in addition, will perform live and on television for the first time in nine years. As if that's not exciting enough, the "Control" singer is also gearing up to hit the road this upcoming summer, and with her dynamic Billboard performance in tow, Janet Jackson's 2018 tour dates show that her comeback is in full force.
But because fans are expecting for Janet to put on a show of a lifetime, it's safe to assume that grabbing tickets to one of her tour stops near you sooner than later may be in your best interest. As noted on her website, Janet's State of the World tour has a total of 15 stops scheduled, and is kicking off July 8 during the 2018 Essence Fest in New Orleans. And then on, will take a ride throughout the U.S., ending at the San Francisco Outside Lands Aug. 12. As mentioned, tickets for this stellar event are currently on sell, and can be purchased through Ticketmaster.
It goes without saying how deserving Janet is of the Billboard Icon award. The talent has delivered countless culture shifting hits, fashion moments, and has inspired entire generations of performers after her. Upon receiving the coveted award, the singer and actor will be in the company of some other industry heavy-hitters, such as Prince, Stevie Wonder, Cher, and Celine Dion. One thing's for sure — choosing which combinations of hits to bring down the Billboard house with has seemingly got to be one of the hardest decisions to make. But which ever ones Janet decides to rock with, she's bound to have the crowd engaged at every turn.
Even before the Billboard Award's honor, however, the "Rhythm Nation" artist has always had her appearances and performances anticipated. Aside from her iconic 2004 Superbowl performance, who could forget Janet's tribute to her late-brother Michael Jackson during the 2009 MTV VMAs, or the last time she performed live and on television at the 2009 American Music Awards? With her artistry being extremely relevant today, it's hard to believe that it's been almost a decade since Janet has graced an award's show or other major television event with a performance.
Also pretty happy about Janet's return to the main stage are her fans, of course. And they've made it a point to share their excitement all over social media.
With celebrating Janet turning 52 on May 16, the 25th anniversary of her fifth studio album Janet on May 18, and Janet being the first black woman to receive the Billboard Icon Award on May 20, fans have been showering the music mogul with social media pleasantries all week. May 2018 has been such a huge month for the singer and new mom. And with having as much longevity in her career as she's had thus far, things are bound to continue along this celebratory path for years to come.
If you happen to be one of those fans who can't seem to get enough of Janet even before she rocks the Billboard stage May 20, you may want to make getting tickets to her State of the World tour a priority. Because after the musical legend performs Sunday, her 15 stop US tour may be on the verge of selling out, if they haven't already.
A Janet Jackson comeback is exactly what the world could use right now, and it's going to be so awesome watching her make a lasting imprint on music once again.