Here's What Ashley I. & Jared Think About 'Bachelor' Fans Saying They Show Too Much PDA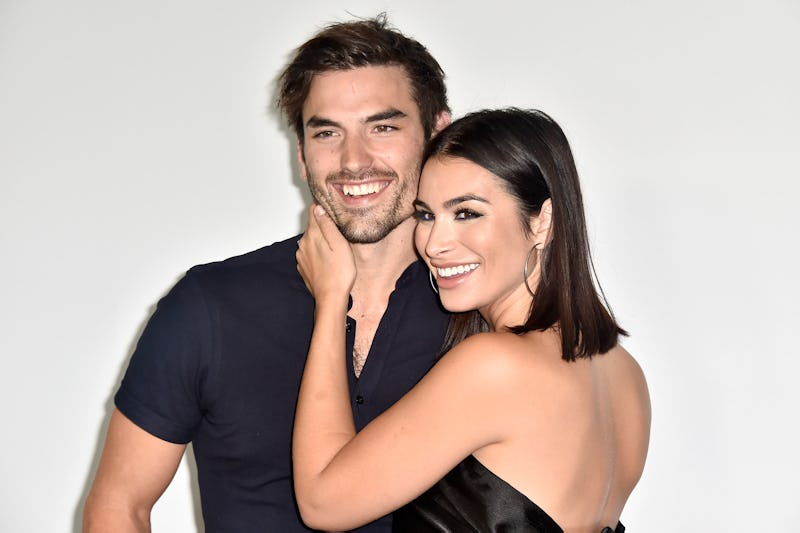 Frazer Harrison/Getty Images Entertainment/Getty Images
It may look like Ashley Iaconetti and Jared Haibon went from zero to 100 real quick, but it's actually been a slow build since they met on Bachelor in Paradise Season 2. Now the engaged couple couldn't be more proud of their love, but some haters aren't quite feeling it. Yes, Ashley I. and Jared are aware their PDA can be a little much, but they have a message for their critics.
In an Aug. 15 interview with Us Weekly, the couple demonstrated their self-awareness. Ashley admitted, "Some people don't love it!" And some of those people are actually Ashley I.'s fans and podcast listeners. Bachelor in Paradise's most well-known crier shared,
"On one of my podcast message boards, there were some girls that were like, 'You guys are like way too affectionate in public, don't you think your parents are watching?'"
Wow, her own podcast listeners are hating on her relationship and doing so in a message board dedicated to her show? That doesn't really add up.
Either way, Ashley I. is too happy with her engagement to stress over it too much. She shared her reaction: "I'm like, 'Yeah my parents would never care if his hand is on my waist. Like, what?' We're just affectionate."
As expected, her fiancé Jared is on the same page. He declared to Us Weekly, "It's my Instagram, it's my social media. If you don't like it, unfollow me." That's honestly a pretty simple solution, if people aren't interested in seeing their posts. Sure, they're public accounts, but you can choose who you follow on the app.
Jared added, "I like posting pictures of my fiancée." As he should. If people really don't want to see it, those photos, then why are they looking through his account in the first place?
Ashley made it clear that the couple photos are going to let up any time soon (or ever) when she said, "Honestly, I would just post all pictures of him and of us together." She added, "All we do is hang out together." Of course, they hang out with each other a lot (like most engaged couples who live together), but those really aren't the only photos Ashley posts. This woman basically has a million jobs and a bunch of close friends. She has plenty of other content mixed in with the PDA-filled posts.
Why wouldn't Ashley I. want to share an affectionate photo? It's been a long road to this point. She was interested in Jared right from the start. There was a lot of Bachelor in Paradise drama that resulted in some strain on their relationship. Then they settled into the friend zone. Ashley I. ended up dating Kevin Wendt after meeting on The Bachelor Winter Games. Jared finally came to his senses, confessed his love for Ashley I., and after years of best friendship, they became an official couple and now they are planning a wedding.
There have been a lot of bumps in the road and mixed signals that led to where they are today. If they want to display their current state of happiness, then they can. They're not forcing anyone to look at their photos or comment. Photos are a way to mark time, look back on memories, and yes, occasionally be affectionate.
Ashley I. and Jared are on Instagram for "the right reasons," and hopefully their followers (and the lurkers who won't follow) are as well. Either way, the future Mr. and Mrs. Haibon are too wrapped up in their PDA to care what the haters think.