Jared Haibon Found The 'Bachelor In Paradise' Scandal "Shocking"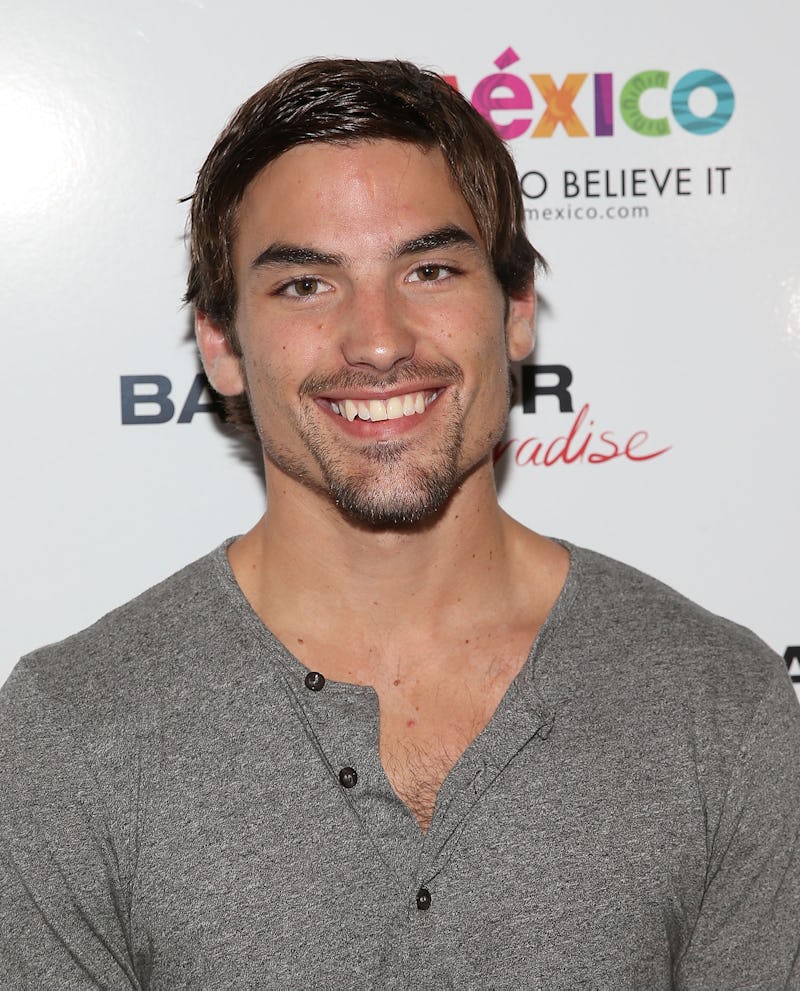 Jesse Grant/Getty Images Entertainment/Getty Images
It's amazing what can change in just a few days. Last week, Bachelor in Paradise shut down production following allegations that Corinne Olympios and DeMario Jackson had been involved in nonconsensual sexual activity, but now that Warner Bros. has concluded its investigation into the matter, filming is officially back on. And on Wednesday night, Bach alum Jared Haibon opened up about Bachelor in Paradise while talking to People, and he was just as shocked as fans were when news of the incident first surfaced.
As for Olympios and Jackson, they are both working with lawyers. Jackson has claimed that his character was "assassinated" and wants to clear his name. Olympios has referred to herself as a "victim" and her lawyer has stated that their investigation will continue.
Since Haibon has not only appeared on The Bachelorette but also two seasons of BiP, it would seem he's pretty well versed on how both shows work from a contestant's perspective. And as he told the magazine, spending that time getting to know the producers made him think that they would never allow the contestants to be put into danger.
Haibon said:
"If anything like what was being alleged at first was occurring, I have full faith the production staff would step in to stop it. I'm not sure what happened, but I'm glad they're resuming filming. If ABC conducted an investigation and feels confident enough to return to filming, then they would have to be 100 percent confident that they're not in the wrong at all."
When the story first broke, TMZ reported that a producer allegedly filed a complaint regarding alleged nonconsensual sexual activity. Haibon says he had a hard time putting together what could have gone down based on what he knows about the show and says he found the reports "shocking."
He added,
"It was pretty shocking, Anytime there are allegations about consent with two people, it's alarming... I've been through this process many times. Even when I first heard the news, I couldn't picture a scenario where something severely bad was occurring and the producers wouldn't step in. I know these producers, as we all do."
It makes sense that Haibon would be shocked, especially if the reports truly were so different from what he's experienced on the set himself. But he still wasn't there when the alleged event happened, so he has no way of knowing what actually occurred.
Ashley Iaconetti also spoke to People about what happened, and although she didn't speak to her own relationships with the producers, she did share a few of her thoughts on Jackson, mentioning that she hasn't heard "great things" from friends they have in common.
On Tuesday, Warner Bros. released the following statement about its investigation:
"As we previously stated, we recently became aware of allegations regarding an incident on the set of Bachelor in Paradise in Mexico. We take all such allegations seriously. The safety, security and well-being of the cast and crew is our number one concern, and we suspended filming so that the allegations could be investigated immediately and thoroughly. Our internal investigation, conducted with the assistance of an outside law firm, has now been completed. Out of respect for the privacy interests of those involved, we do not intend to release the videotape of the incident. We can say, however, that the tape does not support any charge of misconduct by a cast member. Nor does the tape show, contrary to many press reports, that the safety of any cast member was ever in jeopardy. Production on this season of Bachelor in Paradise will be resuming, and we plan to implement certain changes to the show's policies and procedures to enhance and further ensure the safety and security of all participants."
Bachelor in Paradise Season 4 will premiere this summer.