Jared Haibon Ranks The Strangest 'Bachelor' Dates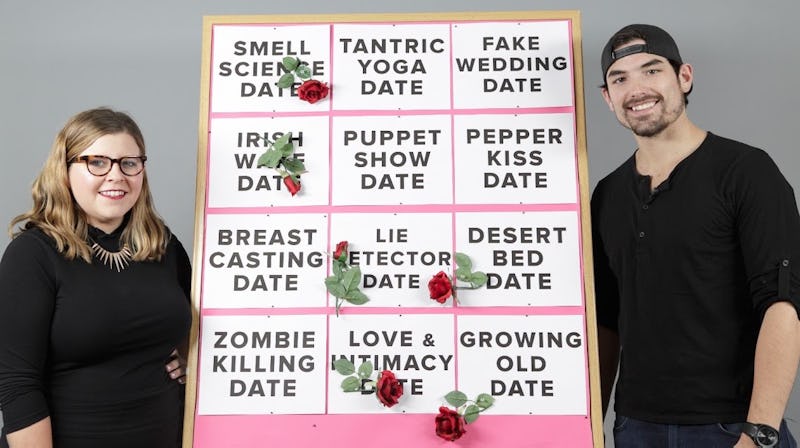 Lauren Betesh/Bustle
Ever since his appearance on Kaitlyn Bristowe's season, Jared Haibon has been a fan favorite Bachelor Nation alum. He is one of the good guys who managed to always stay out of the drama and was definitely there for the "right reasons." After The Bachelorette, Jared appeared on Bachelor in Paradise, so he knows a thing or two about reality TV love. So, when he stopped by Bustle to film a Facebook live video, he used this show experience for good — deciding which of the strangest Bachelor dates ever that Nick Viall should go on.
Before diving into his own rose ceremony, where he awarded flowers to the awkward encounters he'd like to see again, Jared answered a few questions about what he has been up to lately and what he thinks about this season of The Bachelor. He said that the show really affords people to travel quite a bit and he recently traveled to Los Angeles for a Bachelor viewing party hosted by fellow alum, Sarah Heron. A lot of fellow Bachelor Nation stars attended the event and raised money for Sarah's charity, She Lift, which helps young women with disabilities.
When he's not hanging with his fellow alums and raising money for really worthy charities, Jared is back in Rhode Island. He has been keeping in touch with everybody, though. He said that fellow Kaitlyn season alums JJ and Tanner are two of his best friends and they talk every day. He also regularly chats with Ben Higgins, Ashley I., and, of course, Nick.
Speaking of Nick, Jared was very confident in his choice for who is the best bachelorette for Nick. He said that Vanessa is by far the perfect woman for his friend. "The chemistry between those two is immeasurable," he said. I have to say, after last week's date, I totally agree. I am team Vanessa for sure.
As for the rose ceremony game, Jared's choices for dates might surprise you. Let's just say, that he's a fan of the Smell Science date and had some reservations about the Irish Wake date (which he actually went on during The Bachelorette). Check out the video below to hear his thoughts, his impression of Kelsey Poe, and what he thinks about Nick's rocking bod.
Hopefully we will get to see Jared live tweet some more episodes this season. He mentioned that his first time live tweeting the show was last week and he had a lot of fun. We know he will definitely be watching since he's so close with Nick, and I'm sure Vanessa is pleased to know that she has another alum's support. I guess we will just have to wait to see if Jared really knew who was best for Nick when that final rose is handed out.