Jason & Beth From 'Queer Eye' Know You're Rooting For Them & They're Loving It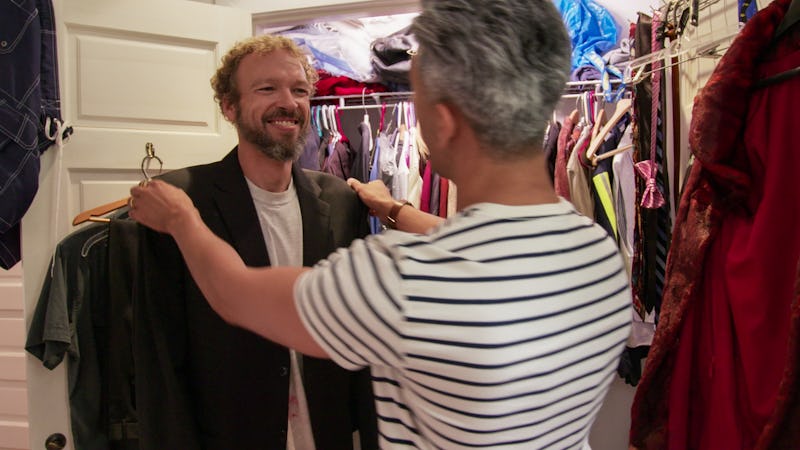 Netflix
Queer Eye is always compelling, but usually fairly formulaic — a happy ending is anticipated, but it's rarely delivered with a twist. That changed this season in Jason's Queer Eye episode, as a post-show romance development shocked the Fab Five, as well as everyone watching at home. And those fans will be delighted to hear from the hero himself that Jason and Beth from Queer Eye are still together.
Though he prepared the entire episode to move from his home in Atlanta to a Reno, Nevada in search of a new start, it was revealed just before the end credits rolled that Jason Vogelsang had canceled plans to leave the area. The reason for the change of heart was Beth, Jason's longtime good friend who had been heartbroken over his upcoming departure. An epilogue to the episode revealed to viewers and the Fab Five that Jason and Beth had started a romantic relationship, and the response was huge.
Speaking over the phone in late June, Jason says though he didn't expect the fan reaction to he and Beth's new relationship, he thinks their love story has given people something to collectively root for at a time when the country really needs that.
"I'm still trying to absorb [the fan response], honestly — did not expect it. I think it's really awesome," he says. "I kind of throw it into the category of... I think this is kind of what America needed right now. Something happy and to be hopeful for. So I think that's why people have kind of attached onto it the way they have."
It was obvious from even a small amount of screentime that Beth and Jason's friendship was significant to both of them, though it really did look for a while as though he was really going to leave for Reno and never know what could have been. So the surprise ending was a welcome moment of joy for viewers. Jason says that he and Beth are even enjoying some level of celebrity; they were beginning to be recognized soon after the episode first appeared on Netflix. They were out of town in upstate New York on the premiere date, and fans spotted him almost immediately.
"[We were] in front of one of the little events going on at Niagara Falls. And someone that was in line … I realized that she was looking at me, and she kind of had this slanted head look, and she was trying to figure it out," he says. "She goes, 'Are you Jason?' And I was just thrilled. I was like, 'Wow, I've been recognized!' So I took a selfie with her."
There have also been other more covert Queer Eye fans spotting them and posting photos — an even more foreign concept to the everyday couple. When he and Beth were in line for a taping of the podcast Pod Save America in Atlanta, they had their own personal paparazzi.
"We got home and we found out that on Twitter, somebody else who was in line secretly snapped a photo and put it online," Jason laughs. "She didn't even say hello to us but she put that photo up on Twitter. I was like, wow, OK. It's been fun. It's been a lot of fun."
That wasn't the only time he's felt like a celebrity since filming began. He remembers asking a crew member if there was a water cooler nearby during the shoot, and overheard a walkie talkie message stating that "the talent would like some water." It sounds like he'll never been able to live that one down. "Ten seconds later, water showed up, and I earned a new nickname with my friends," Jason says.
As far as what he's learned from the Fab Five, Jason says he still keeps up with the tips, particularly in terms of clothes and grooming. "I think any of my friends would tell you that I'm kind of resistant to change. However, I do appreciate all the things that I learned from the show," Jason says. "I've got rid of the cargo shorts, and my beard is still gone — I don't even have a soul patch. I've always had a soul patch since I was like 20 or so."
He doesn't cook as much as he'd like to — he tries, but even when he's not ticking all the boxes, he says he has "those guys in my head all the time, telling me what to do." He's grateful that the makeover kings always stayed true to his personality in terms of the transformation, never leaning toward a cookie cutter outcome.
"I think I accused Bobby at one point of being inside of my head as far as decorating my place," Jason recalls. "He had chosen things that I had personally wanted before. And the same is true about the rest of them too."
Now, Jason is making even more changes in his life. He says he wants to phase out of the handyman business and focus on more creative things.
"I'm kind of trying to open up my mind to dabbling more in some of my art projects, as well as trying to do more of the antiquing and estate sales and stuff," he says. In that vein, he's kept working on those neon hubcaps that he and Bobby crafted together on the show, some of which are even primed to don the walls of one of Jason's friend's restaurants.
And of course, he and Beth are enjoying the relationship that blossomed after Queer Eye. "As far as the past year is concerned, it's really been mostly about developing a relationship between Beth and I," he says. "We've been spending a lot of time together and doing a little bit of traveling here and there and enjoying life."
Given the heartwarming response to their romance so far, they'll have plenty of Queer Eye fans rooting for them, whatever the future holds.