Here's Every Time 'Pump Rules' Stars Jax & Brittany Should Have Broken Up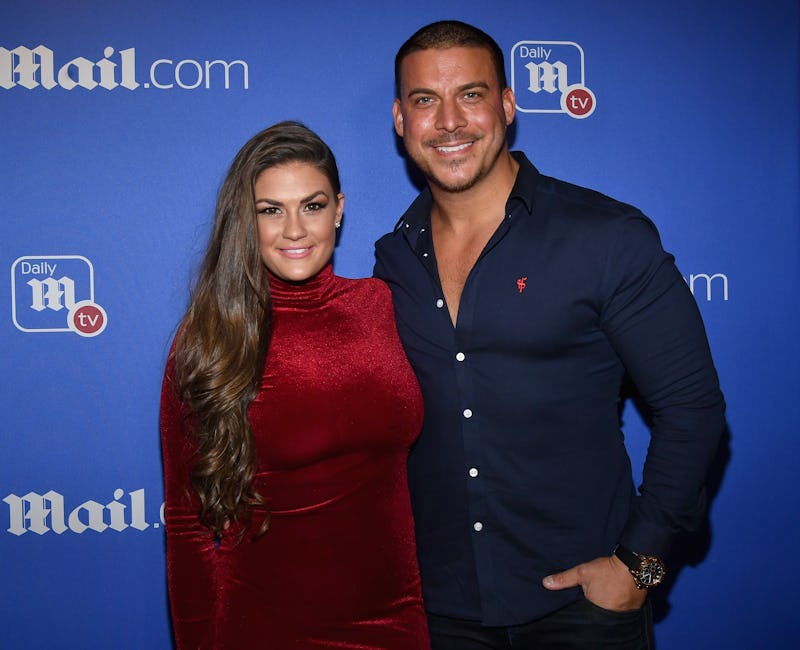 Slaven Vlasic/Getty Images Entertainment/Getty Images
The new season of Vanderpump Rules has already been filled with non-stop drama, and it's only two episodes in. Jax Taylor and Brittany Cartwright's relationship timeline reveals that their romance has had a lot of bumps in the road, but none seem to be as big as what's happening now on the show. Season 6 kicked off last week with a rumor that Jax cheated on Brittany, which some thought the accused philanderer would never admit to. But in this week's episode, Jax told Brittany he did in fact cheat on her with former SURver, Faith. It all sounds like a modern-day soap opera, but in truth, it seems much too dirty to be considered as that.
While the couple reportedly got together six months ago after a brief split following Jax's affair, it's probably only a matter of time until the SURvers reach their next boiling point. That's why everyone tunes in, though, so all is fair in Vanderpump Rules. Here's a look back at Jax and Brittany's relationship to refresh your memory.
Spring 2015: They Met In Vegas
This week's episode saw Brittany fleeing to Vegas to get away from Jax after he admitted he'd cheated on her, but the couple originally met in the City of Sin, which is fitting, really. In an interview on Bravo's site from January, Brittany said, laughing, "He fell in love with me at first sight."
She revealed that Jax begged her to move from Kentucky to Los Angeles to be with him, "And I did," Brittany said. Her move was well-documented on Season 4 of Vanderpump Rules, which shocked everyone, as it seemed like a big step for the notorious playboy.
After moving to L.A., Jax paid for Brittany's breast implants, and Season 4 showed him pressuring her into getting a larger size than she'd originally wanted. "It's not just for you, it's for me," Jax told Brittany while visiting a plastic surgeon. "Who doesn't love big boobs?" the 36-year-old added. He then told the doctor, "Throw some Ds on this." The end of Season 4, which aired in 2016, showed Jax doubting his decision to have Brittany move in with him so quickly, and the two's future seemed iffy.
January 2016: Brittany Officially Joins The Cast Of Vanderpump Rules
Vanderpump Rules' fifth season included Brittany as a regular cast member of the show, as she became a SURver (she'd had experience as a Hooters server before moving to L.A.). Much of the last season's drama centered around Katie and Tom's wedding drama, and Lala and James Kennedy causing drama, so Jax and Brittany's relationship oddly acted as an anchor, despite their regular tiffs.
The couple's biggest fight of last season occurred because Jax told everyone that he'd walked in on Brittany and fellow cast member Kristen Doute having sex, which both Brittany and Kristen denied. After the season aired, rumors that Jax and Brittany had broken up during filming spread around, but the couple adamantly denied them. At the end of Season 5 in April, Bravo announced a spin-off show called Vanderpump Rules: Jax and Brittany Take Kentucky.
Summer 2017: Brittany & Jax's Spinoff Show
Jax and Brittany Take Kentucky aired last summer, and the couple's time in Kentucky wasn't exactly a romantic getaway. Instead, Jax and Brittany fought a lot while the latter's family pressured Jax into proposing. After the final episode's blowout of a fight, Jax leaves Kentucky to return to L.A., and Brittany stays behind.
"Something has got to change, and if it doesn't change, then we're not going to work," Brittany said. Everyone wanted to know what happened to the couple after that, and the first two episodes of Season 6 of Vanderpump Rules delivered.
December 2017: The Cheating Scandal Comes Out
Well, Jax's Mr. Commitment routine didn't last for long, and it didn't fool anybody either. During Scheana's birthday party, which presumably occurred around her birthday — May 7 — former SURver, Faith, told James Kennedy that she and Jax had unprotected sex. As if that's not enough, Faith also told James that she'd missed her period and was worried that she was pregnant with Jax's child. Jax came clean to Brittany in the following episode, and it looked like the couple might be done for good.
According to a recent interview with Entertainment Tonight, however, the couple got back together faster than you can say "pumptini." Though they did split up following the revelation, according to Brittany. "We took some time trying to work on things, but we're back together … six months [back together] and [it's] still working," she told ET. If the couple broke up in May, following Scheana's birthday party, and if they've been back together for six months, that means that they got back together in June. According to both Brittany and Jax's Instagrams, they definitely do look happy together now.
The post-cheating drama will undoubtedly unfold on this season of Vanderpump Rules, but most fans (and cast members, for that matter) would probably agree that Brittany deserves better than the way Jax treats her. Even when he's not having sex with other women, he's made disturbing comments about how she looks — and how he wishes she looked — that nobody really wants to see Brittany end up with Jax. Though it may not be a relationship to root for, it is one that constantly entertains, so you probably haven't even seen half of what's yet to come for Jax and Brittany.