Jax Wore A Taco Bell Sweatshirt On 'Vanderpump Rules' & Fans Can't Get Enough Of It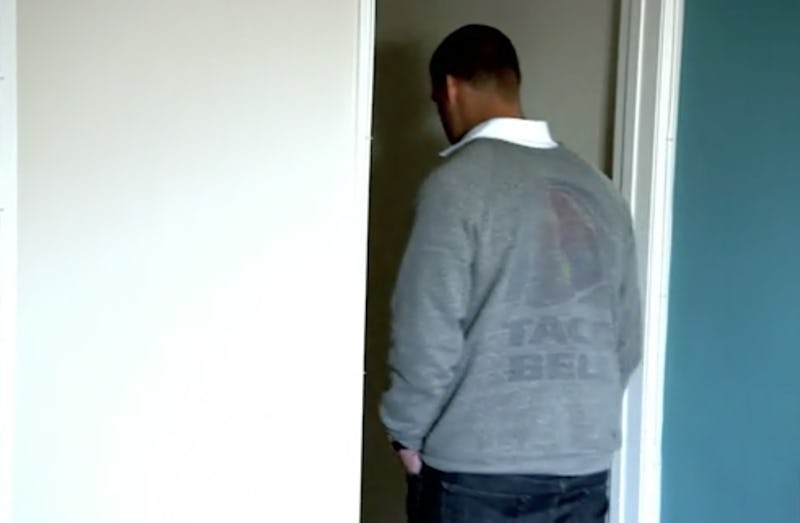 Bravo
During Monday's Vanderpump Rules, Jax Taylor wore a Taco Bell sweatshirt while breaking up with Brittany Cartwright that clearly shows he's moved on from his famous chunky knit sweater. Jax's choice of attire is now part of one of the most memorable scenes from the Real Housewives of Beverly Hills spin-off — and one that fans can't stop discussing. It may be only a sweatshirt in some eyes, but the fact that the 38-year-old reality star owns Taco Bell apparel and chose to wear it during a heartbreaking scene filmed with his girlfriend and co-star can't be ignored.
The new episode picked up right where the Season 6 Dec. 4 premiere ended — Brittany learning Jax cheated on her with Faith Stowers. The next day Jax confessed to Brittany that he slept with Faith, which, of course, was hard to watch. Brittany is the sweetest person and definitely doesn't deserve the heartache Jax has repeatedly caused her. But as serious as this moment was, it was also difficult to focus on the matter at hand because Jax was wearing a Taco Bell sweatshirt during it all.
His sweater reveal first happened in Katie Maloney and Tom Schwartz's apartment. Brittany was talking with Katie about the prior horrific evening at Scheana Marie's masquerade party, where Faith came forward with her big secret involving Jax. He tried talking with Brittany at Katie's, but she wasn't having any of the lies he was serving. So, Jax turned around and left, but before he walked out the door viewers got a quick glimpse of his Taco Bell sweatshirt.
At first glance, it looked like Jax was looking all professional with his white collared dress shirt underneath a gray sweater, but then he turned around to unveil a Taco Bell logo (he wore it backwards on purpose for some reason). He even kept the sweater on when he went back to his apartment, where he chose to come clean to Brittany about cheating on her.
There was a lot going on during this particular scene, but his Taco Bell sweatshirt definitely stole the show — and now it's all fans can talk about.
There Aren't Enough Characters
Comedian Amy Phillips, who is known for her Bravolebrity impressions, of course commented. She also had a lot of thoughts, so be sure to read all of her tweets regarding Jax's sweater.
It Needs To Be Discussed
It's more important to some than Jax cheating.
This Andy Dwyer Gif Says It All
Exactly.
He Can't Be Trusted
Now everyone knows.
It's A Subliminal Message
The fast food chain is pretty powerful.
He Knew Exactly What He Was Doing
He is pretty sneaky at times.
Taco Bell & Brittany "Deserve Better"
Take it off, Jax!
The Best TV Moment
This is what television is all about.
We Have A New Winner
RIP chunky white sweater.
If you're wondering where Jax got his Taco Bell sweater, well, as he tweeted Monday, "I got it at the @tacobell in vegas, the new one on the strip next to planet Hollywood. Most comfortable sweater in the world." As you can see below, Jax said he still has the sweater and packed it with him when he went to New York City for his Monday appearance on Watch What Happens Live With Andy Cohen.
However, if you ask Katie, she says differently. While chatting with Bustle Tuesday, she says about the sweater, "I'm pretty sure [it] is mine because I lost it and then all of a sudden it popped up at their house. Like, 'Oh, yeah, we have your Taco Bell sweater.'" Katie says it was eventually returned to her, but "it disappeared for like a few months."
Hmm... there might now be a great Taco Bell sweater debate. Whatever the case, Jax's business in the front party in the back sweater is what makes Pump Rules so fantastic. It's one of those unexpected moments that will keep fans coming back for more.
If you really want to own one, sadly it's sold out online, but there is a lot of other merchandise. Plus, now that the sweater is famous, Taco Bell just might make it more readily available. *fingers crossed*
Additional reporting by Kerensa Cadenas