JAY-Z and Beyonce Trademarked The Twins Names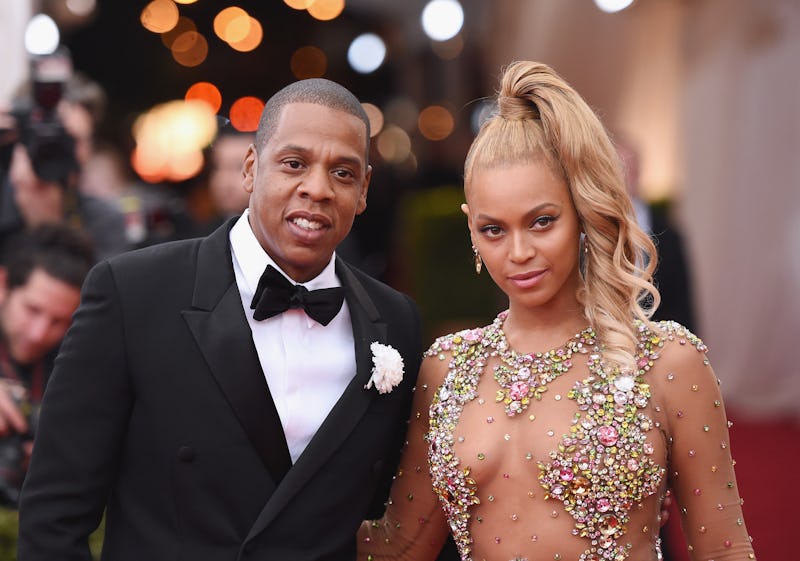 Mike Coppola/Getty Images Entertainment/Getty Images
According to TMZ, the names of JAY-Z and Beyoncé's twins have been revealed, and the way the world discovered Rumi and Sir Carter's cool monikers is a reminder of just how famous their parents are. And the reason TMZ reportedly knows this precious information is via forms registering the names as trademarks. Why did JAY-Z and Beyoncé trademark their twins' names? Well, it's actually just good business.
Filing a legal trademark to protect your bundle of joy's name is certainly not something your average parent has to worry about, but for the superstar couple, it makes sense. Thanks to their thriving careers in music and business, they're not just artists, they're also a collective brand. According to TMZ, the couple also owns the trademarks to their own names, and in February, they filed papers to have their daughter Blue Ivy Carter's name trademarked as well.
By adding an extra layer of protection to the names of their children, Bey and JAY-Z are guaranteeing that they alone can use their kids' names on products in the future. And when you have your own empire, making sure your kids can follow in your footsteps is just good business sense. If Rumi Carter and Sir Carter become protected by trademark, that means no one outside of the family can use the twins reported names to sell items like fragrances, cosmetics, or clothing. It also ensures that any other business ventures the future moguls or their parents come up with can be rolled out using their unique names.
While trademarking the names of babies may seem odd to your average person, it's really not in the world of Jay and Queen Bey. When you reach Beyoncé levels of fame, making sure your kids can use their names however they like is just another part of being a loving and savvy parent.