This JAY-Z Song Is A Lesson About The Future Of The Black Community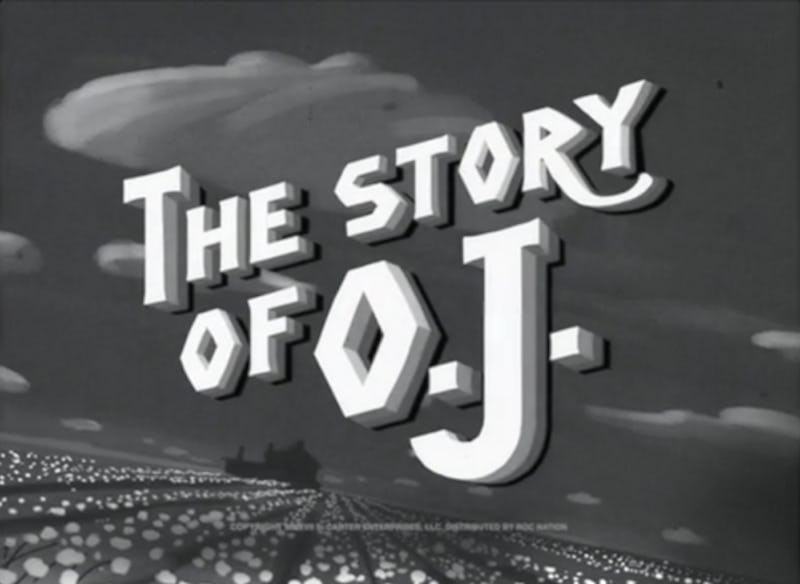 Rocnation / TIDAL
Jay Z's 13th studio album, 4:44, deserves all of the praise that it's getting and then some. But instead of focusing on Hov admitting that he almost lost "the baddest girl in the game," fans need to take a second to absorb the important lessons of the album. "The Story of OJ" short film contains one such valuable gem and presents it in a way that forces folks to stand up and pay attention. The video for the song contrasts the past and present of black people in America to teach the community how to build a brighter future.
While speaking to iHeartRadio about the meaning of "The Story of OJ," the rapper said the track "is really a song about we as a culture, having a plan, how we're gonna push this forward. We all make money, and then we all lose money, as artists especially. But how, when you have some type of success, to transform that into something bigger." And that something bigger is thriving and forward-thinking communities for people of color.
Just seeing the track's title alone should hint at what to expect when listening. Right after the sweet samplings of Nina Simone singing "my skin is black," Jay Z rhymes: "OJ like, 'I'm not black, I'm OJ'... OK," which is a quote that OJ Simpson is not confirmed to have ever actually said but that echoes the idea that wealth and status somehow helped black people to transcend the color of their skin. Jay Z, on the other hand, begs to differ. Throughout the song, the rapper is adamant that, at the end of the day — regardless of your wealth, status, or complexion — black is black. And living as if there's some kind of hierarchy within our race only does us all a disservice in the long run.
Further proving his point, the rapper continued to rhyme: "light n---a, dark n---a, faux n---a, real n---a, rich n---a, poor n---a, house n---a, field n---a. Still a n---a." And, in case you, for a moment, didn't grasp exactly what he meant, Jay Z crafted a perfectly heart-wrenching visual to bring this all to life. Though it's all in animation, the images of Huey P. Newton, Nina Simone, lynching, slaves picking cotton, and the Ku Klux Klan are far too powerful to ignore.
By mixing references from black history with the knowledge he's spitting to listeners, Jay Z is trying to show us where we came from and prove just how much progress we have to make and still haven't made. Sure, slavery ended over 200 years ago. But, as the song highlights, instead of being enslaved literally, the black community is still enslaved financially.
According to the Center for Global Policy Solutions' global wealth study, published in 2014, the median wealth for white families in American is 20 times more than that of black families. And that's not something that just happened yesterday. It comes as a result of systematic oppression and parameters put in place to prevent people of color from getting a hold of the same financial opportunities as their white counterparts. Those jokes about black people always having bad credit aren't at all funny when you understand the root of the issue. Between the longstanding history of private banks targeting our communities and redlining our wealth, America has historically made a fortune off of keeping people of color below the poverty line.
In "The Story of OJ," Jay Z makes it clear that the only way to really break the chains of financial slavery is to obtain wealth. If that seems far too obvious, don't worry. Throughout the track, Hov is also letting us know how he acquired his billions, and, from experience, what steps we can all take to pour that wealth back into our communities — black communities, more specifically.
"Please don't die over the neighborhood that your mama rentin'," he said. "Take your drug money and buy the neighborhood. That's how you rinse it."
The rapper isn't literally instructing black youths to sell drugs for money. The actual lesson is that how you obtain your wealth is entirely up to you, but what matters most is what you choose to do with it.
Because, at the end of the day, we're not as far removed from slavery as many would think. Being broke is just another form of enslavement — whether that be by your credit score or from living paycheck to paycheck. And, as far as Jay Z's concerned, "Financial freedom our only hope. F--k living rich and dying broke."
If nothing else, the candidness throughout 4:44 has inspired me to live my best life, honestly and responsibly. I'm ready to do what little I can to break the financial chains, if not for myself then for future generations, in the hopes that maybe, one day, the past depicted in "The Story of OJ" won't feel like an eerie reflection of the future.