Jeff Sessions Recuses Himself From Investigation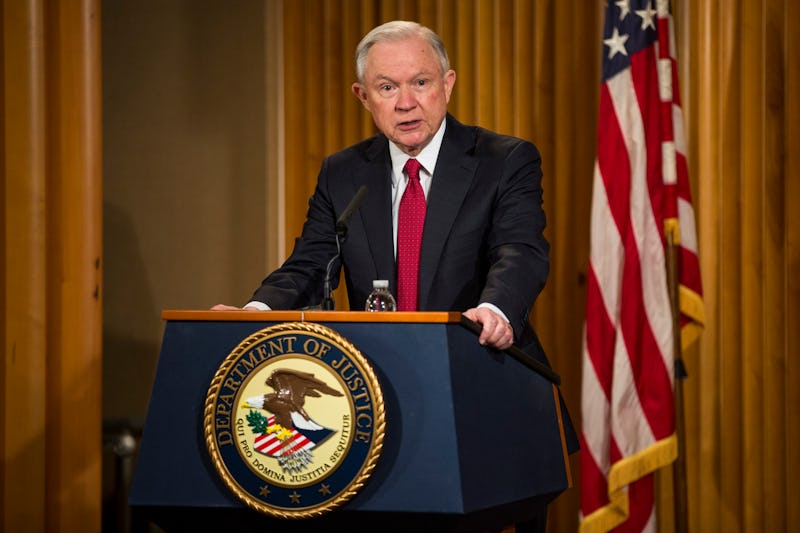 Zach Gibson/Getty Images News/Getty Images
At a press conference held on Thursday afternoon, Attorney General Jeff Sessions recused himself from the 2016 election investigation due to his involvement in Trump's campaign beginning in February 2016.
He began the conference by stating, "Let me be clear. I never had meetings with Russian operatives or Russian intermediaries about the Trump campaign, and the idea that I was part of a, quote, 'continuing exchange of information during the campaign between Trump surrogates and intermediaries for the Russian government' is totally false."
He pointed to the fact that the question Sen. Al Franken had asked him at his Senate confirmation hearing was specifically surrounding communication between the Trump campaign and the Russian government, and that was the question to which he responded when he said, "I'm not aware of any of those activities. I have been called a surrogate at a time or two in that campaign and I did not have communications with the Russians, and I'm unable to comment on it."
Sessions said he did not refer to the two meetings he had with the Russian ambassador during his Senate confirmation committee was because no such things as related to the Trump campaign were discussed, and that his answer "was honest and correct as I understood it at the time."
However, Sessions said, at the advice of his staff, he will recuse himself from any current or future investigations regarding any possible Russia ties to the Trump campaign, not because he himself has any connections with the Russian government, but because he was involved with the Trump campaign.
Earlier Thursday, both President Trump and his press secretary, Sean Spicer, said they didn't believe Sessions needed to recuse himself from any investigation. Spicer said people were accusing Sessions of wrongdoing "to play partisan politics" and "should be ashamed of themselves."
Sessions, though, is following his staff's recommendation and said he has "recused myself in the matters that deal with the Trump campaign." At the conference, Sessions said he informed the White House that he would be recusing himself from the current and any related investigations despite their insistence he didn't need to, stating, "They don't know the rules, the ethics rules, most people don't. But when you evaluate the rules I feel like I am — I should not get involved investigating a campaign I had a role in."