Jenna Dewan's Reaction To Those Jessie J Comparisons Will Make You Love Her Even More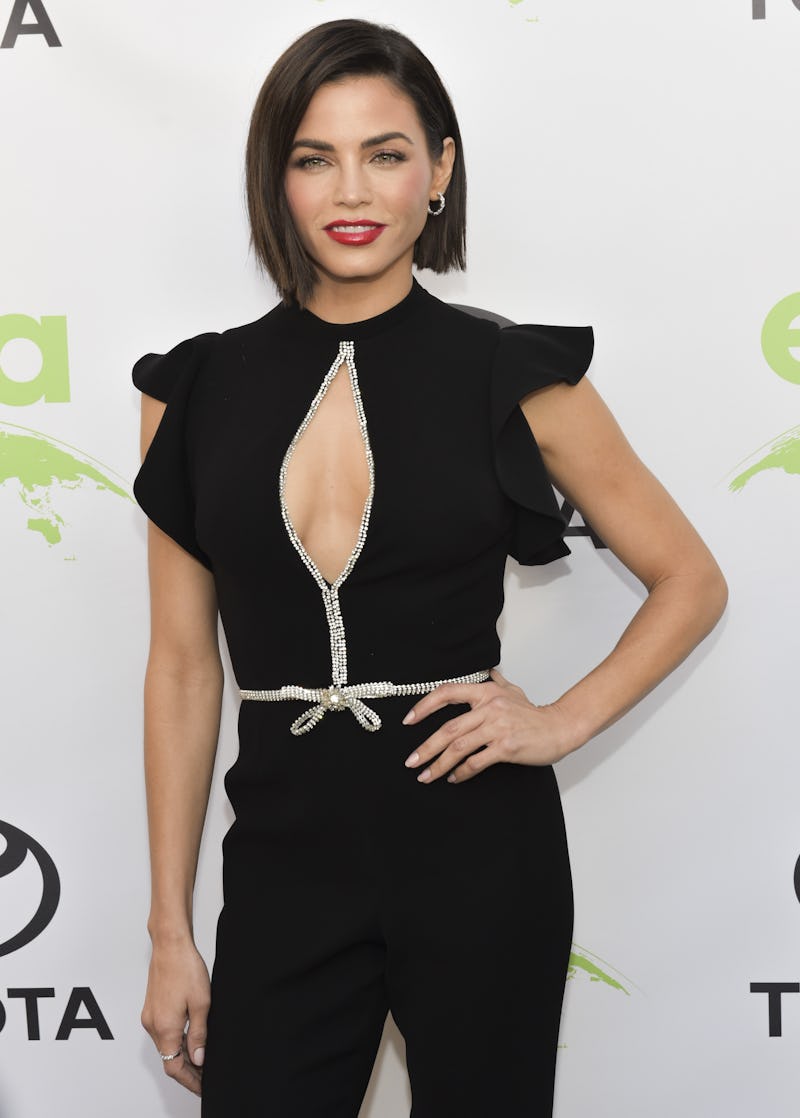 Rodin Eckenroth/Getty Images Entertainment/Getty Images
Women constantly being compared or pitted against one another is exhausting. Well, Jenna Dewan responded to Jessie J lookalike comments in a way that shows she's all about positivity and uplifting women. Ever since it was reported that Channing Tatum is dating Jessie J, there have been several comparisons between Dewan and the singer. Many people can't help but comment on their physical appearances and how much they think the two look alike. Plus, there have even been remarks about how they are basically the same person, so Tatum clearly has a "type."
Guess what? Dewan isn't feeding into those statements, nor is she going to let it destroy her positive attitude or current happiness. On Nov. 12, Dewan shared gorgeous photos on Instagram from a 2018 Baby2Baby gala, where she wrote, "Last night was a dream! @baby2baby you just amaze me. I am continually so inspired by the beautiful work you do and proud to be one of your angels! Thank you and i support you always."
One of Dewan's fans commented,
"FIRST OF ALL… whenever I hear of the 'striking resemblance' w/ Jessie J to Jenna Dewan… my only thoughts are mum no not even close. And I don't have a horse in the race but gf you are untouchable. Just trying to spread positive vibes, keeping doing you… to an absolute outsider from a small town you are doing it seamlessly."
The Resident actor agreed with the follower about "positive vibes," as she responded, "Positive vibes all the way [kissy face emoji]."
It's important to remember that the former World of Dance host and the "Bang Bang" singer aren't the same person. They are their own separate, successful, talented, and hardworking individuals. It's unfair to repeatedly compare their looks simply because Dewan was once married to Tatum and Jessie J is now reportedly dating the Magic Mike star.
Some might not think it's a big deal to say Dewan and Jessie J look similar, but the fact of the matter is once a celebrity couple splits and a new partner enters the picture, they are immediately compared to the former significant other, especially if they are women. When that happens, an unfortunate narrative of pitting women against women forms. Thankfully, Dewan is trying to put a stop to it all before it becomes even worse.
Rather than harping on the fact that Tatum has a "type" when it comes to women or that Dewan and Jessie J have the same hairstyle and hair color, everyone should follow in the footsteps of the dancer by spreading positivity. That's what the Supergirl actor has done since she and Tatum announced their breakup in April.
First of all, the former couple revealed their split with very positive words. Part of their statement read,
"Absolutely nothing has changed about how much we love one another, but love is a beautiful adventure that is taking us on different paths for now. There are no secrets nor salacious events at the root of our decision — just two best-friends realizing it's time to take some space and help each other live the most joyous, fulfilled lives as possible."
Then, in response to reports that Tatum's rumored "drinking and flirting" habits affected their former marriage, according to The Mirror, Dewan defended her former husband. A rep for her told Us Weekly in April,
"Happy to clarify that absolutely none of these rumors are true. The situation is as positive as it can be. Nothing negative is going on here. They're both incredibly mature about this. There's nothing more really to say."
That's how Dewan continues to be about the situation — positive. It's inspiring to see how well she handles everything that's come her way since splitting with Tatum.
Let's also not forget that both Tatum and Dewan have moved on in positive directions (she's reportedly dating Steve Kazee and says she's "very happy"). So let's rise above the comparisons between Dewan and Jessie J and just be glad that everyone in this particular situation seems to be happy.