Jenna Fischer & Angela Kinsey's 'Office' Reunion Is Seriously The Best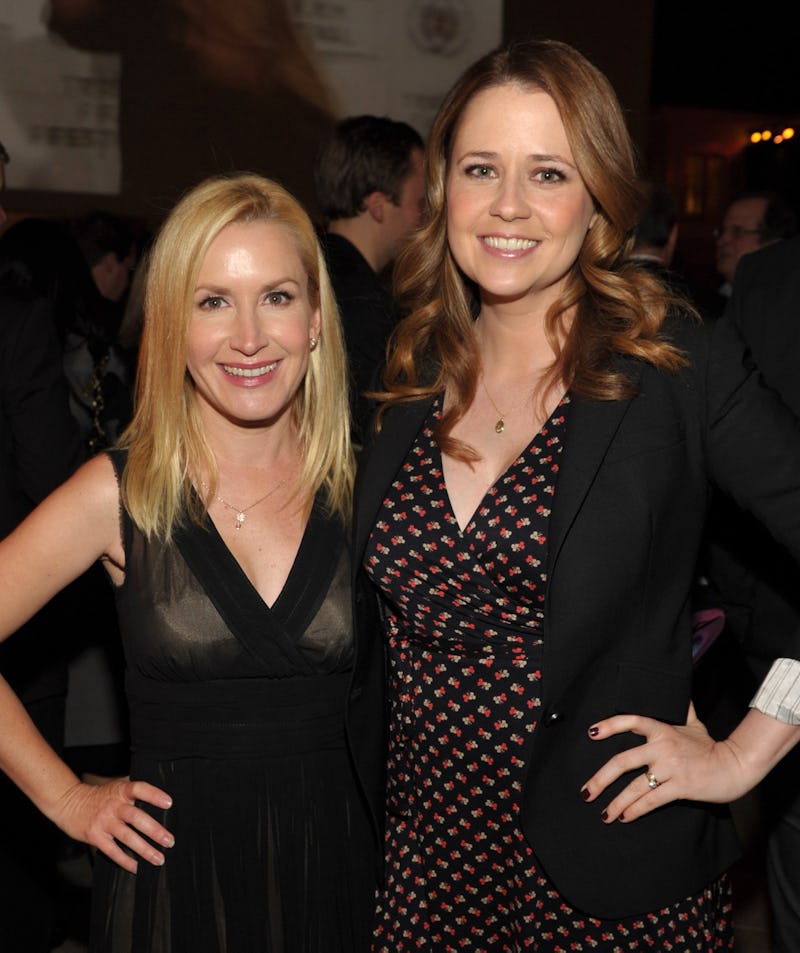 John Shearer/Getty Images Entertainment/Getty Images
Pam and Angela have reunited and it feels so good. That's right, Jenna Fischer and Angela Kinsey are working together again. The Office fans, isn't that the greatest news ever? On Wednesday, the former co-stars, but real-life best friends, filmed scenes together for Fischer's ABC comedy, Splitting Up Together. The two also shared videos on their Instagram Stories of themselves at work together, and, yeah, they were beyond thrilled.
Kinsey also shared Instagram photos with Fischer and wrote,
"Good morning from hair and makeup... they have tater tots at breakfast on @splittinguptogether as if my day couldn't get any better. #workingwithmybfftoday"
They seriously are the cutest best friends ever. Fans really need to watch both of their Instagram Stories before the videos expire, because they are so excited to be with each other. In one of the videos, Fischer revealed they are even sharing a dressing room. Stop. It. They have the most adorable friendship.
As Fischer said in one of her IG Stories,
"I told them that Angela and I could just share a dressing room today so so we can have maximum best friend time."
Talk about friendship goals, right? In another video, Kinsey talked about them rehearsing for their scene. They know each other so well, especially what it's like working with one another, that they went off script a few times. Kinsey said, while laughing, in her story, "We just keep ad-libbing and they're like, 'Stop, you two. It's not about you.'"
On Aug. 18, Fischer announced Kinsey would be coming on her show. She revealed the happy news in the greatest way possible, too. As you can watch below, she posted a video of her informing Kinsey she got her a job on Splitting Up Together Season 2.
Next to her video, Fischer wrote,
"I had exciting news for my BFF @angelakinsey last week so I asked her daughter Isabel to record her side of our conversation because I wanted to get her reaction on tape! Guys...I AM SO EXCITED FOR WEDNESDAY. @splittinguptogether #bffs #ladieswholunch #workbuddies #abc"
You need to watch the video for yourself, because it's the cutest reveal ever. Fischer even had Kinsey's daughter, Isabel, film the conversation, so she could capture her friend's reaction to the news. Thank goodness she did, because it is so pure goodness.
The best part was when Kinsey simply thought Fischer was inviting to her set for lunch. She was even overjoyed by that possibility, because that's how close they are. But, when Kinsey realized she was going to get to act with her best friend in the entire world, well, she couldn't stop screaming with joy. Fischer was just as ecstatic.
Fischer yelled into the phone, "Angela you get to be on my show! They're gonna give you a job on my show!" Kinsey, also screaming, asked, "Did you say they're gonna give me a job on your show?!" Then, they both danced around and cheered. If you listen closely, you can even hear Isabel's happiness about the news.
"We're gonna be BFFs and ladies who lunch," Fischer told her BFF. Ladies who lunch? That is perfect. Kinsey responded, "Oh, lady, I'm so excited. Please tell everyone there thank you. I can't believe we get to be in TV together again."
It's unclear how many episodes she'll be in or who Kinsey is playing, but the fact that she and Fischer reunited is so wonderful. This is exactly the type of Office reunion fans needed.