Jennifer Aniston Actually Isn't As New To Instagram As You Thought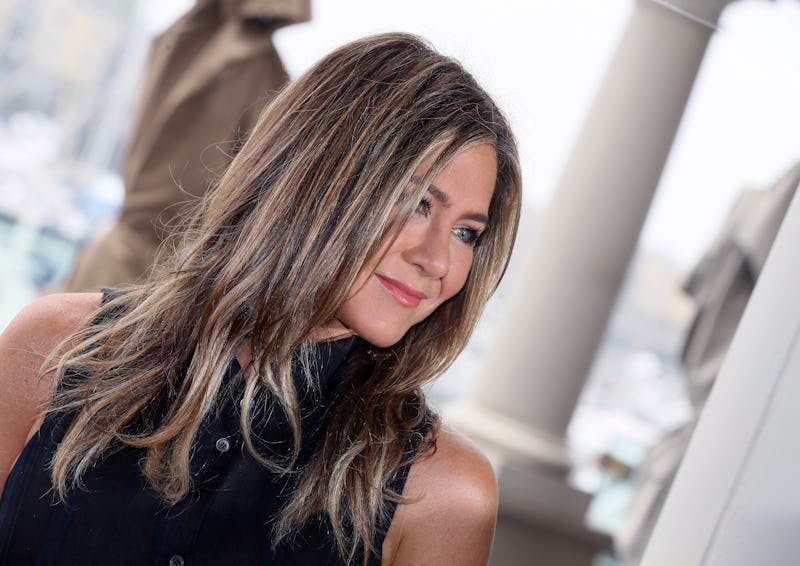 David Livingston/Getty Images Entertainment/Getty Images
Jennifer Aniston finally joined Instagram earlier this week and took to the platform like a true pro... because (cue: Law & Order music) she is one. Dun, dun. On Jimmy Kimmel Live!, Aniston revealed she had a secret "stalker" Instagram account, where she lurked in the social media shadows before she publicly put herself out there.
On the late night talk show, Aniston explained she's been hiding behind a "stalker account" for a bit, unbeknownst to the general public. "When I was thinking about [joining, I sort of figured it was time to kind of understand the world and dip my toe into the sort of social media pool," she told Kimmel. She didn't get it right away, but once she went live to the entire world she broke records. Literally, she dismantled Prince Harry and Meghan Markle for the title of fastest growing account by garnering more than a million followers in just over five hours.
Aniston came right out of the gate with some IG-friendly quips including responding to Bachelorette star Kaitlyn Bristowe's inquiry about Rachel and Ross still being together with the iconic response "we're on a break," as well as informing co-star Matt LeBlanc — known for hashtagging #JenniferAniston in photos of the actor — "you don't have to # me anymore." She's become a beacon of wealth and knowledge in just the first 72 hours.
Of course, Aniston isn't the only celebrity who's used a separate, private account. Once upon a time, Lorde was behind the handle @onionringsworldwide, where she reviewed onion rings all over the globe. Sophie Turner pursued a similar hobby with @sophiessausagesreviews, which featured the Game of Thrones star eating and critiquing sausages.
The quickness with which Aniston has adapted to Instagram is impressive, for sure. Just ask any one of her 12 million-plus followers.