Jennifer Aniston's New Movie Sounds Empowering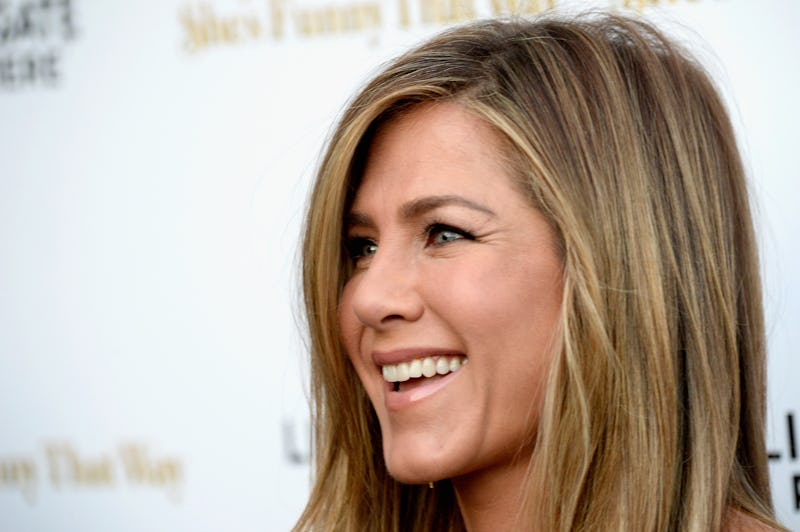 Frazer Harrison/Getty Images Entertainment/Getty Images
There's nothing I love more than a positive piece of Jennifer Aniston news. I'm serious. Whenever I feel low, I reach for one of Aniston's romantic comedies, and the world seems like a less lonely place. As well as having, hands down, the most perfect hair I have ever seen, the actor's comedic timing and instant chemistry with co-stars makes her continually fun to watch. Which is why her next movie sounds super exciting, especially since it's being made by the director of 27 Dresses and The Proposal. Basically, Aniston's new movie is a comedy classic waiting to happen.
As Deadline reported on Thursday, the actress will star in Dumplin', which is described as "a music-driven comedy in the vein of Pitch Perfect and Bring It On." Seriously, what could be more perfect than that? The movie will apparently be infused with music, and Aniston will play a mother who runs a beauty pageant in Texas, having previously been a pageant queen herself. As well as directing 27 Dresses, Anne Fletcher is responsible for Step Up and Hot Pursuit. And, to top off an already amazing team, the script is being written by Kristin Hahn, a long-term bestie of Aniston, who produced her movies Cake and The Switch. To say I'm excited would be, at this point, an understatement.
Dumplin' is based on the young adult novel of the same name by Julie Murphy. In the movie, Aniston will play the mother of the lead character, Willowdean, who has a Dolly Parton obsession and is keen to destroy stereotypes as a teenager who defines as plus-size. As Murphy writes in Dumplin',
I hate seeing fat girls on TV or in movies, because the only way the world seems to be OK with putting a fat person on camera is if they're miserable with themselves or if they're the jolly best friend. Well, I'm neither of those things.
It certainly sounds as though the movie will serve as an important reminder that plus-size role models on screen shouldn't be forced to lose weight. Can we just appreciate that everyone is different, and move on?
The movie definitely sounds like an exciting new role for Aniston, which will explore a mother-daughter relationship and be a wry look at beauty pageants. With a killer team on board, Dumplin' will showcase Aniston's comedy stylings, and I can't wait.