Jennifer Garner Recorded A Voiceover For Her Oscars Meme & It's TOO Good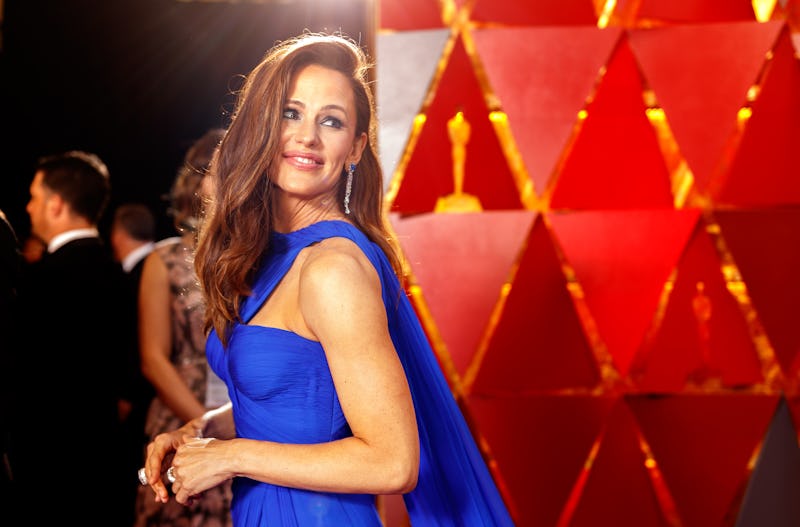 Christopher Polk/Getty Images Entertainment/Getty Images
Just when you think Jennifer Garner couldn't get any cooler, she proves that her charm is limitless. After a video of the former Alias actor in the audience at the 2018 Oscars became a meme, she took the joke in stride and added a voiceover to the Jennifer Garner Oscars meme. In this case, the Garner Oscars meme began when the camera panned through the audience and caught the actor at a moment where she seemed to remember something that startled her. While the original video and subsequent meme treatment to it were hilarious on their own, Garner's commentary makes it all even more funny.
The 13 Going on 30 star took to her Instagram stories to add her commentary, which narrates what might have been going on her mind at the moment that her face fell while she stopped clapping as if remembering something horrible. Garner's first narration said, "Congrats to Shape of Water — maybe I should date a fish." Honestly, if this were actually what she had been thinking, she probably wasn't alone.
In her next video, Garner narrated herself, saying, "Hey Jimmy Kimmel, what's in your wallet? Wait, where's my wallet?" You'll probably remember that the "what's in your wallet" line comes from Capitol One commercials in which Garner happens to star. Her narration using the phrase is the perfect way for Garner to poke fun at the often silly commercials while also repping the brand she's the spokesperson for. Someone get this woman a raise, because that's a pretty brilliant move.
The last of Garner's meme narrations says, "Can't wait to work with Lena Dunham — wait did I sign a nudity waiver?" This one refers to the upcoming HBO show called Camping which Dunham is writing.
Writer Bobby Finger first started the Jennifer Garner Oscar meme when he posted the original video of the actor clapping, then suddenly not clapping, in the audience. He wrote on Twitter, "What realization did Jennifer Garner just come to?" That question basically served as an invitation for the video of the actor to go viral, with everyone adding their own commentary to answer in Finger's question. Jasmine Watkins tweeted, "Jennifer Garner just realized she forgot to take the chicken out the freezer," along with the video, and singer Anthony Russell captioned it, "Left oven on at home. stars: they're just like us."
A few other Twitter users made Capitol One jokes. Garner's own "what's in your wallet" narration proves how self-aware — and funny — the actor is. Finger, the writer who started the meme, wrote on Twitter, "I can't believe she memed herself. What a treat. That Jennifer Garner's a good egg." A good egg indeed.
Garner introduced Eddie Vedder at the 2018 Oscars for the in memoriam performance of the night. Maybe during the moment the camera panned to her clapping she'd just remembered that she wasn't just at the Oscars to enjoy the show and she had to get back stage ASAP. Since she's a pro, that probably wasn't the case. It was probably just a flashback to some awkward time that a waitress asked for her order and she responded with, "and you?" or something like that.
This definitely isn't the first time that Garner has posted hilarious videos on Instagram. Last September, the actor posted a video of herself on laughing gas freaking out about Hamilton. That's right, not only does Garner realize she'd forgotten to do something at inopportune moments like us, but she also geeks out to Hamilton.
Garner take a joke, and she can play along with it and make it even funnier. That might just make her one of the most likable actors in Hollywood right now.