8 Things Jennifer Lawrence Wants You To Put On Your Amazon Wedding Registry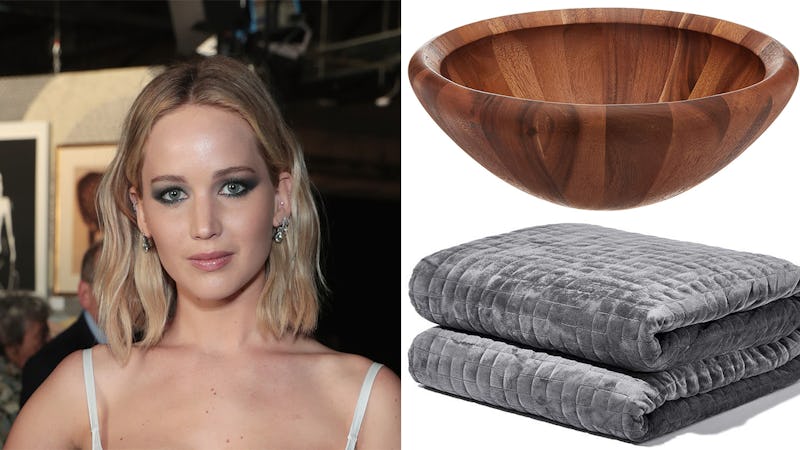 Cindy Ord/Getty Images Entertainment/Getty Images/Amazon
For those of us who will never attend an A-list wedding, perhaps we can still experience some of the extravagance second-hand, through the comfort and convenience of the internet. In partnership with Amazon, Jennifer Lawrence has released a wedding registry guide, giving soon-to-be-married couples her take on what they should add to their lists. The guide is the exact combination of "standard wedding registry" and "oh my god what even is that" you would expect from someone worth over $120 million.
When you visit Jennifer Lawrence's wedding registry guide on Amazon, you are met with a pastel-ombre header featuring a glamour shot of the actress as well as her autograph, the latter of which should become standard practice for any and all gift registries from here on out. "Jennifer Lawrence, actress and philanthropist, is getting married!" the header reads. "Discover her essential wedding registry picks on Amazon."
"Planning a wedding is so exciting, but it can be overwhelming," a quote from Lawrence says. She would know as, earlier this year, she got engaged earlier to Cooke Maroney, who is the director of the NYC art gallery Gladstone 64. "For anyone else needing a little inspiration," Lawrence's quote continues, "I thought it would be fun to collaborate with Amazon to share a few of my favorite registry wish-list items. It's so easy, and you can find everything you need all in one place." Yes, getting married and throwing a wedding is extremely easy when you have lots of money and brand partnerships.
The list includes some things you would expect: various stemware, a fondue set (something I'm convinced just shows up automatically on your wedding registry whether you want it or not), a cheeseboard. Of course, not all of the items are typical of your run-of-the-mill registry.
Here is a handful of some of the more buck wild items on the list.