Jennifer Lawrence Shared What She Hopes Happens To Harvey Weinstein Next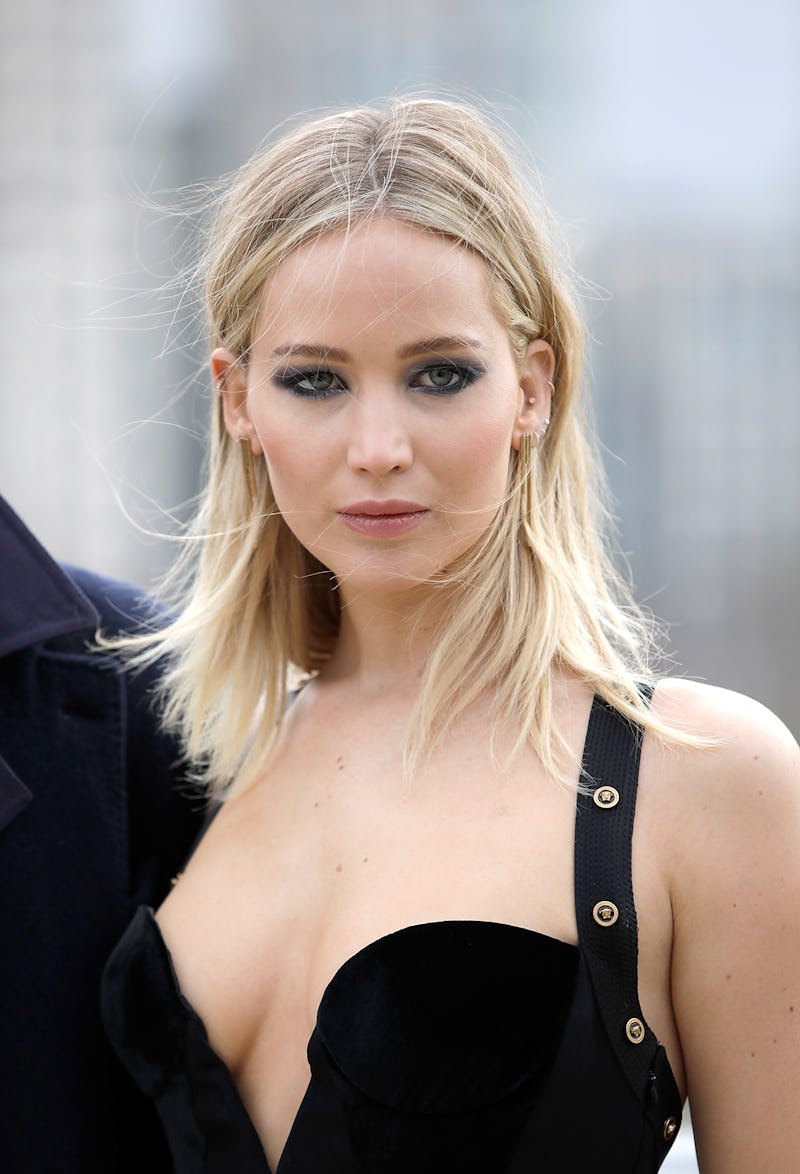 John Phillips/Getty Images Entertainment/Getty Images
In the wake of the allegations against Harvey Weinstein, many people have been coming forward to support the women who have accused him of sexual assault and harassment, and Jennifer Lawrence is among them. During an appearance on 60 Minutes, Lawrence again commented on Weinstein, and although she revealed that he was never "inappropriate" towards her in the time that they worked together on Silver Linings Playbook, she did share exactly what she wants to happen to Weinstein after all of these accusations.
Over the last several months, countless women have come forward to share their stories about what it was like working with Weinstein, including a flood of allegations that he sexually assaulted or harassed them. (Weinstein has denied all allegations of non-consensual sex.) Being that Lawrence has always been outspoken about what it means to be a woman in Hollywood, it's not surprising that she's coming to the defense of those who claim they have been hurt by him, whether she experienced inappropriate behavior firsthand or not.
In the interview, Lawrence said:
"No, he was never inappropriate with me. But what he did is criminal and deplorable. And when it came out and I heard about it, I wanted to kill him. The way that he destroyed so many women's lives. I want to see him in jail."
Lawrence's words echo what lot of women (not just those directly impacted by Weinstein's alleged actions) have been feeling since the reports about the producer first began to surface last year. Even though she isn't one of Weinstein's accusers, it's great to hear that she's an ally to those who are.
This isn't the first time Lawrence has made her feelings on Weinstein public. Back in October, when these allegations first began to surface, she released a statement calling his behavior "inexcusable and absolutely upsetting." According to The LA Times, she said:
"I worked with Harvey five years ago, and I did not experience any form of harassment personally, nor did I know about any of these allegations. This kind of abuse is inexcusable and absolutely upsetting. My heart goes out to all of the women affected by these gross actions. And I want to thank them for their bravery to come forward."
And then, last week, news broke that a quote from Lawrence was mentioned in Weinstein's attempt to get a lawsuit against him dismissed. The court documents featured an interview comment from Lawrence in which she said he "had only ever been nice" to her. The court documents showed that a quote from Meryl Streep was also mentioned.
At the time, Lawrence released the following statement, according to The Hollywood Reporter:
Harvey Weinstein and his company are continuing to do what they have always done which is to take things out of context and use them for their own benefit. This is what predators do, and it must stop. For the record, while I was not victimized personally by Harvey Weinstein, I stand behind the women who have survived his terrible abuse and I applaud them in using all means necessary to bring him to justice whether through criminal or civil actions. Time's up.
In response to Lawrence's statement, Weinstein released one of his own to Bustle, promising that his lawyers will not use specific names in this lawsuit in the future.
"Mr. Weinstein acknowledges the valuable input both Meryl Streep and Jennifer Lawrence have contributed to this conversation and apologizes," the statement read. "Once again, moving forward, Mr. Weinstein has advised his counsel to not include specific names of former associates; and to avoid whenever possible, even if they are in the public record."
Lawrence's advocacy for herself and other women in Hollywood doesn't stop there. She's also always been vocal about the pay gap in the entertainment industry, something she also addressed in her 60 Minutes interview. When Bill Whitaker asked her why she blamed herself instead of the studio at the time of her essay about the pay gap, she responded, "I didn't fight hard enough. It was my own mentality that led me to believe that I didn't deserve to be paid equally," she said. Now, she explained, "I feel I know my worth, and I feel like I work to keep it that way."
Whether it involves gender inequality or sexual assault, it truly does seem like change may actually, finally be happening in Hollywood. It's long past the time for it, and speaking out the way that Lawrence has done is the only way that can happen.
If you or someone you know has been sexually assaulted, call the National Sexual Assault Telephone Hotline at 800-656-HOPE (4673) or visit online.rainn.org.