Jennifer Lopez Really Misses A-Rod — After Just One Day Apart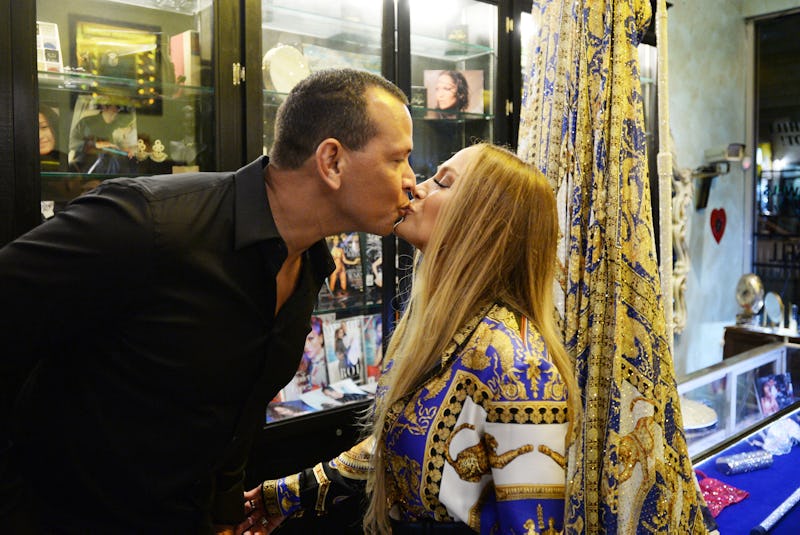 Andrew Toth/Getty Images Entertainment/Getty Images
Jennifer Lopez and Alex Rodriguez just might be the most adorable celebrity couple around today. Although J. Lo and A-Rod have been dating for over a year and a half, they are clearly still in the honeymoon phase of their relationship, as Lopez shared a Labor Day photo of her boyfriend to Instagram and declared how much she missed him — despite only being away from him for a single day. "One day apart and already missing this one," J. Lo captioned the photo, along with heart and kiss mark emojis. And when it comes to these two, public displays of affection and admiration like this are the rule, not the exception.
Just one day earlier, on Sept. 2, A-Rod shared his own J. Lo-centric post to kick off Labor Day weekend and give a shoutout to women everywhere at the same time. Alongside an Instagram photo of a very toned Lopez, fresh off a workout (which he also shared on Instagram), Rodriquez wrote, "Happy Labor Day Weekend to all of the women who work hard year-round." The pair recently marked their one-and-a-half year anniversary, if there is such a thing, with J. Lo pronouncing her love for A-Rod at the VMAs.
Lopez received the Michael Jackson Video Vanguard Award at this year's VMAs, and after thanking her children, her family, her colleagues, and her musical influences in her acceptance speech, she left some room for a tribute to her former New York Yankee boyfriend. "And Alex," she said in her speech, to raucous cheering. "You're like my twin soul. We're like mirror images of each other."
The singer continued,
"My life is sweeter and better with you in it because you make realize every day the sky is not the limit. The universe is infinite, and so is what we can accomplish together with love, and trust, and understanding. There is so much more to do, to experience, and there is no one I'd rather do it with, baby. You're my macho and I love you."
For his part, A-Rod consistently praised Lopez's efforts both leading up to and following her performance at the VMAs. He shared a number of Instagram photos and videos chronicling the hard work she put into the show, and posted a very lengthy tribute to his girlfriend following the ceremony. "Words can't express how proud I am of this incredible musical icon and pioneer. I was honored to be (in) her presence tonight, and marvel and continue to be inspired by her every day," Rodriguez wrote on Instagram on Aug. 21, after the VMAs. "Congrats to one of the most gifted and hardest-working artists of this and any generation."
Clearly, J. Lo's Labor Day message of loneliness is par for the course when it comes to these two, as J. Lo and A-Rod just can't help but publicly declare their love and respect for each other seemingly every chance they get. So here's hoping that J. Lo and A-Rod don't stay apart for too long, because these two superstars obviously feel better when they're together.