OMG, J. Lo Is In A New Rom-Com & Milo Ventimiglia Is Her Love Interest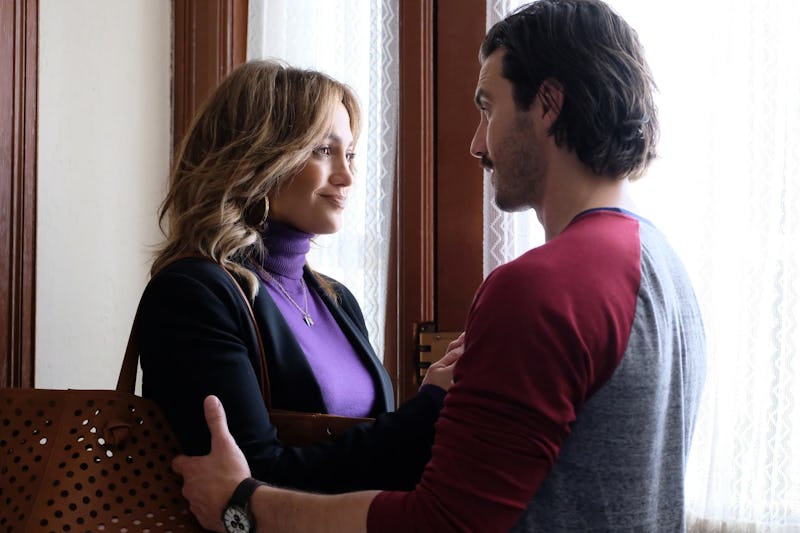 Andrew Hreha (Industry Art Works)
The movie gods heard your prayers, and they delivered — big time. It's true: J. Lo is back with Second Act, a new romantic comedy slash dramedy that's coming out this year. Better still, Jennifer Lopez's new rom-com stars Milo Ventimiglia as her love interest. Not in a "boy-meets-girl" type of way, either, because based on the trailer, they seem happy and together — at least when the movie starts. His This Is Us mustache and longer hair are still totally front and center (so don't worry about that) and it appears he's playing the caring, supportive, encouraging partner that Lopez's character dearly needs.
After years of watching him own bad-boy-with-a-good-heart roles like Jess Mariano from Gilmore Girls and Peter Petrelli on Heroes, watching him embrace the role of Hot And Good Dad Jack Pearson on This Is Us felt like a chef's kiss every week. So to see him finally get the role of sexy, reliable good guy in a major motion picture is just a blessing — one that's long overdue. Not to mention, Ventimiglia is several years younger than Lopez. Not a weird amount — per their IMDb pages he's 41, and she's 48 — but it's still notable. When was the last time you watched a major Hollywood film featuring a straight couple where the man was younger than the woman and it wasn't directly part of the plot?
Despite the justifiable excitement for Ventimiglia's Second Act role, know that he's probably more of a secondary character in it. After all, the film stars J.Lo, Leah Remini, and Vanessa Hudgens, among others. Most of the male characters serve supporting roles — and, more interestingly, potential villains.
Second Act is about Maya (Lopez) an intelligent, working-class woman whose friend's son basically catfishes a company on her behalf. When Maya is hired for the job for which she knows she's qualified — with or without the prestigious business school degrees — it's a matter of faking it until something goes wrong. Everyone's exaggerated a bit on a résumé to get a job, but few people are bold enough to include multiple schools, degrees, and positions that would all be easily fact checkable if HR were so inclined. But, hey, if anyone can get away with it, it's J. Lo.
And this is where the plot falls wonderfully into rom-com cliché. It's established early on in the trailer that Maya deserves the same opportunities as people from different circumstances, but for reasons expressly laid out, she wasn't able to take them in her youth. The lies that begin as a reasonable con to get her foot in the door soon begin to consume her, despite Remini's character's insistence that it's her chutzpah that caused them to hire her, and not the fake pedigree. The trailer hints at potential conflict between Maya and Trey (Ventimiglia), as well as challenges that might accidentally lead to Maya's exposure as a fraud. Who said a little Facebook fakery would be easy?
This is the first look at Second Act, so it's obviously going to lean on recognizable tropes that draw in the widest possible audience. And the trailer certainly embraces the down-on-her-luck, plucky, overlooked but totally fabulous working-class woman goes up against cocky, privileged white guy narrative. But, what makes Second Act stand apart from the rest, is the fact that it marks Lopez's return to the romantic comedy. Not only does the film star Lopez, it also features Milo Ventimiglia's face, body, hair, facial hair, voice, and general presence. Even if the film goes exactly where you think it's going to, what's not to love?